Recently, media stories and research studies have found greater risks of vaccine hesitancy among people in Black, Asian and minority ethnic groups. Recent data reports that Black ethnic minorities have received the lowest proportion of vaccine across all age groups. These stories and studies have led to widespread appeals to improve uptake among this supposedly reluctant group through various video campaigns across commercial broadcasters. But what are the implications of the terminology used in these campaigns?
'Vaccine hesitancy' is commonly used when discussing low uptake among non-white minority ethnicities. However, the term has negative connotations because it implies that these groups express a level of indecision, doubt, reluctancy and lack of rationale. Importantly, use of the term insinuates a level of blame among these groups for potentially posing a threat to herd immunity. However, the recent disproportionate focus on the low uptake among these groups draws our attention away from other possible motivations for not taking the vaccine.
Some studies are investigating this further and have found that reluctance is due to feelings of uncertainty about the differential effects of the vaccine on ethnic minority groups. There is also uncertainty about the speed of its development and overall distrust of health care provision. This can help to explain why Black and minority ethnic groups are significantly underrepresented in COVID-19 studies and vaccine trials, despite being disproportionately affected by the virus. While studies of this nature are telling, we need to seek the perspective of minority ethnic groups themselves.
This level of understanding is vitally important, because current media reporting and NHS campaigns have focused heavily on encouraging Black and minority ethnic groups to take the vaccine and less on the structural racism and discrimination that may have fuelled their concerns. Over-reporting of this reluctance to receive the vaccination can contribute to stigmatisation of minority ethnicities, in which these groups are perceived as problematic and hard to reach by health care professionals.
Assumptions that these groups are hesitant about the vaccine because they are 'hard to reach' are misleading. Black and minority ethnic groups interviewed for my forthcoming book did not perceive themselves as hard to reach and wanted more information and transparency on vaccine trials from the Department of Health before making decisions about whether to take the vaccine. African-Caribbean interviewees recounted experiences of discrimination, a lack of cultural sensitivity among health care professionals, and structural racism, all of which help us to understand inequities in their health care access and what factors may be preventing them getting vaccinated. What is important to recognise is that the factors that help to explain why Black and minority ethnic people are disproportionately more likely to be infected and die from the virus are the very same issues that play a part in preventing them from taking the vaccine.
Many of the studies of vaccine hesitancy aggregate their ethnicity data, and this has led to general statements being made within the public domain that hesitancy is highest among Black and minority ethnic groups. Aggregating ethnicity data is problematic because certain non-white ethnic groups are perceived as homogenous. By categorising Black African-Caribbean and Black-African groups into one 'Black' ethnic group, we are less able to identify differences between the ethnic groups within this coding category. It also assumes a single Black identity and experience and homogenous reasons for hesitancy.
The reasons for hesitancy should be examined in much further depth, and the data from such studies should inform campaigns, rather than campaigns being developed prior to such exploration. Perceptions via in-depth interviews should also accompany survey study data. Research should be carried out in collaboration with ethnic minority groups rather than simply being about them and on them. We also need to scrutinise what impact the latest targeted campaigns are having on groups who are presumed to be hesitant. Recent stories have suggested that the video campaigns targeted at Black and ethnic minority groups have led to a rise in vaccine uptake among them, but there is still limited research to back this up.
While various campaigns have provided stories of Black and ethnic minority groups who have had the vaccine, much more needs to be done to counteract their under-representation in clinical trials and health research. Funding research in this area must be completed, and monitoring of ethnicity and race must be improved across all studies. Further funding should also be provided to educate research and clinical staff on the provision of culturally competent and anti-racist research practice. This must be more than tick-box online equality and unconscious bias training. Where expertise is lacking, researchers, clinicians and practitioners should include Black and minority ethnic-led organisations and stakeholders. This does not mean that these individuals and organisations are consulted without awareness of the reasons for their involvement. Meaningful engagement would involve them co-productively in the design of the study, its delivery and implementation, with consultation prior to the publication of the research findings and with possible input into resources such as a document for lay readers.
To properly target health disparities that exist in access to health care the UK, we must look further to understand why ethnic minority groups are experiencing inequities in access and why still so few are being recruited to clinical and vaccine trials. Instead of assuming that fault or blame lies with the hesitant groups who are 'hard to reach', more should be done to improve the practices of recruitment and inclusion and eliminate the structural and other forms of racism and discrimination that have an impact on vaccine caution.
Natalie Darko is Associate Professor at the Stephen Lawerence Research Centre at De Montfort University.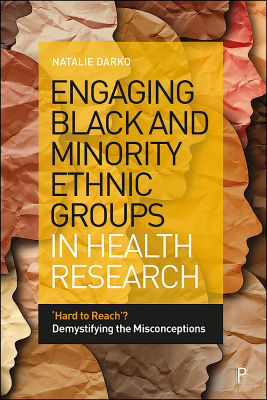 Engaging Black and Minority Ethnic Groups in Health Research by Natalie Darko is available for pre-order on the Policy Press website. Pre-order here for £60.00.
Bristol University Press newsletter subscribers receive a 35% discount – sign up here.
Follow Transforming Society so we can let you know when new articles publish.
The views and opinions expressed on this blog site are solely those of the original blog post authors and other contributors. These views and opinions do not necessarily represent those of the Policy Press and/or any/all contributors to this site.
Image credit: wildpixel via iStock