The COVID-19 pandemic has meant that national governments have taken unprecedented measures to respond to the threat and management of infection. Public resources, including significant funds for research, have been mobilised to achieve these aims. But who is making the decisions about what is to be done and how funding is to be spent and are they best placed to do so? Who has been excluded from these decision-making processes and what have been the costs of their exclusion?
The impact of COVID-19 and attempts to stop its spread have exposed and exacerbated inequalities in societies around the world. However, the people most severely affected by COVID-19, who have so much experience and important insight to share, seem to have largely been ignored in preparing for the pandemic, in developing responses to it and in planning for a 'new normal' that is better and fairer than what we had before.
In recent decades, traditional authorities, conventional notions of expertise and top-down models of management have been challenged as recognition that hierarchies exclude people with important knowledge and experience has grown. Co-production means that people who have usually been excluded from processes of knowledge creation and decision making are instead able to actively participate. This involves finding ways to rebalance hierarchies and inequalities in power. Innovative participatory and co-produced approaches to research, policy development and service delivery can help to ensure lived experience and marginalised perspectives can make an important and unique contribution to health and social care and beyond.
So why is it that the experiences of the most discriminated against, vulnerable and marginalised in our society have rarely directly influenced pandemic policies and practice? There have been many examples of problems created by the failure to respond to this pandemic in inclusive and participatory ways. Despite warnings, living in care homes during this pandemic became a death sentence for many. Black, Asian and people of other minoritised ethnic identities have been and continue to be disproportionately detrimentally impacted by COVID-19 and yet views and recommendations from people in these communities have often been absent or suppressed in reports about race and inequalities. Consulting domestic abuse organisations was an afterthought, despite lockdown having clear and potentially fatal ramifications for victims and potential victims of domestic abuse. Low-paid workers have died because their employers (including the UK government) have failed to adequately listen to and protect them. This includes those working in health and social care – while the nation was encouraged to clap for our NHS, it was normal for the concerns of staff, patients and families to be detached from decision makers who could have otherwise listened and responded.
How is it that so many people can be ignored at a time when we have all rallied to contribute to a national, or indeed global, effort?
The movement for participation has made great strides in recent decades, but this pandemic has demonstrated that this progress is neither complete nor irreversible. Many of the groups most detrimentally impacted by the pandemic are also groups who have commonly been excluded or marginalised in participatory practice. More collaborative, diverse and inclusive responses could lessen the toll of this pandemic and future health emergencies, as well as offer a route to creating a 'new normal' that is fairer and better. Although co-production is certainly no panacea, it offers us a way of working that can help to address the social wrongs we now need to right.
The grave consequences of following the precedents set during this pandemic – in terms of morbidity, mortality, marginalisation and ineffective policy – emphasise the urgency with which we must act to do things differently. We need to illustrate why co-produced responses are required and how policy makers, practitioners, service users, carers, communities, members of the public and activists can make this happen both now and in the future. However, responding to this pandemic has presented new challenges for these ways of working and the response so far has exposed the incompleteness and fragility of the commitments, systems and infrastructure on which co-production relies.
These challenges and frailties come at a time when the importance of co-production and other participatory approaches has never been more apparent. Not everyone may be convinced, and those invested in the status quo may oppose this fairer way of doing things. Therefore, we need to demonstrate how and why co-producing responses to the current pandemic is both necessary and better than what we have been doing, to tackle the inequalities and injustices that have been exposed and exacerbated. It is time for us to show what can be achieved if we challenge the status quo and address inequities, exploring how we can redistribute power. This needs to include changing the ways research, policy and practice usually happen. We must go further in finding new and much more equitable ways of working with a diversity of individuals, groups and communities. Co-production offers us a way of doing this, but there is a lot of work to be done to make this happen.
Oli Williams is a Postdoctoral Research Fellow based at King's College London and funded by the Health Foundation's grant to the University of Cambridge for The Healthcare Improvement Studies (THIS) Institute. 
Doreen Tembo is a Senior Research Manager at the UK National Institute for Health Research (NIHR) Evaluation Trials and Studies Coordinating Centre at the Wessex Institute at the University of Southampton. 
Josephine Ocloo is a Senior Researcher and Diversity and Inclusion lead for the National Institute for Health Research (NIHR) Applied Research Collaboration, South London, based at the Centre for Implementation Science (CIS) at King's College London. 
Meerat Kaur is part of the Centre for Engagement and Dissemination at the National Institute for Health Research (NIHR), and an advisor on collaborative approaches for diverse statutory, and community and voluntary organisations. 
Gary Hickey is Senior Research Fellow in the Research Design Service South East at the University of Brighton and Senior Public Involvement Manager at the Wessex Institute at the University of Southampton. 
Michelle Farr is a Research Fellow at the National Institute for Health Research (NIHR) Applied Research Collaboration West at the University of Bristol. 
Peter Beresford, OBE is Visiting Professor at the University of East Anglia, Co-Chair of Shaping our Lives and Emeritus Professor at Brunel University London and Essex University.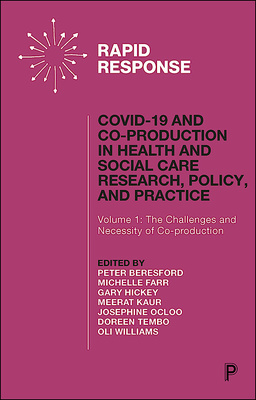 COVID-19 and Co-production in Health and Social Care Research, Policy, and Practice Volume 1 and Volume 2 edited by by Peter Beresford, Michelle Farr, Gary Hickey, Meerat Kaur, Josephine Ocloo, Doreen Tembo and Oli Williams are available as part of the Rapid Response collection as Open Access.
Follow Transforming Society so we can let you know when new articles publish.
The views and opinions expressed on this blog site are solely those of the original blog post authors and other contributors. These views and opinions do not necessarily represent those of the Policy Press and/or any/all contributors to this site.
Image credit: Borna Bevanda on Unsplash