In his first speech as Prime Minister in 2019, Boris Johnson focused on adult social care. He declared that his government would 'fix the crisis once and for all with a clear plan we have prepared'. There has been much political consternation at the absence of any such plan since then but now, at last, it has been revealed.
The plan is big on rhetoric, claiming to take 'the same far-sighted approach as the Government that established the NHS and modern welfare state after the Second World War'. A new 'health and social care levy' is expected to raise £36 billion over the next three years which will be divided between the NHS and adult social care. In the case of the latter the funding will be primarily used to create a new asset protection scheme to avoid relatively wealthy homeowners from the need to sell their homes to pay care costs. Whereas there is currently no cap on costs, from October 2023 no one should be expected to spend more than £86,000 over their lifetime, while the floor (the level of savings and assets an individual can hold and still be eligible for council-funded care) is to rise from £23,250 to £100,000.
An increase in national insurance contributions will be used to raise £36 billion over three years, of which only £5.4 billion will go to social care. The reaction to the plan has been less than enthusiastic. Political concerns have centred on the way the funding is to be raised, with a national insurance levy falling most heavily on younger and poorer contributors as compared with other forms of taxation. Those working in and making use of services and support have expressed dismay at the detail contained in the plan. In particular:
Only £5.4 billion of the new levy will be devoted to adult social care, with the lion's share going to the NHS; this is nowhere near enough to deliver the future improvements needed.
No new funding has been announced to address the current shortfall in provision; there is nothing to support the estimated 1.5 million currently going without care, nothing to improve the pay and conditions of those working in the sector, and nothing for the third of care users aged under 65 who depend upon a publicly funded system.
A further White Paper offering 'choice, control and independence' is scheduled for later in the year. It is odd that this has not been wrapped up in the current plan and it constitutes the sort of bland promise that has been pledged for decades and has always amounted to very little.
Even in the case of asset protection there is devil in the detail: the proposed £86,000 cap covers only 'personal care' costs (such as dressing, washing and eating), not the 'hotel' costs which could be as high as £20,000 pa; and there will be no support for any 'top up' costs to meet the gap between what councils will pay and what care home operators actually charge.
The market model of commissioning and provision remains untouched and indeed unmentioned, even though the outsourcing of almost all provision to the private sector is the elephant in the room. Many providers have been handing back unsustainable contracts to commissioners for some time, and others are close to collapse; there is nothing in the new plan to address these concerns.
Understanding the complexity of 'fixing' adult social care involves doing more than looking at current proposals and the commentary upon them. Over the past 200 years or so this policy domain has veered between being a site for charitable pity, a statutory safety net for the poorest, briefly a vital aspect of the universal welfare state (in the 1970s) and now a market of competing providers. Those needing some support in their lives have in various epochs been badged as clients, consumers or citizens – the title of my new book for Policy Press that explores these shifts in depth.
Underpinning all of this confusion is the absence of any agreement on the purpose of social care. The Government's plan states that 'social care is an integral part of our society and economy' but fails to explain what this means or how it might be put into effect. This is a major omission. Purpose is the ultimate question to be asked about any service that is provided; it is positioned above all other strategic statements and should offer a means of enabling everyone to work together in pursuit of a common goal.
This is the ultimate problem with the new plan for social care. Not only is there little clarity about how it intends to fix current problems in the sector, there is even less clarity about what the sector is for. The 'golden age' of the welfare state after the Second World war secured a new status for health, education, housing and social security, but not for social care. Early post-war interventions saw those in need as dependent clients in need of professional guidance; the Thatcherite reforms of the 1990s saw them as consumers, scanning the market and making choices. Both models are flawed. A better future lies with a citizenship model, one in which there is a 'covenant' between people, places and government, based around principles of wellbeing . As yet this is a debate that does not even seem to have registered within government thinking.
Some see signs of hope in the fact that adult social care has at least registered on the political agenda – indeed the government deserves some credit for taking a bullet that has been dodged by previous governments since the turn of the century. However, the response is half-hearted and narrow, and does little to address the Cinderella status that social care has occupied since Victorian times. The sector remains a prisoner of its history.
Professor Bob Hudson, Visiting Professor in Public Policy, University of Kent.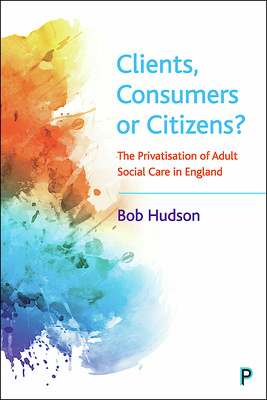 Clients, Consumers or Citizens?: The Privatisation of Adult Social Care in England by Bob Hudson is available on the Policy Press website. Order here for £19.99.
Bristol University Press/Policy Press newsletter subscribers receive a 35% discount – sign up here.
Follow Transforming Society so we can let you know when new articles publish.
The views and opinions expressed on this blog site are solely those of the original blog post authors and other contributors. These views and opinions do not necessarily represent those of the Policy Press and/or any/all contributors to this site.
Image credit: patpitchaya