This Open Access Week, Tara Lamont, author of 'Making Research Matter', looks at a responsible path to high-quality Open Access, and why research dissemination to online communities and journalists is no less important than other forms of scholarly engagement.
The open access movement in its early evangelical phase was seen as a disruptive innovation which posed challenges to traditional forms of scholarly publishing. No one would dispute the benefits of opening up knowledge to more people. And many of the practices and processes – not to mention the price points – of traditional academic publishing were ripe for reform. Initiatives like Coalition S to ensure that the outputs of publicly funded research are available to all readers is driving growth in open access journals and platforms. This is welcome.
But there is a risk if we forget the strengths of the old ways, especially scrutiny by a community of scholars, gatekeeping and review by experienced editors and teams. We live in an age of super-saturation of information where it is often difficult to discriminate between the good (with content and conclusions supported by careful science) and the interesting.
What this means is that researchers have a responsibility to promote their findings responsibly and well. Not every piece of research deserves a wider audience. Some may add to the body of knowledge or provide methodological underpinning to other work. There are risks in models of knowledge production without filters and quality checks, where money is the only requirement to publish. It can be difficult for the uninitiated to identify what is high-quality – or good-enough – evidence.
Researchers need to work with others to interpret and make sense of their findings in ways which are compelling and engaging, while staying true to the science. This is difficult to do. I wrote my book Making Research Matter (Policy Press, 2021) to provide support to researchers trying to reach different audiences in new ways. There appeared to be a gap between highly theoretical work on knowledge mobilisation on the one hand and over-simplistic communications primers on the other, focused more on generating headlines than understanding new research in the context of what else we know.
My book asks researchers to understand the weight and context of their research and shape their findings in appropriate formats and channels for particular audiences. I use examples of high-impact research from health and social care where targeted and tailored outputs have made a difference. These range from tweet chats and feature articles based on new research on nurse staffing levels to government policy briefings on the economic case for rolling out talking therapies. In each case, the craft of developing an engaging output is married to the solidity of the research. There are few single studies which are groundbreaking (despite what university press releases might have you believe) and not every piece of research deserves active promotion.
In my book, I talk to a range of experts – not so much the researchers, but journalists, communicators and practice-facing opinion leaders. Teresa Chinn, who set up @WeNurses (a vibrant online community for nurses) and Shaun Lintern, health correspondent of the Independent both told me they wanted more 'good stuff' from the research community to counter the blizzard of press releases and unsolicited information from other sources. Both urged academics to spend time with people like them who could help to craft the story of their research and not to see this activity as self-promotion or lesser than other forms of scholarly engagement.
It comes down to the role of the researcher as a public intellectual with a responsibility for getting good knowledge out into the world and taking part in debate. New channels like theconversation.com exist to support research-led content which can be picked up by major news portals. Social media and digital scholarship provide exciting possibilities for making new links between disciplines and communities and starting different kinds of conversations. This perhaps is a refashioning of Habermas's notion of the public sphere as a meeting place for ideas and exchange necessary for a functioning democracy.
So open access forms of academic publishing provide the best of both worlds. I benefited from the constructive (and challenging) comments by external peer reviewers, careful stewarding by my editor and skilful copy-editing and production colleagues at Policy Press. My book is better for it. But my motivation for writing the book was to provide useful resources for early career researchers. When I was leading work at an evidence centre, I would be approached by researchers daunted by the idea of writing a blog or feature article or tweeting about their work. It is gratifying that, thanks to generous support from my host organisation (The Wessex Institute at the University of Southampton) my book with tips and insights on reaching wider audiences is now freely available to any researcher who wants to access it. This includes independent researchers or those without institutional access to published materials. Open access publishing pairs democracy with science. And perhaps brings a few new readers to content which would otherwise be out of reach. Who could argue with that?
Tara Lamont, Senior Scientific Adviser, Wessex Institute, University of Southampton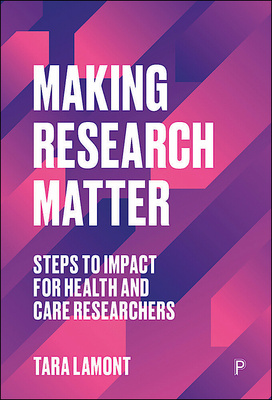 Making Research Matter: Steps to Impact for Health and Care Researchers by Tara Lamont is available on the Policy Press website. Order here for £15.99.
Bristol University Press/Policy Press newsletter subscribers receive a 35% discount – sign up here.
Follow Transforming Society so we can let you know when new articles publish.
The views and opinions expressed on this blog site are solely those of the original blog post authors and other contributors. These views and opinions do not necessarily represent those of the Policy Press and/or any/all contributors to this site.
Image credit: Alina Grubnyak on Unsplash