As part of our Transforming Research series, Palash Kamruzzaman looks at equity in knowledge production across the Global North and Global South.
Why is addressing equity in knowledge production across the North and South important?
Equity in practice, not just as rhetoric, in knowledge production across the Global North and Global South is of paramount importance. Without it we will have partial knowledges and fragmented realities that may not account for the entirety of diverse social realities that exist in different corners of the world. The current approach, where knowledge generated in the Global North dominates, seems to imply that either scholars from the Global South are not capable of producing knowledge (including knowledge on/for their own societies/realities) or that whatever knowledges they do produce are not credible enough. By rejecting, sidelining and subjugating alternative knowledges it seems international development scholarship and other social sciences are manufacturing a particular type of ubiquitous knowledge that serves to categorise people who are born free (in terms of their relation with nature and cultures) as poor (via the use of a universal definition of poverty), and demolishes wide-ranging notions of happiness and wellbeing through a focus on market-based economic 'progress'. Greater equity in knowledge production is thus essential to exemplify the richness of cultural diversity and alternative modes and meanings of life, happiness, humanity and peace that challenge the superiority of western ideals of modernity and enlightenment.
What is the biggest challenge in addressing inequities in knowledge production between the Global North and Global South?
The biggest challenge is in overcoming power relations. International development as a subfield of knowledge is mostly led by academics, consultants, donors and other practitioners who travel from the Global North with the aim of delivering policy solutions for the Global South, and producing knowledge along the way. But imagine if the roles were reversed and someone from a developing country tried to offer solutions for socioeconomic or cultural issues, or advise the government and civil society, or built toolboxes for community empowerment and good governance in the Western societies: this seems a laughable idea. Open Access publication policies also seem to favour scholars and institutions located in the Global North, essentially guaranteeing the wider dissemination, citation, credibility and superiority of Western knowledges.
But these power dynamics will be very difficult to shift as they are so deeply embedded within the knowledge economy, which has remarkable resilience, as well as the ability to co-opt challenging and dissenting views.
What are the specific challenges Global South scholars face in achieving an equal voice in the global knowledge economy?
Working in the Global South comes with the default feature of resource limitation, which presents a major challenge in achieving an 'equal voice' in the global knowledge economy. Although Global South scholars based in Western countries might enjoy comparative advantages, they may face institutional inequality/racism that potentially limits their progress and endeavours to attain an equal voice in the knowledge economy. Indeed, there are very few scholars from the Global South occupying top academic positions (such as Vice Chancellor, Deans of faculties etc.), leading top journals or heading renowned research centres, evidence perhaps of this invisible ceiling.
An important challenge is that most scholars from the Global South suffer from credibility issues in the eyes of various Western gatekeepers of knowledge production. Editors of leading journals, major publishing houses, renowned research universities and practising organisations are primarily located in the Global North, and predominantly led by Western scholars and practitioners. While language (international standard of academic English) can prove to be a key barrier, I have come across, both personally and professionally, numerous cases of Global South scholars insisting that often, but not always, they were told their works were not good enough.
In order to find an 'equal voice' in the global knowledge economy, it is important for Global South scholars to publish widely. There are examples when Global South scholars are not given due credit and deserved authorship despite making substantial contributions to knowledge production. Sometimes, inability to freely express themselves can also pose a major challenge. This can happen through the training they receive both at home or at overseas Western universities, enabling them to become cookies from the same mould and limiting alternative thinking and knowledge production along the way. In addition, spatiality seems to be another challenge as often institutional affiliation (whether the author is based in the Global South or in the Global North) may matter more than the content and ideas of an output.
What one change would you like to see in scholarship?
More opportunities based on merit are needed for Global South scholars. Governments of developing countries need to invest significantly more resources to enable scholars to engage meaningfully in knowledge production. This can be complemented with: i) increasing support from funding bodies and donors allowing Global South scholars to take leadership within research projects; ii) universities located in the Global North establishing more Visiting Research Fellowship opportunities for Global South scholars; iii) leading journals and publishing houses offering annual quotas for Open Access publications from Global South scholars either with no fees or at a nominal cost; and iv) high-level positions in donor country offices and/or international NGOs to be filled by the 'national' staff based on merit.
Hopefully, such changes will allow scholars from the Global South to overcome some of the existing barriers within the knowledge production process.
Dr Palash Kamruzzaman is a Senior Lecturer in Social Policy at the University of South Wales. He has around 20 years of research experience on various aspects of global development that is demonstrated through his wide-ranging publications (e.g. Poverty Reduction Strategy in Bangladesh: Rethinking Participation in Policymaking (Policy Press, 2014), Dollarisation of Poverty: Re-Thinking Poverty Beyond 2015 (Palgrave Macmillan, 2015) and Civil Society in the Global South (Routledge, 2020)). Palash's main research interests revolve around the areas of approaches to development, participation in policy making, aid ethnographies, displacement, global development goals (e.g. SDGs, MDGs), civil society and extreme poverty. His current research projects include: i) exploring the experience of violence and loss of dignity among Rohingyas in Bangladesh and internally displaced people in Afghanistan; and ii) exploring the roles of national development experts in global development. He can be contacted at palash.kamruzzaman@southwales.ac.uk (Twitter: @PKamruzzaman).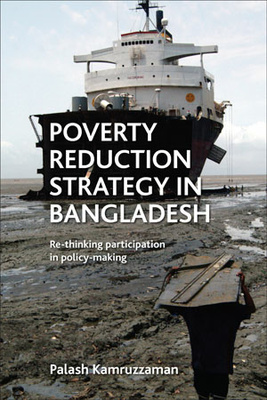 Poverty Reduction Strategy in Bangladesh: Rethinking participation in policy making by Palash Kamruzzaman is available on the Policy Press website. Order here for £64.00.
Bristol University Press/Policy Press newsletter subscribers receive a 35% discount – sign up here.
Follow Transforming Society so we can let you know when new articles publish.
The views and opinions expressed on this blog site are solely those of the original blog post authors and other contributors. These views and opinions do not necessarily represent those of the Policy Press and/or any/all contributors to this site.
Main image credit: Brett Zeck on Unsplash