There are over 11 million men, women and children in prisons around the world, many of them detained in conditions which are inhumane and degrading.
Over a period of almost 50 years, I have visited and inspected hundreds of prisons in over 70 countries. My odyssey has encompassed experiences across Asia, in remote Siberia, in regions of northern China and in war-torn Cambodia; in South Africa in the immediate aftermath of apartheid and in prisons elsewhere in the African continent where there are drastic shortages of essential resources; in Latin America where prisons are often cesspits of violence and degradation; in the United States which has the highest rate of imprisonment in the world; in Caribbean countries where many prisons reflect the region's brutal colonial past. I have also travelled the length and breadth of Europe at a period when countries in the centre and east of the region were coming to terms with the collapse of the Berlin Wall and the breakup of the Soviet Union, while those in the west were struggling with their reduced sphere of influence in the world. These experiences have taught me a number of important lessons.
In all jurisdictions people who commit serious crimes are sent to prison. There may be variations in the length of sentence imposed, but courts will invariably imprison those who are convicted of murder or serious personal violence, of major drug crimes particularly if they involve trafficking, of serious property crimes and of terrorist or organised crimes. These are the prisoners who often make the media headlines, but the reality is that in any prison system they constitute a relatively small proportion of the total number of prisoners. Instead, the vast majority will be individuals who spend their lives at the margins of society, involved in low-level persistent offending as one facet of a disorganised lifestyle. Many have varying degrees of mental illness and in daily life they exist outside formal institutional structures, unable or unwilling to find regular employment, often homeless and in a tenuous relationship with public health and social services. In many situations these mentally ill women and men exist below the radar of any supportive social or health service. They only come above the radar when they are accused of committing a crime; and the part of the formal network in which they pop up is the criminal justice system, which is singularly ill-equipped to deal with their underlying problems. Differential imprisonment rates between countries are often due to the extent to which imprisonment is used as a form of social control for these marginalised groups. However, it is not enough merely to point the finger at these systemic failings and to criticise imprisonment as a 19th century solution to 21st century problems. It is also necessary to offer an alternative vision.
An important conclusion I have reached after a professional lifetime immersed in prisons is that, while the efforts of those who seek to reform prisons from inside the system and of academics and others who study and comment on them from outside should continue and indeed be redoubled, radical change is unlikely to be achieved by these means alone. In the short and medium term, real change for the wider benefit of society is more likely to come about if many of the resources which are currently invested in the demand-led imprisonment industry are substantially transferred to initiatives such as those which have come to be described as Justice Reinvestment and in the longer term through what is known as the 'human development' model.
As the Justice Reinvestment movement begins to point to the end of an excessive societal dependence on criminal justice, it may also hold the promise of deeper systemic reform, one which recognises that the resolution of issues of public safety involves engaging other institutions in civil society including health and housing, workforce development, family and child welfare. The Justice Reinvestment initiatives developed to date have tended to concentrate on a reallocation of existing funding from criminal justice to social and community programmes but ultimately there will have to be a more radical approach.
One possible means of achieving this could be through what is known as the theory of human development which, in the words of the United Nations, is based on the principle of 'expanding the richness of human life, rather than simply the richness of the economy in which human beings live'. In brief terms, the human development approach focuses on realising the full potential of people so as to increase their access to opportunity and choice. To put it another way, this approach has a positive focus on future improvement in contrast to the criminal justice approach which has a retrospective focus on the reduction of crime. This theory is simply stated but achieving its reality will be complex. It is important to understand that this will not undermine the core role of the criminal justice system, nor will it deny the use of imprisonment in cases when it is necessary. Instead, it will clarify their purpose and restrict them within their proper parameters; providing a response, for example, to evidence from the College of Policing that in 2015 non-crime related incidents accounted for 83 per cent of all calls to police Command and Control Centres.
A proper application of the human development approach along the lines proposed in Prisons of the World could provide a way out of the vicious circle of an ever increasing use of criminal justice systems, which are very expensive in fiscal and also in human terms, in a vain attempt to resolve problematic behaviour by individuals and groups; behaviour which should not be ignored but which criminal justice institutions are ill-equipped to alter. Particularly in a time of world economic austerity, the argument for a redistribution of the current excessive expenditure on reactive criminal justice solutions towards proactive community solutions becomes increasingly relevant.
Andrew Coyle is Emeritus Professor of Prison Studies at King's College London. A former prison governor, he was founding Director of the International Centre for Prison Studies in KCL.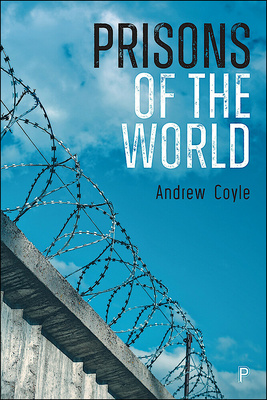 Prisons of the World by Andrew Coyle is available on the Policy Press website. Order here for £17.59.
Bristol University Press/Policy Press newsletter subscribers receive a 35% discount – sign up here.
Follow Transforming Society so we can let you know when new articles publish.
The views and opinions expressed on this blog site are solely those of the original blog post authors and other contributors. These views and opinions do not necessarily represent those of the Policy Press and/or any/all contributors to this site.
Image credit: Hédi Benyounes on Unsplash