Heading to university can be a rollercoaster of emotions. For many, it's one of the most exciting experiences, but also one of the most overwhelming. And for someone living with a chronic illness, it can be a minefield.
It's estimated that around 17 per cent of higher education students in the UK now identify as disabled – and yet in 2019, The Independent reported that charities and unions were warning of a 'concerning' trend of disabled students dropping out because of a lack of support.
I'm Natasha Lipman, a journalist, blogger and host of The Rest Room, a podcast about living well with chronic illness. That statistic, sadly, did not really come as a surprise to me. So in September's episode of The Rest Room, we created a resource all about navigating university when living with long-term health conditions.
I was joined by Pippa Stacey, blogger, psychology graduate and author of University and Chronic Illness: A Survival Guide. We were also joined by Dr Melanie Thorley, STAART manager from the student wellbeing service at the University of Greenwich.
I want to share some of the great insights from Pippa and Melanie about getting support to make the most of your academic life, and the impact the pandemic has had on students.
Getting support
The first point of contact for disabled students at university is the disability support service. What is offered varies depending on the university, but the service can provide a wide range of support on everything from finding the right accommodation, to taking your exams, and applying for Disabled Students' Allowance.
It is also the department responsible for working with you on creating a support plan.
The aim of this plan is to create an in-depth and wide-ranging document all about how you work with your disability, what adjustments you need, and anything that your lecturers and tutors need to know in order to support you throughout your studies.
Pippa told me that, for her, a support plan was mostly built around the fact that she couldn't always attend contact hours. She struggled to leave the house and was missing lectures and tutorials. "If that was a non-disabled student, they would be penalised for missing lectures as much as I did," she says. "But because that was detailed in my support plan, and the tutors knew that I could work better and smarter from home, rather than using the energy in the exertion to get ready and go to the lectures, that was a big one for me."
Such circumstances fall under what is often called a 'reasonable adjustment', and this enabled Pippa to stay in university and continue with her studies. "In the context of study, a reasonable adjustment is something that, in simple terms, helps you on your academic journey," Pippa told me. "So it might be things like having a note taker in your lectures to help you write things down, a support worker or a PA who can help you manage the independent side of university."
Many people, especially if they didn't have any specific plan in place at school, don't know that they might be entitled to support.
So what are other reasonable adjustments? Here are just a few to get you started:
● It's worth speaking to lecturers about what's feasible regarding contact hours: so things like when you'll attend and whether you can do some classes remotely (although, obviously, the pandemic has changed this a bit!)
● Universities can also offer support workers, such as study assistants, readers, scribes and sign language interpreters throughout the year.
● They can also make changes to trips and placements, as well as to buildings, labs and accommodation.
● It's also important to look into exam arrangements and what conditions you need to perform well – speak with your lecturers and disability support services to see what can be offered to best help you succeed.
● These may include taking your exams in a quieter room, having rest breaks, using a laptop instead of handwriting or having a scribe.
● If you struggle to get to university, you can get funding for taxis to take you to and from your lectures, saving you precious energy for studying.
"I just think forward planning is so important… it's a really difficult balance," Pippa says. "Sometimes you have to be able to plan in advance and figure out what you're going to do. But you also have to be able to cut yourself some slack.
You have to look at your course material and figure out how you're going to break that down in a way that works for you. This is a bit of a controversial piece of advice, but I would say sometimes if your health is really suffering, you have to learn how to prioritise the course content that's going to be most beneficial, and it's going to have the most productive outcomes for you.
What you'll find at university is that you get allocated masses and masses of extra reading and the work could go on for as long as you want it to. You could never read absolutely everything on your subject, it would be impossible. So I think you do have to make smart decisions sometimes about what's going to be best for you…and work out what fits into your day."
The role of the pandemic
It would be impossible to deny that the university experience hasn't changed in the last couple of years, and Melanie says disabled students have had mixed experiences of the pandemic.
On the one hand, many struggled with isolation, technology and not having the in-person support networks they relied on. However, she believes that for chronically ill students in particular, many things have been put in place that have made the world of difference.
"A lot of our disabled students might have actually coped better with this situation than our non-disabled students, because they are used to having to adapt.
They have to adapt to a world and an environment and society where their bodies, wonky or not, are not taken into consideration. So actually, they are used to adjustments, they are used to having to be flexible. So possibly, because many of us have had a difficult educational journey already, this was just another barrier that needed sorting."
Pippa says while no one would have wished the pandemic on anyone, there could be some positive outcomes for students with disabilities and chronic illnesses but there's still a long way to go.
"It's had a really interesting impact on the way we think not only about education, but employment and socialising, and all different elements of life," Pippa told me. "I think for the longest time, people with chronic illnesses have had to try and make themselves fit within systems that just weren't designed for them."
This is something Pippa knows first-hand. When she first asked if she could have her lectures recorded, so she could work from home, she was told that wasn't possible.
"At the time they said no, because of the rooms that my lectures were in. And that was the end of that. When I did try and push, what they came back with was, well, if you're struggling to attend contact hours, should you even be at university at the minute; maybe you should be taking a leave of absence instead.
And the fact that that came from Disability Services I did feel was quite ignorant of the fact that even though, yes, I wasn't well enough to be leaving the house and physically attending, it didn't follow by default that I wasn't well enough to be studying.
And, given the global situation we've had now, I would dare any university to say that again, because back then studying from home and making lectures available remotely was seen as such an impossible thing. And yet, suddenly, when the pandemic happened, it magically became possible overnight And without doing too much of a deep dive into that, I just think it's really interesting that remote learning opportunities suddenly became available when non-disabled students needed it too.
But I also know full well that, again, as restrictions are easing, a lot of universities who did offer online study are now starting to revert back to the traditional model. And while I hope that lessons will have been learned from this time, I've already heard from students who have been told that online learning won't be possible this year, and that if they want to study they will have to attend in person. And I think that says it all.
Really, I think we've still got a very long way to go in figuring out how we can make higher education more inclusive for people with chronic illnesses in particular.
Natasha Lipman is a journalist, chronic illness blogger, and host of the Rest Room Podcast. You can find her on social media @NatashaLipman.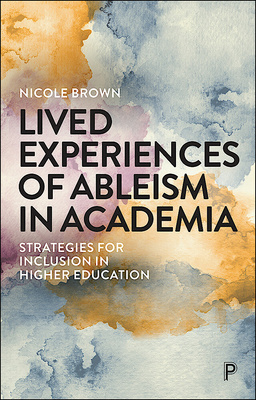 To find out more about how universities can develop inclusive practices, accessible working and learning conditions, you may be interested in Lived Experiences of Ableism in Academia by Nicole Brown. Available to order on the Policy Press website for £19.99.
Bristol University Press newsletter subscribers receive a 35% discount – sign up here.
Follow Transforming Society so we can let you know when new articles publish.
The views and opinions expressed on this blog site are solely those of the original blog post authors and other contributors. These views and opinions do not necessarily represent those of the Policy Press and/or any/all contributors to this site.