In 2021, Dame Carol Black was commissioned by the UK government to undertake an independent review of drug treatment in England. Her findings resulted in a collective sigh of relief for those working in and around the substance use field. She had listened to people living and working with substance use and she had learned. Her recommendations offered a grain of hope that substance use policy in England may change for the better.
Dame Carol did not pull her punches. She reported that the current treatment system was not 'fit for purpose' and stated that 'recovery is about more than just treatment'. She recognised that many people will 'require long-term follow-up' care including support with accommodation, employment and social networks. In short, she confirmed what many of us already knew: the current system of specialist substance use treatment has been failing the people it was meant to serve. After a decade of severe funding cuts, she reported the substance use treatment sector was broken and in need of wholescale change.
Subsequent to Dame Carol's review, the UK government published its drug strategy or '10-year plan' for England in December 2021. On the surface it offers hope. It recognises the long-term support required for people to sustain their recovery from substance use. It aspires to 'reduce stigma' and to treat substance use as a 'chronic health condition' and to rebuild the workforce to deliver this care. To do this, it pledges to invest £2.8 billion over three years. The goal is to develop a world-leading treatment system within 10 years. Such funding begins to reverse the decimation of substance use services through severe financial cuts over the previous decade; an injection of funds triggered, perhaps, by the realisation that when you withdraw funding from the sector so drastically, you cannot be surprised when alcohol- and drug-related deaths rocket to their highest levels on record and substance-related social and health care problems increase.
The government's recognition of the need for long-term recovery support is particularly important. It is the first step towards stopping the revolving door of service access (and exit) that many people pass through for decades. Properly supporting people who want to change their substance use involves change and resources on many levels, in individual staff skills and organisational models of practice, and in the systemic, cultural and political influences that can stop innovative work in its tracks. Seeking to support long-term change and people's long-term recovery requires long-term commitment to resourcing it fully.
Some years ago, I evaluated an innovative specialist alcohol service for older drinkers run by a charity provider. What worked for people were the relationships built with staff? Andrew (not his real name) talked of how his worker:
"… came and visited me every week; he was assigned to me in hospital. He came and saw me every week. As soon as I came back, he came to the house, he supported me. He never once judged me, never once. He said the thing is, you've been through such a lot …".
For the substance use professionals, having time to spend building relationships with people, in hospital, at home, in the community, and being able to support them with practical tasks, was a different way of working. The approach built the relationship that allowed the alcohol problems to be addressed and laid the groundwork for long-term change. But, like many innovative services before it, the service closed after its charitable funding ran out and the local authority was unable to support it further. People were transferred back to the mainstream service and the charity was not resourced to deliver the home-based and holistic care it once had in the context of increasing funding cuts. The individual relationship and the organisational model were working, and in place, but the policy and funding to support it were not. The sector is littered with examples of this kind.
Aspiring to world-leading treatment is an admirable ambition but the government needs to recognise the need for ongoing resources to allow all layers of the 'system' to work together. The goals for long-term change and 'whole-system' support in the government's plan are predicated on services and sectors becoming integrated and working together. This feels like a tune we have heard played before. The reality is much harder to achieve. The success of this government plan should be judged on how it is experienced by the people it is set up to serve, their families, communities and the services that deliver it. My fear is that it will be measured not by people's experience of it but only by 'hard' data on reductions in substance-related crime, and numbers through the doors.
Sarah Galvani is Professor of Social Research and Substance Use at Manchester Metropolitan University.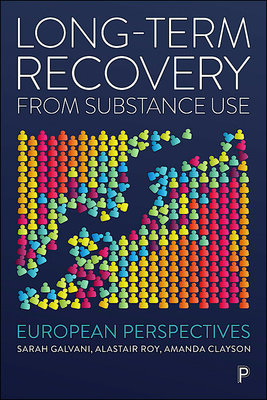 Long-Term Recovery from Substance Use: European Perspectives edited by Sarah Galvani, Alastair Roy and Amanda Clayson is available for order on the Policy Press website.
Bristol University Press newsletter subscribers receive a 35% discount – sign up here.
Follow Transforming Society so we can let you know when new articles publish.
The views and opinions expressed on this blog site are solely those of the original blog post authors and other contributors. These views and opinions do not necessarily represent those of the Policy Press and/or any/all contributors to this site.
Image credit: Mika Baumeister on Unsplash