Sometimes laws do not do what they say they do, or even do the opposite. For example, instead of supporting children, child support often puts demands on poor mothers for little financial return. How can this be explained and who benefits instead?
Children have the right to share in the resources of their parents. But, when parents separate, children can become disconnected from their fathers' income as, across countries, children tend to live with their mothers for all or most of the time. Because mothers tend to have lower earning capacity and higher costs, children in single-mother households are at greater risk of poverty.
The UN Convention on the Rights of the Child states that governments have a responsibility to ensure that parents share financial resources with their children, regardless of where they live. This right is operationalised through child support, which directs non-resident parents to provide resident parents with payments for the upkeep of their children. But, OECD statistics show that for 21 wealthy countries from the Global North, fewer than 50 per cent of children in single-parent families received any payments. In countries with less developed child-support systems, compliance rates are likely to be similar or worse.
A failing grade on transferring funds suggests that children's right to parental support is not being taken seriously. Given the significant failures of child support, why aren't alarm bells ringing? Based on a study of child-support systems worldwide, I suggest that the answer is gender.
As the vast majority of applicants are women, what child-support systems do – and more importantly what they don't do – have implications for single mother-headed families and for how countries can understand and respond to women and children's poverty. The gender of child support can be seen in the following ways:
All of the effort, little of the reward
First, across countries, irrespective of the type of child-support system, it is time- and resource-poor mothers who must expend considerable time, money and effort to pursue children's right to resources from their other parent. Mothers must find out about the system, collect data including about their ex-partner who may prefer not to participate, complete applications and attend appointments. In addition, mothers may have to negotiate with or appease their ex-partner. Fathers, by contrast, are often largely free to ignore mothers' or state requests, evade systems, withhold information, impose conditions or not comply. If fathers do not freely share their resources with children, it is mothers who must re-exert themselves through administrative, legal or interpersonal systems to recommence this institutionalised system of begging. The gender of the work of child support reinforces women and children's poverty, as time, money and effort spent within the system entail opportunity costs of their own.
What is measured is what is valued
Second, a striking feature of child support, internationally, is the gender of the data on which the system relies. These data reinforce the idea that child support is 'working', even when it is not. While most countries have records of how many families enter the child-support system, and some have data on whether these families are eligible for more or less government support as a result, such data provide no information on whether the system is working or not. Judicial systems are ill-equipped to track compliance given there is no ongoing contact with parents unless debtors return to seek enforcement orders years later. Compliance is also not routinely recorded in administrative or hybrid systems, as parents are often encouraged to transfer payments privately.
Focusing on the caseload rather than the benefit of the system means that the number of children 'in the system' comes to stand in for the number of children benefiting 'from the system'. Mothers' inability to seek, fathers' refusal to pay or states' refusal to assist are written out of scope.
Shifting responsibility
Third, rather than focusing on whether child-support systems ensure resources flow to children, there has instead been a focus across countries on improving the precision of calculating the value of child-support orders. The assumption is that more precision will lead to more motivation for fathers to pay. But more precise decision making in judicial or administrative systems requires more precise data – which disproportionately falls on women to provide when fathers are unwilling. By limiting their role to calculating and ordering payment amounts, states have reframed the nature of their responsibility for child support away from ensuring children's right to resources and onto ensuring a 'fair' system. However, when payments are not forthcoming, the fault can be framed as lying with the technical precision of the system or with mothers' failure to enact the system. Fathers' and state responsibilities and failures are minimised.
From public problem to private trouble
Finally, to overcome the problems of trying to precisely calculate payments or ensure payments, most states now urge – or even require – parents to work out child-support transfers between themselves. The return to a private 'non-system' removes any benefit that a state-sanctioned and operated system might provide. As such, it is no wonder that the OECD statistics are so poor.
All systems that encourage private agreements and transfers ignore the gendered financial, social and relational power differences that exist between parents, and that tip the negotiating power in favour of typically higher-earning fathers. By condoning – and actively championing – private negotiations as a better way to calculate and transfer payments, states reinforce single mothers' subordinate financial and social status.
Taken together, there are a number of reasons why child support fails to deliver upon children's right to receive a share of both parents' resources. Underpinning all of these reasons is the fact that following separation, children live most often with their mothers, and that women's interests and world views are too often overlooked in law, policy and institutional decision making.
Kay Cook is Professor of Sociology and Associate Dean Research in the School of Social Sciences, Media, Film and Education at Swinburne University of Technology.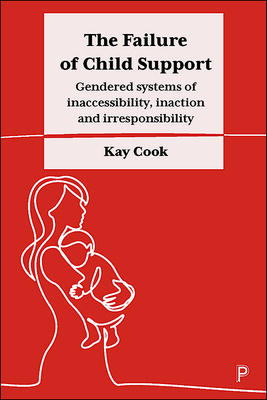 The Failure of Child Support by Kay Cook is available on the Policy Press website. Order here for £80.00.
Bristol University Press/Policy Press newsletter subscribers receive a 25% discount – sign up here.
Follow Transforming Society so we can let you know when new articles publish.
The views and opinions expressed on this blog site are solely those of the original blog post authors and other contributors. These views and opinions do not necessarily represent those of the Policy Press and/or any/all contributors to this site.
Image credit: kieferpix