Is it possible to provoke positive change within the historically male dominated sciences, without alienating people? The Women in Supramolecular Chemistry (WISC) network have demonstrated that, yes, it is.
What began as a small group of female colleagues meeting regularly to offer one another support in their scientific careers has, in less than three years, grown into an international network. Increasingly recognised within the academy, the WISC network has received support for their work enabling women and other minority groups in STEM to get on with their science, safely, successfully and to the benefit of the wider scientific community.
In this episode, Rebecca Megson-Smith talks with Jennifer Leigh, Jennifer Hiscock, Marion Kieffer and Larissa K.S. von Krbek, four of the authors behind Women in Supramolecular Chemistry: Collectively Crafting the Rhythms of Our Work and Lives in STEM, about new ways to challenge the age-old issues of inequality and discrimination within the sciences.
Listen to the podcast here: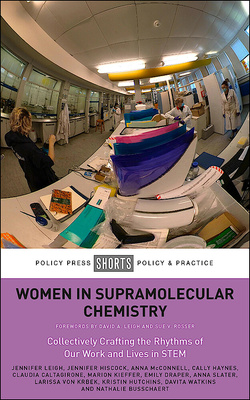 Women in Supramolecular Chemistry by Jennifer Leigh et al. is available Open Access on the Policy Press website. Download via OAPEN or buy the paperback for £24.99.
Bristol University Press/Policy Press newsletter subscribers receive a 25% discount on all books – sign up here.
Follow Transforming Society so we can let you know when new articles publish.
The views and opinions expressed on this blog site are solely those of the original blog post authors and other contributors. These views and opinions do not necessarily represent those of the Policy Press and/or any/all contributors to this site.
Image credit: Vladyslav Bobuskyi via iStock