The death of George Floyd at the hands of police officers in Minneapolis sent shockwaves around the world. But along with cries to defund the police, another movement sprang up in the US, aiming to 'defund the crime beat'. Journalists on both sides of the Atlantic argued that crime journalism was racist, sexist and classist and, in particular, promoted harmful stereotyping of Black, Brown and other marginalised communities.
In my book, Crime and Investigative Reporting in the UK, I explore how new British investigative non-profits, such as the Bristol Cable, the Bureau for Investigative Journalism and its sister project, the Bureau Local, are addressing these concerns. Although none of these non-profits are expressly reporting on crime news, they are nevertheless changing the remit of traditional crime news.
In the UK, non-profits are funded by two sources, philanthopic grants and donor funding, allowing them to pursue stories they believe are important. As one interviewee said:
"We don't want money, but we do want transformation, we do want change. So it is thinking about journalism in completely different terms."
Challenging harmful stereotyping of marginalised communities
One of the ways in which the non-profits differ from their mainstream counterparts is in the relationship they have with their readers. Key to that relationship is the concept of collaboration and, in the case of the Bristol Cable, sharing power with their readers. As one of the co-founders told me:
"It's not about telling the stories the journalist wants to tell or thinks should be told, it's about asking people what do you want, what do you need? And for us to work with them, to build those stories, those investigations."
During the months following the death of George Floyd, I attended a number of conferences exploring why crime journalism excluded the voices of stigmatised or marginalised communities. One key reason was the lack of diversity; another was that, following the closure of so many local newspapers in the UK over the last ten years, journalists were often being 'parachuted in' to cover stories about neighbourhoods of which they had no knowledge – and, as a result, they resorted to the same negative stereotyping of previous news coverage. A further key fact was lack of trust in the media by those communities.
One of the first initiatives to give voice to communities generally portrayed negatively in legacy media was the Bristol Cable's series of stories about the Traveller community in Bristol – an initiative which started in 2015 and is ongoing to this day. As reporter Hannah Vickers explained:
"Firstly, as press coverage of these communities is so overwhelmingly negative and has such a narrow focus, there is zero public interest needed to provide more of the same. … There are so many articles about Travellers, but very few where the people being written about get to say anything."
As a result, Vickers and the Cable are careful to give Travellers the chance to tell their own stories – to report with the Traveller communities, rather than on them. In a story on the Gypsies and Travellers Communities Bill, put forward by Conservative MP Andrew Selous, which proposed turning Traveller sites into land for housing and moving all Gypsies and Travellers into houses 'to help them integrate', the Cable explored at length the impact of the Bill on Travellers' lives, drawing from a series of interviews with named members of the community. One Traveller, Luke Wenman, argued that:
"It's an excuse for cultural cleansing. There are two ways people tackle Travellers. One, they force you to continue being on the move, or two, they force you to assimilate."
By contrast, a report in the Daily Mail in November 2019, outlining proposals by the Home Secretary to enable police to remove 'unwelcome visitors', did not include any interviews with Travellers, stressing instead that trespass was currently 'a civil matter meaning landowners face a long and expensive legal battle to remove offenders'.
Reporting on systemic harms and finding solutions
Another way in which investigative reporters on non-profits are aiming to change narratives is by reporting on what they term 'systemic harms', rather than reporting on crime as specific events. As a respondent from the Bureau Local commented:
"I think what makes a Bureau Local story is that, first and foremost, we are also looking at sys-temic issues, under-reported issues, the stories the mainstream media aren't telling."
An example of this was the Bureau Local's story 'Dying Homeless'. Prompted by the death of a homeless man found outside the Houses of Parliament, the Bureau Local decided to investigate how many people were dying homeless in the United Kingdom but then realised that no one was collating this data. The reporter leading the investigation, Maeve McClenaghan, devised a form for Bureau Local members to fill out, with details of homeless deaths they had come across. At the same time, McClenaghan and the rest of the team travelled across the UK, visiting soup kitchens and homeless shelters to meet sources and understand the issue through first-hand accounts, but also working directly with these communities to co-create stories. They looked at local press re-ports, gathered details from police and coroners' reports, as well as speaking to doctors and others working with homeless people, to ensure they had as full a picture as possible.
However, while a key aspect of the project was identifying how many people died homeless in Britain, McClenaghan also argued, in an interview with Global Investigative Journalism, that under-standing the stories behind the statistics was essential in order to capture the causes and effects of homelessness in the United Kingdom – in this case, cuts to mental health provision and drug and alcohol services and lack of housing. She commented:
"I think it was only through really going deep into those stories that you understand, there are moments when interventions could have helped, and they weren't there, and here's how we learn lessons to prevent this from happening again."
But the Bureau Local's work is not just about finding the causes of systemic harms; it is also about sparking social change. In a follow up to 'Dying Homeless', an investigation called 'Locked Out', the Bureau Local used data to 'highlight the inadequacies of Local Housing Allowance' and 'collected evidence to show the ineffectiveness of recent homelessness reduction legislation in England'. Members of the team set up 'story circle' meetings to talk to citizens who had been personally affected by these issues, in order to give context to the data and evidence collected, and fed back findings to policy makers and politicians.
Expanding the remit of traditional crime news
By adopting very different working practices from mainstream media, non-profit journalists are changing the remit of crime news in two ways. Firstly, by taking the time to forge meaningful relationships with hard-to-reach communities, non-profit journalists are able to challenge harmful ste-reotypes, ensuring that a greater range of perspectives are covered in their reporting. Secondly, through solutions journalism interventions, these non-profits challenge the traditional Fourth Estate role of watchdog journalism, that the journalist's role is to 'inform' citizens. Instead, the aim of these non-profits is to produce 'transformational' journalism, working with citizens to bring the systemic harms they are reporting upon to wider attention, with the aim of sparking societal change. In short, far from being on its way out, crime journalism is being successfully reimagined and practised with passion by these new non-profits.
Marianne Colbran is Visiting Research Fellow at the Mannheim Centre for Criminology at the London School of Economics. She was previously a television scriptwriter for the British police show, The Bill.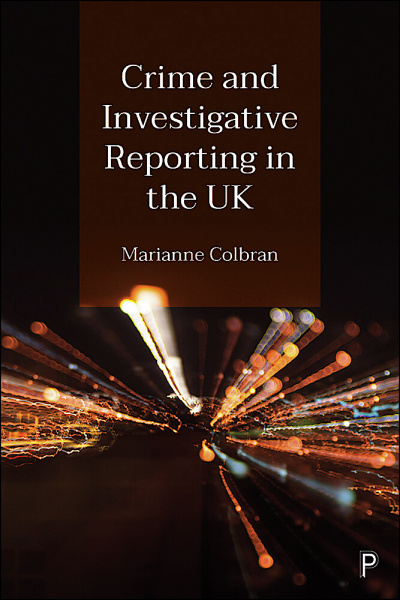 Crime and Investigative Reporting in the UK by Marianne Colbran is available on the Policy Press website. Order here for £85, or get the EPUB for £26.99.
Bristol University Press/Policy Press newsletter subscribers receive a 25% discount on all books – sign up here.
Follow Transforming Society so we can let you know when new articles publish.
The views and opinions expressed on this blog site are solely those of the original blog post authors and other contributors. These views and opinions do not necessarily represent those of the Policy Press and/or any/all contributors to this site.
Image credit: [puamelia] via Flickr (CC BY-SA 2.0)