In both England and Australia, the two countries where we live and work, the rapid shift to learning at home during periods of lockdown has shone a new light on educational inequalities. The impact on children's learning of uneven access to resources at home has been noticed and understood in new ways.
Other differences in children's lives have also become more evident – access to food, availability of housing space, parental time, opportunities to enjoy green or blue spaces, domestic violence, exposure to illness and bereavement.
Politicians in both countries have responded by making new commitments to reducing disparities in learning, to addressing the wide 'disadvantage gaps' in educational attainment that exist in both countries. This is good news. But we should not kid ourselves that well-intentioned short-term policies such as additional tutoring, catch-up interventions and summer schools will crack the problem. We need instead to take a long-term view, looking both backwards and forwards.
Looking back over the last half century, it is clear that at almost every turn, a major objective of education policies has ostensibly been to reduce inequalities, albeit expressed in different terms at different times: sometimes social justice; sometimes equality of opportunity; sometimes social mobility. Yet as underlying economic, social and spatial divisions have grown, education systems have not been able to smooth out these divisions.
This is evident in headline statistics on 'disadvantage gaps'. In both countries, these gaps are wide and persistent. In England, white British students and black Caribbean students from low socioeconomic status (SES) backgrounds continue to have relatively low attainment, while in Australia this is the case for low SES and Aboriginal students.
It is also evident when we go beneath the aggregate statistics and look at educational opportunities and outcomes in the neighbourhoods and communities which have been at the 'sharp end' of widening and economic and social divisions: deindustrialised towns and suburbs; inner urban neighbourhoods; coastal areas in England; rural and remote areas in Australia; metropolitan fringe suburbs. In these places, disadvantage gaps are widest. This isn't to say that no policy has ever worked or that nothing has improved. But in sum, policy efforts over the last several decades have not risen sufficiently to the challenge of educating societies with high and growing inequalities.
This is not because small and short-term policy initiatives have been misconceived or badly implemented. It is the result of five major mistakes or 'policy wrong turns' that, in combination, have effectively 'hardwired' inequitable outcomes into specific policies and practices. Perhaps the key one is taking a superficial view of educational inequalities: failing to adequately recognise the 'social determinants' that hold children back. But this can't be seen in isolation. The effects of this mistaken approach are compounded by others. They include turning to the market in the belief that competition, choice and autonomy will make education better, with enormous damage to children in 'residualised' schools or who are excluded or marginalised because they do not contribute to a school's market position. They also include letting numbers and targets drive education policies, to the point where we have lost sight of aspects of education that are harder to measure than test results; and over-prescribing teachers' work, so that they are less able to use their knowledge and professional judgement. Divorcing policy making from educational research and practice is the fifth and final mistake.
Each of these on their own has been the subject of copious research and critique. We are not pretending to have discovered them! But copious research and critique has not produced a change in direction. So, while the pandemic is focusing our attention on educational inequalities and making us notice young people who are not well-enough served by schooling in good times and bad, now is the time for a different approach.
For us, the core elements of such an approach would include the following:
Regaining a wider vision of education, recognising that there are broader purposes to schooling than academic attainment and skill acquisition. And focusing more on equity than attainment gaps;
Making education for all a fundamental principle for schooling, looking hard at practices around admission, behaviour, support and exclusion, and ability grouping;
Understanding education policy more broadly, and changing the structure of government ministries and cross-departmental working so that ministers must consider education in the context of child poverty, health and wellbeing rather than seeing it in isolation;
Levelling the playing field further through a much greater redistribution of resources in the school system. 'Levelling up' requires more than top-ups. It needs substantial and significant ongoing investment;
Building systems for collaboration not competition starting with removing autonomy over admissions and introducing collective local accountability structures, as well as restoring greater coordination and public oversight to schools' procurement of goods and services.
Reducing the amount of testing and decoupling tests from school accountability measures. Looking at alternative approaches to assessment and accountability that do not distort the activities they are intended to measure.
Recognising that there is no single proven approach to improving practice and supporting teachers and school leaders more.
No doubt the details can be debated. The key issue is to recognise the scale of rethinking that is needed.
This will require something different of all stakeholders, including a willingness to set aside whims, prejudices and longstanding antagonisms in order to reclaim some of the common ground that exists in collective aspirations for children's and young people's wellbeing and success. Critically it will also require a willingness to confront the mistakes of the past, regardless of who has made them. Transformational change will not be achieved without a strong shared understanding of what has gone wrong as well as what has gone right, and why decades of policy effort have not produced education systems that are effective and fair.
This will not be easy, for politicians or for academics who have been committed to revealing the ideological bases of policy decisions, but it is imperative. Now more than ever.
Ruth Lupton is Professor of Education at The University of Manchester. She researches, writes and teaches about poverty and inequality, particularly in relation to education and neighbourhoods.
Debra Hayes is Professor of Education and Equity and Head of School at Sydney School of Education and Social Work, The University of Sydney. Her research investigates inequitable effects of schooling in high poverty and difference contexts.
You can also watch the authors talk about their book, and its findings, here.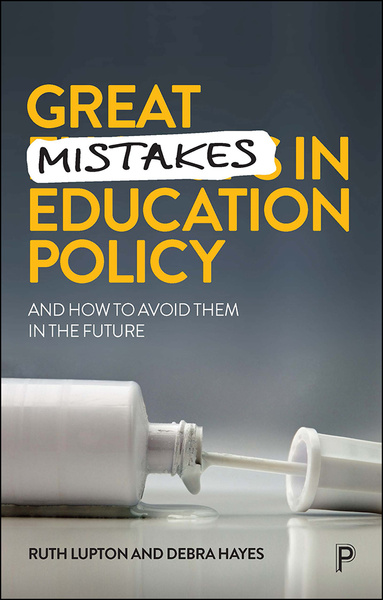 Great Mistakes in Education Policy by Ruth Lupton and Debra Hayes is available on the Policy Press website. Order here for £13.59.
Bristol University Press newsletter subscribers receive a 35% discount – sign up here.
Follow Transforming Society so we can let you know when new articles publish.
The views and opinions expressed on this blog site are solely those of the original blog post authors and other contributors. These views and opinions do not necessarily represent those of the Policy Press and/or any/all contributors to this site.
Image credit: mtnangel via iStock