During 2020–21, the COVID-19 virus became the main preoccupation of education policy in many countries, at least as regards the number of policy texts issues by governments, even though children were not at school for considerable periods of time. Generally speaking, education is still now functioning differently or in the 'new normal' in many countries, but whether COVID-19 in the longer term, post-vaccine, will be regarded simply as a temporary disruption or a major rupture remains to be seen.
Two things are important to note. First, the response to children not being in school – by schools and by parents – has highlighted 'new' inequalities and exacerbated existing ones. Second, children not being in school has offered a major business opportunity to EdTech companies and other private service providers. Edu-businesses acted swiftly in 2020 to provide free education tools, 'position[ing] educational technology as an integral component of education globally, bringing private sector and commercial organisations into the centre of essential education services'. Google and Microsoft for example, in many countries, offered the G-Suite Education and 365 for Education platforms to school systems with no charge for a limited period (until September 2020), alongside an enormous variety of teaching and learning resources, as well as training on how to use their packages. In the US, Blackboard has provided free access to products, resources and training designed to help schools and teachers to scale up their remote teaching and learning, including education packs, free data and analytics, while Coursera and FutureLearn offered free-to-access training courses and entire modules. In England, all of this activity fits neatly into the government's 2019 EdTech Industrial Strategy, which is aimed at 'realising the potential of technology in education', and described as 'a strategy for education providers and the technology industry to help improve and increase the effective use of technology in education'.
The plan was to 'take responsibility for providing clarity on the challenges that educators face so to catalyse business investment and drive demand' and stimulating the EdTech market by 'opening spaces for the market and education to meet, through facilitating opportunities for buyers and sellers to meet' as well as 'to test products in the real world and building evidence-base effectiveness of EdTech products and services'. COVID-19 has speeded all of this up and provided a huge rise in the number of new account holders for the platform providers and opportunities to develop brand loyalty. Since the start of the crisis, use of Google Classroom has grown 400 per cent, use of Byju's has grown 60 per cent, use of Duolingo has grown 60 per cent and use of Pearson has grown 44 per cent.
"This could be the biggest sustained, mass experiment in online education since the internet was founded in the 1980s." Tim Culpan, Bloomberg
The second point to note is, at the same time, COVID-19 has brought the relationship between social and educational inequalities more starkly into view. An Education Endowment Foundation (EEF) report (2020) concluded:
School closures are likely to reverse progress made to close the (achievement) gap in the last decade.
Supporting effective remote learning will mitigate the extent to which the gap widens.
Sustained support will be needed to help disadvantaged pupils catch up.
Research indicates that digital exclusion has compounded existing inequalities in education and elsewhere. The likelihood of having access to the internet from home increases along with income, such that only 51 percent of households earning between £6,000 and £10,000 currently have home internet access, compared with 99 per cent of households with an income of over £40,001. The link between poverty and digital exclusion is clear: if you are poor, you have less chance of being online. If you are not online then your access to remote learning becomes very difficult.
Digital inequalities extend throughout the education system. In research done by the Sutton Trust on the effect of school closures:
"23% of pupils are reported to be taking part in live and recorded lessons online every day. However, pupils from middle class homes are much more likely to do so (30%), compared to working class pupils (16%). At private schools, 51% of primary and 57% of secondary students have accessed online lessons every day, more than twice as likely as their counterparts in state schools. 50% of teachers in private schools report they are receiving more than three quarters of work back, compared with 27% in the most advantaged state schools, and just 8% in the least advantaged state schools."
In February 2021 a report by the Institute of Fiscal Studies noted that 'by the time the pandemic is over, most children across the UK will have missed over half a year of normal, in person schooling. That's likely to be more than 5% of their entire time in school' and goes on to say that 'the negative effects are also likely to extend beyond educational attainment.' The report also reiterates the unequal effects of school closures: 'The negative effects are over 50% larger for disadvantaged children,' and adds that there is 'the clear possibility that the effects of lost learning could be neutralized for those from well-off families and the long-run negative effects could be concentrated amongst those from disadvantaged backgrounds'. In response to these reports in June 2020 the government announced a national 'catch-up' scheme.
"That's why we are launching the £1 billion COVID-19 catch-up plan that will lift outcomes for all pupils, with targeted support for those from disadvantaged backgrounds who are most at risk of falling behind because of this disruption. As part of this package, we'll provide a universal 'catch up premium' worth £650 million for all state school children in England to help them to make up for the lost teaching time in the next academic year." Briefing by Education Secretary Gavin Williamson, 19 June 2020
Thus was brought into being yet further opportunities for profit from education service delivery. The National Tutoring Programme, part of the catch-up plan, consists of 33 organisations selected as 'Tuition Partners' by the Education Endowment Foundation, which received £76m to run the initiative on behalf of government in its first year. Schools are able to choose between different providers and a variety of models, including face-to-face and online tutoring and will be able to book tutoring with Tuition Partners, paying 25 per cent of the costs. Approximately 15,000 tutors may be involved in the scheme.
In August 2021, Schools Week reported that: "Almost one in five pupils enrolled in the first year of the government's flagship National Tutoring Programme are still yet to receive any tuition, with the organisers blaming COVID disruption for the backlog". Becky Francis, CEO of the EEF, commented that running the government's flagship National Tutoring Programme (NTP) for its inaugural year was 'a bit bumpier' than expected, with 'serious disruption caused by COVID-19 impacting the scheme. In March 2021 The Guardian reported that one of the providers approved by the EEF, Third Space Learning, was employing tutors in Sri Lanka as young as 17 and paid as little as 425 Sri Lankan rupees (£1.57) for each session of tuition. A statement issued by the Tutors' Association (March 2021) said the use of underage, low-paid tutors was 'only the tip of an iceberg of mismanagement of public money'. It noted that Nesta, one of the organisations working with the EEF to manage the first phase of the NTP, is an investor in Third Space Learning. Third Space does not appear on the current list of approved providers, and neither do 15 other providers from the first year of the scheme. The delivery of the programme from 2021, a £25m contract, was awarded in June 2021 to the Dutch multinational HR company Randstad. Randstad has offices in 38 countries spread across five continents and an annual turnover of £17bn. Randstad has approved itself as a service provider.
As the ancient Chinese saying goes, 'a crisis is an opportunity in disguise'.
Stephen J. Ball is Distinguished Service Professor of Sociology of Education at the University College London Institute of Education.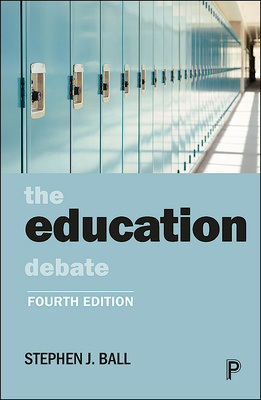 The Education Debate by Stephen J. Ball is available on the Policy Press website. Order here for £13.59.
Bristol University Press/Policy Press newsletter subscribers receive a 35% discount – sign up here.
Follow Transforming Society so we can let you know when new articles publish.
The views and opinions expressed on this blog site are solely those of the original blog post authors and other contributors. These views and opinions do not necessarily represent those of the Policy Press and/or any/all contributors to this site.
Image credit: Julie Rideout on Stocksy