Adult social care is rarely out of the news. Reports of huge numbers of care home deaths and of front-line commitment during the pandemic vie with weary repetition of policy failures at national level. Most prominently, despite 12 consultations and five reviews in the past 20 years, politicians seem no closer to coming up with a solution on how to fund and deliver effective support.
In his first speech as Prime Minister, Boris Johnson claimed to have 'a clear plan to give every older person the dignity and security they deserve' but 18 months later it has failed to materialise. The recent Queen's Speech contained only one line on social care, a vague commitment to bringing reforms forward at some future point.
Meanwhile, longstanding dilemmas abound: lack of access to help; cuts to council funding; life-crippling care costs; a fragile provider market; a demoralised workforce; and a failure to listen to those who use care and support. These problems have a long and tortuous policy genesis and the solutions are not self-evident. To make sense of the current policy impasse it is necessary to take stock of how we got to where we are now are, what has been achieved and what has failed, explore the possible options and consider how they might be put into effect. This is the aim of my new book Clients, Consumers or Citizens? The Privatisation of Adult Social Care in England.
Adult social care was the first major policy domain in England to be exposed to neoliberal reform. The 1970s had witnessed a short-lived attempt to put the sector on a traditional 'welfare state' footing, but by the 1980s the idea that the state was inherently inefficient compared with the market had taken hold. This principle was put into practice through the tenets of 'new public management' – a split between purchasers and providers; competition between providers; a focus on 'value for money' and tighter regulation. Local government was reduced from a 'providing' to an 'enabling' role and financial streams incentivised the growth of the private provider market in social care.
With 30 years of experience of this 'quasi-market' behind it, the adult social care sector has some important lessons of a wider nature for policy makers. On the commissioning side of the 'purchaser–provider split' there is little sign of the rigorous analysis, planning and intervention envisaged as the virtue of this separation of functions. Rather the task is characterised by hand-to-mouth survival as local councils, with ever-decreasing funds, pursue an ever-more fragile supply of providers. Meanwhile much of the purchasing has shifted from local councils to individuals in the form of personal budgets and those who (having fallen foul of a stringent means test) are required to fund their own care. It adds up to a complex, confusing and ineffective scenario.
Things are no better on the supply side. Although private sector investment has replaced some of the need for state investment, this has come with a complicated legacy. Private companies will only set up and remain in business where the return on investment is deemed favourable; this has resulted in some parts of the country having no provision at all and others labouring under the threat of market implosion. Some of the larger private companies have developed dangerous sale and leaseback models which require unacceptably high rates of return on investment. Meanwhile the care workforce – the largest cost of provision – is characterised by low pay, insecurity, low status and problems of recruitment and retention.
Where next? There are three options, not necessarily mutually exclusive: renationalisation; reforming the market; and creating a new ethically based alternative.
Renationalisation: This option has some support – the creation of a new state-led National Care Service was part of Labour's 2019 General Election manifesto. It faces some formidable practical obstacles: the cost of compensation for requisitioned assets; the feasibility of reversing a sector that is almost entirely privatised; the fragmentation of the market – 15,000 separate providers of care, small, medium and large; and the hollowed-out nature of the local state which is in no position to undertake such a major task.
Reform the market: Tweaking the market model has been the political modus operandi for some time either by supporting the consumer (via better information), strengthening the role of the state (by stronger regulation) or improving commission (by 'market-shaping'). It would be fair to say that none of these interventions has yet to demonstrate much success.
A new ethical model: My book explores in some depth what such an option might look like. It involves revisiting the notion of 'ethical care' and the place of ethics in wider public policy. Given the difficulty of changing the provider market it requires urgent changes in commissioning in several ways: ethical employment practice; a focus on 'wellbeing' rather than the narrow 'personal care'; prioritising small, local providers; retaining wealth in the locality; and commissioning personally in a way that meets people's needs rather than slotting them into existing service menus.
COVID-19 has turned the care policy kaleidoscope into a new configuration: deficiencies in funding and administration have been brutally revealed; voluntary and community sector support has teetered on the brink of collapse; care home providers are experiencing unviable occupancy levels; and adult social care has been expected to serve as a mere adjunct to the needs of the NHS to discharge hospital patients – with fatal consequences.
There is little to suggest that 30 years of marketisation in adult social care has been a success story, but the deeper the model is embedded, the harder it is to find a way out. The final chapter of my book makes some practical suggestions for doing so, including: ethical leadership; respect for evidence; practical support; reframing the debate; and – most fundamentally – questioning the relationship between morals and markets. Change is not impossible but will require levels of statecraft that have hitherto been in short supply.
Bob Hudson is Visiting Professor in Public Policy at the University of Kent. Prior to this, he held posts at the universities of Durham, Leeds and Glasgow, and at New College Durham.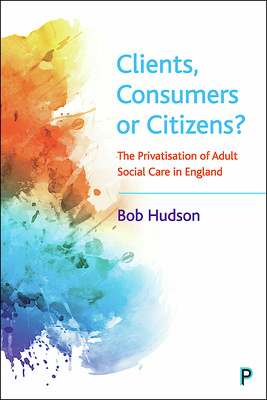 Clients, Consumers or Citizens?: The Privatisation of Adult Social Care in England by Bob Hudson available to order on the Policy Press website for £19.99.
Bristol University Press/Policy Press newsletter subscribers receive a 35% discount – sign up here.
Follow Transforming Society so we can let you know when new articles publish.
The views and opinions expressed on this blog site are solely those of the original blog post authors and other contributors. These views and opinions do not necessarily represent those of the Policy Press and/or any/all contributors to this site.
Image credit: Dominik Lange on Unsplash