The emergence of the COVID-19 virus in March 2020 triggered fundamental changes to social life. During the past 16 months, fear and panic have gripped populations across the world, with people compelled to follow various restrictive measures not witnessed during peacetime, including national and regional lockdowns, social distancing, mask wearing and the temporary suspension of their cultural freedoms.
What is likely to be the most significant change of the 21st century calls people like us – academics and researchers – into action: it demands that we respond because the social sciences must take a leading role in contextualising a world now experiencing a range of significant crises. And so we have responded. Based on extensive research with people from across the world, including Europe, Africa and the Americas, our new book, Researching the COVID-19 Pandemic: A Critical Blueprint for the Social Sciences, does precisely this: as the pandemic unfolded, we did our best to find out how it was impacting people's lives.
Evidence outlined in our book sheds light on how the pandemic amplified neoliberalism's inequalities, with people's experiences of the restrictive measures often shaped by their social class. While much of the middle class was able to work from the safety of their own home, often immersing themselves in consumerism's virtual world to purchase home deliveries of food and clothing items, the working class was rebranded as key workers and laboured on the pandemic's frontline, often without personal protective equipment. Some had the socioeconomic security and stability to reflect upon their lives and what mattered to them as time appeared to stop. Others, particularly in impoverished nations, possessed no safety net and were compelled to undertake informal work, occasionally engage in forms of criminal activity, and saw their levels of personal debt increase. A significant number reported poor mental health, as well as experiencing stress and worry about both the present and the future.
Our respondents spoke about how the pandemic engendered a social atmosphere of negativity and anxiety, fuelled by the mainstream media's daily infliction of COVID-19 'cases', 'hospitalisations' and 'fatalities'. Accordingly, there was a sense that the inadvertent harms of the core governmental response – lockdowns – had not been effectively debated in public life, thus amplifying neoliberalism's cynicism and scepticism. As our book outlines, these harms include a potential international rise in domestic violence, joblessness and mental health problems, like anxiety and depression. Indeed, some believed the media relied on a narrow set of 'experts', ignoring qualified academics and scientists who questioned the efficacy of lockdowns and their associated restrictions, and voiced concerns about the attendant harms. Fear of contracting the virus was so pronounced for some that they took extreme measures to reduce the risks of contraction, including taking their temperature three times per day, crossing the road when somebody came too close, as well as immediately washing their phones and clothes upon returning home.
In the beginning, these conditions generated a sense of solidarity as across the world, and we saw examples of people helping others in their communities, particularly the elderly and the vulnerable. It wasn't long, however, as the pandemic unfolded and the management of the virus became very much immersed into political agendas, before this burst of social bonds was eroded by egotistical individualism, with many expressing a palpable desire to indulge in consumerism's shallow pleasures. New social fault lines also emerged. Some people informed the authorities about those who did not adhere to the restrictions; others voiced their discontent towards those who did not wear a mask and social distance, with shaming terms like 'Covidiots' becoming part of common parlance. In this climate, our international data also revealed how a 'new normal' was quickly established, revolving around mask wearing, social distancing, widespread feelings of fear, paranoia and viewing other people as a threat.
As the book details, some social scientists have offered very reductionist analyses of the pandemic and failed to critically interrogate the unintentional harms of lockdowns. Similarly, some – just like the bulk of mainstream media – have simply stayed silent while others have not gone beyond the confines of their own discipline or field of study. In our critical analysis of some of the work devoted to capturing, understanding and conceptualising how COVID-19 is affecting us and changing society, we suggest the shortfalls of much social scientific studies/commentaries:
They 'handwash' social harm = endorsing the central ideological messaging associated with COVID-19 such as the lockdown, and downplaying the resultant social harm.
They represent empirical 'curfews' = failing to step outside their discipline, romanticising reality and imposing outdated theories like moral panic. These works lack depth in capturing people's experiential realities during the pandemic and are often empirically limited.
They 'disinfect' reality = not placing reality within its macro political-economic context and providing snapshot efforts to dissect social feeling/experience into measurable variables and graphs.
They reflect an academic 'lockdown' = they are not studies but rather commentaries alluding to the glorification of the author's hobby or previous publications.
The arrival of COVID-19 and the associated measures are the moment at which the social sciences need to show their potential. History is rapidly rewriting itself but much of social science is simply regurgitating its own history through dated theoretical lenses and reductionist empirical analyses. We say this because the societal consequences of the pandemic and lockdowns are likely to be with us for some time. And as the crisis continues to unfold, and with capitalism looking set to mutate once again in order to survive, it is incumbent upon social scientists to think critically about the evolving relationship between states and citizens, the societal impact of inequalities, social divisions and new forms of social control; to methodologically and theoretically innovate to make sense of the world that is emerging. Therefore, we tentatively offer the social sciences some new theoretical tools to make sense of society, both now and in the future. Indeed, this is the core task of the social sciences: to think critically about the present, where we are going and what kind of world we want to inhabit.
Daniel Briggs is Professor in Criminology at the Universidad Europea. Anthony Ellis is Lecturer in Criminology and Sociology at the University of Salford. Anthony Lloyd is Reader in Criminology and Sociology at Teesside University. Luke Telford is Lecturer in Criminology at Staffordshire University.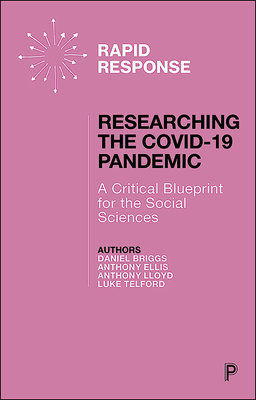 Researching the COVID-19 Pandemic: A Critical Blueprint for the Social Sciences by Daniel Briggs, Anthony Ellis, Anthony Lloyd and Luke Telford available on the Policy Press website. Order here for £6.39.
Bristol University Press newsletter subscribers receive a 35% discount – sign up here.
Follow Transforming Society so we can let you know when new articles publish.
The views and opinions expressed on this blog site are solely those of the original blog post authors and other contributors. These views and opinions do not necessarily represent those of the Policy Press and/or any/all contributors to this site.
Image credit: Viktor Forgacs on Unsplash