Despite the Taliban takeover of Afghanistan, the UK Home Office has paused asylum applications by Afghan nationals already in the UK. It exposes a callously dysfunctional asylum system, in which underfunded legal aid lawyers offer the only meaningful resistance.
With the Kabul airlift over, Afghan people fearing persecution from the Taliban are left in the 'usual' position of having to make their own way to safety in whichever country they can reach, because there is no 'queue' for rescue. The UK's promise to resettle a mere 20,000 people, over a four-year period, when they need sanctuary urgently, demonstrates the minimalism and glaring inadequacy of selective resettlement programmes. Behind the headlines, though, the crisis illustrates the extraordinary dysfunctionality of the UK's asylum system (in common with much of Europe).
That system includes the immigration and asylum laws passed by Parliament, suffused with the overall trend of deliberate hostility; the Home Office's policies and practices for implementing those laws; the courts; and the legal aid system for giving (or denying) access to asylum and immigration legal advice and representation.
Beginning with undecided asylum applications, there were 3,123 Afghan people inside the UK waiting for an asylum decision, as of 30 June 2021. This is in the context that 70,000 people were awaiting an asylum decision on that date. That is almost twice the number awaiting decisions in December 2018, even though the number of applications made has fallen. The delays are down to Home Office practice, not increasing arrivals.
Another 401 Afghan people were refused asylum in the year to the end of June 2021, many of whom will remain in the appeals system. Legal aid still covers asylum applications and appeals, and all of those people need legal representation, because the system is far too complex to manage alone.
The sensible solution, from a system point of view, would be to implement a swift triaging system to identify all Afghan nationals awaiting an asylum decision or appeal hearing. Almost all of those cases are likely to qualify for asylum or similar protection now, on the basis that there is no safe part of Afghanistan. Subject to a quick review of each case to flag up any genuine reasons for exclusion under the Refugee Convention (war crimes or serious non-political crimes, for example), those individuals should be granted asylum, moved out of asylum support accommodation into mainstream housing, permitted to work and study and supported to integrate into the UK.
That removes, at a stroke, nearly 4.5 per cent of the asylum applications backlog, gives vulnerable people an opportunity to start rebuilding their lives, and (least importantly) offers financial savings on the cost of asylum support, tribunal hearings and legal aid. Instead, the Home Office is telling lawyers that their Afghan clients' decisions are on hold, and has asked the tribunal to pause Afghan appeals, on the basis that it is somehow 'unclear…what this means in terms of the risk on return'. Despite the best efforts of support groups and civil society, the only meaningful pushback will come from legal challenges, funded by legal aid.
Meanwhile, those who have already been refused asylum and have no further appeal rights need to make a fresh application for asylum. There has clearly been a change of circumstances in Afghanistan, which makes a fresh application legally possible. Since the Home Office already has their biometric records and detailed information, from their previous application, these too could be triaged into a fast-track review with a presumption that asylum will be granted.
The current rule, though, is that such applications can only be made in person at the Home Office's premises in Liverpool. Since refused asylum seekers are forbidden to work and rarely qualify for asylum support, many are destitute and have no means of travelling to Liverpool unless a charity funds them. The rule was suspended during the pandemic, because of restrictions on travel and face-to-face meetings, but has inexplicably been reintroduced. Fresh applications should routinely be permitted by email or post, as a sensible way to operate the system, but at the very least there should be a dispensation for Afghan nationals to submit fresh applications by email or post, given the predictable upsurge in need.
Support groups report that it is extremely difficult to find legal aid representatives to take on fresh applications for clients, because the cases tend to be labour intensive and long-running, meaning they put in a lot of work but cannot claim payment until perhaps several years later. That is a big part of the reason for the much-reported 'last-minute' applications to prevent people from being deported on charter flights: because often they cannot access legal advice until they are in immigration detention.
Legal aid is paid as a standard fee, which is supposed to represent the average cost per case, but does not. For a high-quality legal aid adviser, keeping the client regularly informed, a long delay in decision making serves to escalate the costs of doing the work, and delay the date when payment can be claimed, outside the control of the lawyer, without any supplement to the fee.
Already, large parts of England and almost all of Wales are advice deserts in which legal aid advice is unavailable. High-quality providers are compelled to reduce the amount of legal aid work they do in order to survive the fee levels and cope with the transaction costs. In fact, the legal aid funding and auditing regimes have the effect of driving down quality in the overall market, while the 'activist lawyers' the Home Secretary criticises fight to maintain the rule of law for some of the world's most vulnerable people.
Other nationalities too are overwhelmingly likely to receive a grant of asylum because of circumstances in the home country: Eritrea, Libya, Syria, for example. Proposals in the UK's Nationality and Borders Bill would make it a criminal offence to enter by irregular means, and would deny refugee status, even to people found to qualify for it, if they have arrived without a visa. Yet the Bill does not propose to create a humanitarian visa with which people could arrive safely. Afghanistan is only the most immediate illustration of a slow, hostile and traumatising asylum and legal aid system which does not work for applicants, legal aid lawyers, the Tribunals Service or the British taxpayer.
Jo Wilding is an ESRC postdoctoral fellow in the School of Applied Social Science at the University of Brighton.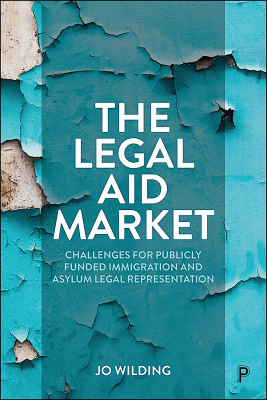 The Legal Aid Market: Challenges for Publicly Funded Immigration and Asylum Legal Representation by Jo Wilding is available on the Policy Press website. Order here for £37.50.
Bristol University Press/Policy Press newsletter subscribers receive a 35% discount – sign up here.
Follow Transforming Society so we can let you know when new articles publish.
The views and opinions expressed on this blog site are solely those of the original blog post authors and other contributors. These views and opinions do not necessarily represent those of the Policy Press and/or any/all contributors to this site.
Image credit: U.S. Central Command Public Affairs on Wikimedia Commons