One of the things we've all missed most during this (still) unsettled and unsettling time has been the sheer pleasure of experiencing and sharing the arts with others. Through all the COVID-19 confinements, songs, books, poems, films, online content and, of course, TV have diverted us, informed us, consoled us, kept us sane and allowed us to feel our way through the uncertainty. But most of us, for at least some of the time, have been unable to gather face to face, to play together with instruments, materials or movement, to work out and work through aesthetic forms or to collectively create. We've missed roaring our heads off with others, discussing ideas big and small, dancing until our feet blister or bimbling about in festival crowds.
The arts and cultural practices in general are neither the decorative accessories nor the dispensable luxuries of neoliberal capitalism they are too often presented as. There's a wearying tendency to pit the arts against the real essentials of life, such as schooling, health care and social services, as if the realms of culture and aesthetics were somehow extravagant extras. In an economic order that privileges commodities, value for money and commercial impact, it becomes increasingly difficult to justify how and why we are sustained by what is imaginative, fun, playful or exciting through such a calculus. As Maxine Greene sees it, 'participatory involvement with the many forms of art' allows us 'to see more in our experience, to hear more on normally unheard frequencies, to become conscious of what daily routines, habits, and conventions have obscured'. In other words, through the arts we are simultaneously taken out of and into ourselves anew.
But it's not just the art that matters; it's also the being in community, the making, having and holding things 'in common'. Throughout the pandemic, we've been left hankering for the kind of in-common-ness that, as Achille Mbembe puts it, is founded on the promise of 'sharing unconditionally, each time drawing from it something absolutely intrinsic, a thing uncountable, incalculable, priceless'. At a time when notions of individual success, celebrity and spectacle are so dominant and inescapable, it seems especially important to be attentive to the varying but often low-key ways through which people in their own communities express and create art collectively.
2021 is the centenary of the birth of the Welsh cultural theorist and novelist Raymond Williams and it seems timely to reassert his powerful contention that 'culture is ordinary' and to echo his commitment to cultural democracy. For Williams, culture encompasses all those practices, art forms, media, materials, processes and resources through which we – every one of us – make meaning and render our worlds meaningful. In other words, the arts aren't owned by any one social group, and democratising culture certainly doesn't mean dragging 'excluded' communities into officially validated cultural institutions, or demanding that they genuflect before established artworks. Instead, cultural democracy implies a broader and more radical conception of democracy whereby the place of culture and the arts in expressing people's democratic voices and aspirations is recognised; and whereby people's right to participate on their own terms in the consumption, production, distribution and definition of art and culture is actively affirmed.
In the new book Arts, Culture and Community Development, authors from across the globe discuss how cultural democracy is being performed, claimed and reframed by communities themselves. Contexts range from Chile to India, from DIY scenes to protest sites, from streetscapes to the corridors of national and international policy making. And, although varied in their scope, together the book's chapters highlight the affordances of particular art forms, the distinctiveness of arts processes and the (welcome) unpredictability of aesthetic 'outcomes'.
Across the Rethinking Community Development series, contributors have sought to explore and reimagine the purposes of and possibilities for community development internationally. Of course the term 'community development' is inherently tricky and is not familiar in every geographical context. Its individual components 'community' and 'development' are both freighted with ideological, historical and political connotations that cast doubt upon any simple account of its merits. In Arts, Culture and Community Development, authors are alive to these tensions and to the constraints imposed on community work by increasingly managerialist demands and, in some cases, policy capture. They recognise the structural determinants and political roots of the issues that can blight people's lives, issues that cannot be resolved through local initiative alone. But their chapters also detail the everyday and special forms of creativity through which people demonstrate their shared agency and their capacity to speak back to the world around them. This combination of aesthetics, imagination and collective action brings something distinctive and enlivening to the project of community development, allowing it to recognise and celebrate the extraordinary in the ordinary.
Rosie R. Meade is Lecturer in the School of Applied Social Studies at the University College Cork, Ireland.
Mae Shaw is Honorary Fellow in the Moray House School of Education and Sport at the University of Edinburgh, UK.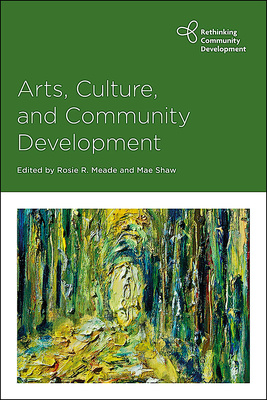 Arts, Culture and Community Development edited by Rosie Meade and Mae Shaw is available on the Policy Press website. Order here for £21.59.
Bristol University Press/Policy Press newsletter subscribers receive a 35% discount – sign up here.
Follow Transforming Society so we can let you know when new articles publish.
The views and opinions expressed on this blog site are solely those of the original blog post authors and other contributors. These views and opinions do not necessarily represent those of the Policy Press and/or any/all contributors to this site.
Image credit: Khara Woods on Unsplash