On the International Day for the Abolition of Slavery, Gary Craig, author of The Modern Slavery Agenda, outlines the extent of modern slavery, even in the 'developed' UK, and the steps we can take to eradicate it.
Very many people in the UK believe that slavery no longer exists, having been abolished in the 19th century through the work of parliamentary campaigners such as William Wilberforce. However, despite recent legislation, widespread campaigning and the hard work of thousands of organisations and individuals, slavery is still with us – and it is growing both in size and in the forms which it takes.
When the transatlantic slave trade was at its height 200 years ago, with around 14 million Black Africans taken across the Atlantic to the Caribbean and the Americas, slaves were seen as valuable commodities. To capture them, transport them and sell them, and then to maintain them in a fit state to produce the key commodities – coffee, cotton and sugar – and to reproduce the next generation of slaves cost money; slave owners had to balance their desire to exploit the slaves' labour to maximise their profits with the need to keep them alive to work. Now, globalisation and the associated relatively cheap international movement of goods and people have made available literally hundreds of millions of people to be exploited either in their own countries or elsewhere. If slaves die, they are easily replaced by the criminal gangs who manage the trade.
The International Labour Organization estimates that there may be 40 million people worldwide in forms of slavery. This is probably an underestimate because slavery is now a crime in most countries and it is largely a hidden activity. Of these 40 million, the majority are in different kinds of forced labour. Forced labour is a situation where people have no labour rights and no possibility of escaping from their working situation. Well over half are women who also form nearly 100 per cent of those in forced sexual exploitation. A quarter of those in slavery are under 18, and the ILO estimate suggests a figure of about five victims of slavery for every 1,000 people in the world.
Obviously, the numbers in slavery vary considerably from country to country. In some countries, such as North Korea, China, Russia and Myanmar, many people are enslaved by the state working in labour camps or to produce goods to earn foreign currency. For example, the Uighur in north-west China work in camps to produce 20 per cent of the world's cotton, which supplies many of our top fashion houses. Other slaves in this area produce the majority of the world's solar panels and products used by companies such as Coca-Cola, Nike and Apple. North Korea also sends forced labourers to neighbouring countries so that their foreign currency will come back to the state. Elsewhere in China, enslaved workers produce components for mobile phones used by most major phone companies.
In other countries, the state is complicit in slavery by allowing it to happen, with government ministers and intermediaries taking a kickback from the slave owners and from the big foreign companies who benefit. For example, in the so-called Democratic Republic of Congo, children are used to mine coltan, the rare mineral which is essential for the workings of mobile phones. In countries like Vietnam and Bangladesh, thousands of women are working in slavery conditions to produce garments and footwear for high street retailers such as Primark, H&M and Benetton. That's why some of their clothing is so cheap. Conditions are appalling and one factory in Bangladesh collapsed in 2013 killing 1,300 female garment workers.
The governments of many so-called developed countries such as the UK – the recipients of the products of slave labour elsewhere – have been forced by growing anti-slavery movements to pass laws to address the problem, and to present themselves as leaders in the fight against slavery. In the UK, the government introduced legislation in 2015 which it described as 'world-leading' but which has been shown to be ineffective in many ways. Updating the law and practice continue, while in the meantime, numbers continue to grow. In 2014, when data was first collated, just over 2,000 victims of slavery were identified; last year that number had risen to over 10,000. The majority of these are in forms of forced labour, in risky or exposed industries such as construction, agriculture, care, hospitality and, increasingly, in the 'gig economy' as couriers, or in sexual exploitation. And most commentators acknowledge that this is just the tip of the iceberg. The police estimate is 'tens of thousands'. This means that a city such as Leeds or a large rural county such as North Yorkshire might contain 300–400 people in slavery.
Most UK-based slavery – particularly sexual exploitation by traffickers – has taken place in urban areas, although many migrant workers coming to the UK since the enlargement of the EU in 2004 have ended up in rural agricultural slavery. Increasingly, that division is being blurred and young people are being used as drug 'mules', carrying drugs from cities to rural areas, a phenomenon known as county lines.
Here are just two examples of how the UK legislation is failing: young Vietnamese migrants are often trafficked into the UK and forced, by violence, to manage cannabis 'farms' (which may simply be hundreds of plants farmed in suburban houses). When caught, the legal system should recognise them as victims but the traffickers disappear and the young migrants end up being criminalised and imprisoned in their place. Training for the police and the judiciary, who should prevent this from happening, is still very patchy.
The Modern Slavery Act also requires all big companies to take steps to ensure there is no slavery within their supply chains and to publish modern slavery statements on their website to show what they are doing. One third of companies have failed to do so, after six years, and yet not a single company has been prosecuted for this failure to act.
What can the ordinary person do? Here are four suggestions:
1. Lobby your MP to ensure that the current government review of policy is effective, with action taken against criminal companies.
2. Check the source of goods you buy to ensure that they are not made by slaves and stay away from those shops that cannot provide this guarantee.
3. Join local anti-slavery organisations which will give you all the information you need to help campaigning. Email info@humantraffickingfoundation.org for details of local groups.
4. Lobby your MP and the government to remove the sections of the current Nationality and Borders Bill which will bear down heavily on slavery victims.
Gary Craig is a Visiting Professor at the Law School, University of Newcastle upon Tyne and at the University of York.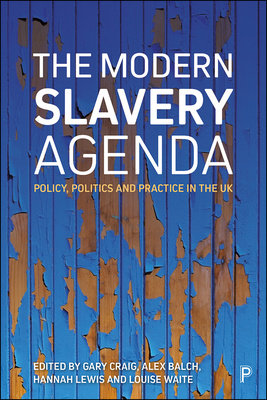 The Modern Slavery Agenda: Policy, Politics and Practice by Gary Craig is available on the Policy Press website. Order here for £19.99.
Bristol University Press/Policy Press newsletter subscribers receive a 35% discount – sign up here.
Follow Transforming Society so we can let you know when new articles publish.
The views and opinions expressed on this blog site are solely those of the original blog post authors and other contributors. These views and opinions do not necessarily represent those of the Policy Press and/or any/all contributors to this site.
Image credit: enki22 via Flickr (CC BY-ND 2.0)