As a child in Sheffield, I played on bombsites where crumbled outside walls revealed the remains of family rooms. I'm reminded of this as I look at the welfare state. Decades of demolition, asset-stripping and neglect have resulted in a 'welfare floor' that is unable to take any weight and which, even before the pandemic, had dangerous gaps in it. Now those five pillars of the UK's envied welfare state resemble Jenga towers towards the end of a game – wobbling and close to collapse.
Consider the increasing numbers of people in poverty as a result of caps in benefits and Universal Credit. The gig economy and lack of employment protection mean that work does not offer the opportunity for social mobility but is closer to indentured labour. The NHS is overwhelmed as ambulances queue outside hospitals waiting for space to be found for their patients. The education service has been seriously underfunded in comparison with comparable countries and the housing crisis is deepening. Twenty years ago, it seemed inconceivable that refugees granted leave to remain could find themselves homeless and destitute, deprived of their entitlements by insensitive and under-resourced systems designed by and for UK citizens.
The strengths approach is a collaborative practice based on working with people rather than doing things for them. It reaches for the potential in even the most challenging situations, resulting in the kind of social innovation that is driven by those with the most skin in the game.
The strengths approach recognises that:
• all situations are rich with resources, however difficult they seem;
• people, communities and organisations can change;
• everyone's contribution is valued and needed;
• difficulties, however severe, can also be a source of resilience and creativity;
• we cannot know the potential of others and must not place limits on their aspirations.
These are a basis for hope and action in any situation and can produce unimagined results.
In Plymouth, a dispersal city in south-west England, we used a strengths approach to bring together refugees and students – both seen as burdens on their communities – into a micro-activist organisation called Students and Refugees Together (START). This small non-government organisation, was awarded the European Parliament Citizen's Prize in 2017, provides placements required as part of social work and occupational therapy training. It harnesses the motivation and idealism of students who enable refugees to access their rights as part of their studies. A small staff group supports a substantial student workforce to provide an otherwise unavailable service: preventing destitution and homelessness through persistent advocacy; facilitating essential access to health services; challenging injustices; and creating opportunities for social interaction through gardening, walking and eating together. Working in partnership with students, refugees have contributed to the education of more than 300 professionals from across Europe.
At the same time START has enabled more than 2000 refugee households to take control of their lives: to exercise choice; access their entitlements and to have their aspirations taken seriously. It has brought more than £1.3 million to the city from grants and foundations and been part of a culture change for Plymouth from a 'city of hate', as portrayed by the Observer in 2003, to a welcoming one.
We have observed that the system failures for refugees have been a precursor to those for the rest of the population. Homelessness and destitution are increasingly widespread and access to services ever more restricted. The pandemic has highlighted enormous cracks in the system but as the economy begins to recover, the systems which increasingly rely on technical platforms to support the welfare of the population do not.
Even the best systems can sometimes fail and we need to be able to access humans to find a way through. As an example, last year, I raised a formal complaint with a high street bank regarding failures in their online system. On four separate occasions this bank paid our organisation a three-figure sum in compensation. However, no such compensation was offered to the refugee whose eight-year-old son's photograph was put on his biometric residence card – his only form of identification. Indeed, the agencies who should be ensuring he has money to feed and house his family, treated him with suspicion and implied he was trying to 'game' the system. START supported him as the Home Office took five months to issue a corrected card which arrived with the instruction that he must cut up the old card and return it immediately. In place of an apology or compensation he was threatened with a fine of £1,000 if he continued to use it.
It is no good waiting for the system to be fixed. Clearly there are multiple parts that are inactive or dysfunctional – unless you can pay your way through the gaps. At START we all work together to find ways of making the systems work.
The strengths approach is not limited in its application to particular groups or contexts. We know that in the most serious situations like the climate emergency, the voices and actions of young people and indigenous activists are critical for the future. Nothing can replace a contextually sensitive response by local people to local situations using the strengths approach. The achievements of this small NGO could be magnified if we paid attention and supported the creativity and resilience of those with the most experience of the challenges. It happened during lockdown and can become the new norm.
Avril Bellinger, Honorary Associate Professor in Social Work at the University of Plymouth and academic activist, is the founder and Chair of Students and Refugees Together (START).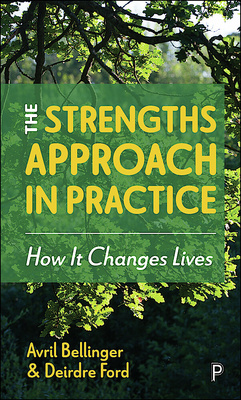 The Strengths Approach in Practice: How It Changes Lives by Avril Bellinger and Deirdre Ford on the Policy Press website here.
Bristol University Press/Policy Press newsletter subscribers receive a 35% discount – sign up here.
Follow Transforming Society so we can let you know when new articles publish.
The views and opinions expressed on this blog site are solely those of the original blog post authors and other contributors. These views and opinions do not necessarily represent those of the Policy Press and/or any/all contributors to this site.
Image credit: Neil Thomas on Unsplash