In this episode, Lambros Fatsis and Melayna Lamb talk about their new book Policing the Pandemic: How Public Health Becomes Public Order.
They discuss how the pandemic has revealed the damaging relationship between public health and public order and explain why we need to explore our assumptions about policing and what it's for. Aiming to shift our world view, they offer suggestions for practical steps towards abolitionist practices and ways of thinking.
Listen to the podcast here:
Further reading:
Ida B. Wells, Crusade for Justice: The Autobiography of Ida B. Wells
Angelina Grimké, 'Appeal to the Christian Women of the South'
Elsa Goveia, 'The West Indian Slave Laws of the Eighteenth Century'
Sylvia Wynter, 'No Humans Involved: An Open Letter to my Colleagues'
Lola Olufemi, Feminism Interrupted
Adam Elliot Cooper, Black Resistance to British Policing
Cradle Community – Brick by Brick: How We Build a World Without Prisons
Koshka Duff (editor), Abolishing the Police
Angela Y Davis, Gine Dent, Erika R. Meiners and Beth E. Ritchie, Abolition. Feminism. Now
Mariame Kaba, We Do This 'Til we Free Us: Abolitionist Organising and Transformative Justice
Annanya Bhattacharjee, 'Whose Safety? Women of Color and the Violence of Law Enforcement'
Organisations and Projects:
Inquest
Netpol
JENGbA (Joint Enterprise Not Guilty by Association)
London Campaign Against Police and State Violence
Northern Police Monitoring Project
Sisters Uncut
United Families and Friends Campaign
Coalition Against Police Crimes and Repression
Critical Resistance
INCITE!
Creative Interventions
Abolitionist Futures
The Audre Lorde Project
Project NIA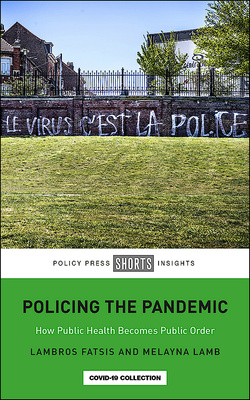 Policing the Pandemic by Lambros Fatsis and Melayna Lamb is available on the Policy Press website. Order here for £7.99.
Bristol University Press/Policy Press newsletter subscribers receive a 35% discount – sign up here.
Follow Transforming Society so we can let you know when new articles publish.
The views and opinions expressed on this blog site are solely those of the original blog post authors and other contributors. These views and opinions do not necessarily represent those of the Policy Press and/or any/all contributors to this site.