Today is the UN International Day of Education, celebrating the role of education for peace and development. In this article Stephen J. Ball, author of the bestselling The Education Debate, argues that school need not stand for education and we should explore an alternative path.
COVID-19 has provided a moment and a vehicle for the strident reiteration of the necessity of the school. Schools are places to be kept open despite infection, and to which children need to return as a matter of urgency when closure becomes necessary.
School has come to stand for education – displacing the possibility of thinking education differently. We forget everything we know about schools in order to defend them. Despite constant criticism and despite continual reform failure, as Ansgar Allan says, 'a vague romantic impulse remains, which just about sustains the educator, which just about fends off a shift into cynicism'.
We continually misread school as a site of opportunity and possibility, and we are always disappointed. The essence and raison d'être of the school is in fact normalisation, categorisation and exclusion. The school, and education as currently conceived and represented by the school, as a site of equity, is a lost cause. Schools are continually changed by policy hyperactivity but are always the same. Reform is indeed a key trope of social regulation, both in maintaining attachment to institutions and extending their reach and scope. The problem is, despite all the debates around segregation, inequality and exclusion, despite or because of innovation, what is sought, desired and struggled for in movements of school reform, of virtually all sorts, is not something different but rather another version of the same thing, using the same architecture and paraphernalia that provide for and deliver, in new and old ways, division, exclusion, normalisation and categorisation.
In school terms, normality is intertwined with success at school, and failure with abnormality. Failure is attributed to both pupils and families and becomes not just a matter of ignorance or poor performance but moral failure. The school experience for those who fail – those 'with behavioural difficulties', who are 'hard to reach', who lack character or resilience or aspiration, who have special needs – is the experience of not being truly and properly human. The dark side of the school experience – punishment, exclusion, abuse, assimilation, shame, civilisation, etc. – is related to this moral displacement and the failure to fit within the school universal. The hidden curriculum of schooling is made up of those truths that speak about what being a normal human is. The modern school is above all a place where inequalities are verified; it is not a place where they are reduced or challenged.
Nonetheless, as educational researchers, we find it impossible to walk away from school, to admit defeat and move on.
There is always more hope to be had, new possibilities of reform to explore. The school is deeply ingrained into our modern psyche as necessary and inevitable. Saving the school is for many researchers and writers on education their project and purpose. We need to discard that purpose and recognise that the school is one node in a network of 'intolerable' institutions – part of the carceral archipelago of modern society – and requires our opposition rather than our support. School is not as necessary as all that, indeed it is a block, an obstacle, an inhibition to freedom and to 'learning'.
Accepting this takes us into a worrying, indeed frightening space in which we must 'unthink' education and recognise as fragile and contingent many of our modernist certainties. But maybe, if we are brave enough, education might be reconsidered not as a technique for the manufacture of imposition but as a theatre of subject creation, a space in which new practices of the self and new kinds of social relations are possible. Education in these terms is a political and aesthetic project of self-formation. It would consist of an ongoing critical insubordination and an insatiable curiosity, aimed at destabilising truth, rather than knowing it. It would proceed by historising excellence and beauty rather than simply appreciating them. It would enact a form of freedom that only comes into being as we try to form ourselves with and in front of others. Here education is a site for the practice of ethics rather than their assertion and for the development of 'agentic skills' – it is about how we live in the world, how we conduct ourselves, how we recognise ourselves. Learning becomes an exploration of limits – mapping, testing and crossing them when possible. At face value, many teachers would subscribe to such a 'curriculum', but in practice the school as an institution renders it unthinkable and impractical.
Such an education involves leaving behind the organisation form we call school and rather fostering a direct engagement with the environment and its problems – an education that is sustainable, rather than just 'about' sustainability, an education for commonwealth, an education that is undertaken through practices rather than through the acquisition of knowledge for its own sake, an education that brings thinking into living.
To begin this dangerous experiment, our practice and thinking as 'educationalists' must move beyond the decadent consolations of redemption and simple normative premises and struggle instead to actively negotiate a different educational future with openness and flexibility. The first challenge and task is to 'escape' from romantic modernism and neoliberal pragmatics. We need to 'let go' and accept the risk and possibility of 'stupidity' or perhaps rather the possibility of a different stupidity.
Stephen J. Ball is Distinguished Service Professor of Sociology of Education at the University College London Institute of Education.
For a fuller exposition of the argument here see:
Ball, S., and Collet-Sabé, J.
Against school: an epistemological critique
(2021) Discourse
DOI: 10.1080/01596306.2021.1947780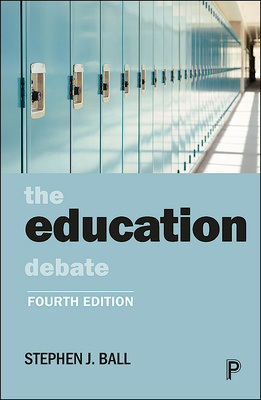 The Education Debate by Stephen J. Ball is available on the Policy Press website. Order here for £13.59.
Bristol University Press/Policy Press newsletter subscribers receive a 35% discount – sign up here.
Follow Transforming Society so we can let you know when new articles publish.
The views and opinions expressed on this blog site are solely those of the original blog post authors and other contributors. These views and opinions do not necessarily represent those of the Policy Press and/or any/all contributors to this site.
Image credit: Rubén Rodriguez on Unsplash