In the latest attempt to lure the jobless into work, the UK government is tightening the highly punitive sanction system still further. Unemployed claimants who have not found a job after four weeks, instead of the current 12 weeks, will be forced to find work, even if it's outside their skill or experience, or face cuts in their benefits.
In the last 40 years, Britain's benefit system for working age adults has become increasingly mean and more and more punitive. In the mid-2010s, over 5 million sanctions were issued against claimants often for minor breaches such as missing or being late for a job centre interview. At one stage the Department of Work and Pensions was levying more fines than the criminal justice system.
The social security system is built around the idea of social reciprocity – that rights come with duties. The principle of entitlement laid out by the Beveridge Report in 1942, and enshrined in the post-war national insurance reforms also came with a duty to seek work. But initially, these conditions were applied relatively softly.
While reciprocity has been an important source of public support for collective social security, today's emphasis on state coercion is at odds with the principle of entitlement and national insurance. Coercion is also not in the interest of the wider economy or of those without work. Because of the risk of being forced into unsuitable jobs, some with skills will not bother to apply for benefit, and end up joining the hundreds of thousands who have dropped out of the labour market altogether. While the DWP has undertaken detailed research into the impact of sanctions they have refused a Freedom of Information request from academic David Webster to release a copy of the report. Independent evidence, however, shows that the great majority of new claimants of working age are actively looking for work, while more severe sanctions have failed to bring better long term employment prospects and mostly pushed the jobless into deeper poverty and ill-health.
This new crackdown, aimed at forcing the jobless into work, whatever the quality or suitability, is another step back to the era when parts of the workforce were treated as an expendable commodity, to be hired and fired as required, or as the headmaster of Rugby School Dr Matthew Arnold declared in 1845 , as 'hands… not as heads, hearts or souls'. It seems that the principles of the Victorian Poor Law, and its assertion that poverty was self-inflicted and that support should come on the harshest of terms, carries as much if not more influence over social policy today than the fundamental value system laid down by Beveridge.
The principle of reciprocity, for example, is today applied in a heavily one-sided way taking Britain back to a pre-war system based on a hierarchy of rights and responsibilities. As George Orwell then warned, Britain is like a family, with 'rich relations who have to be kow-towed to, and poor relations who are horribly sat upon.' Rich and poor citizens are treated by different standards, a built-in source of inequity exacerbated by near peak post-war levels of poverty and deepening divisions across society. While the Department of Work and Pensions is seen as alien by large numbers who seek its help, the HMRC and the Department for Business, Energy and Industrial Strategy are, for the rich, essentially benign.
Despite question marks about the source and wider impact of today's towering and lowly taxed personal fortunes, lavishly paid and over-powered corporate leaders and financiers mostly get a free ride from government and little proper public scrutiny. Today's business elite, free of the 'deserved'/'undeserved' distinction applied to benefit claimants, first introduced in the nineteenth century, has been handed a license to secure an inflated share of national wealth out of proportion to their contribution.
Runaway rewards for the rich and sanctions for the poor is not a politics of the common good. Rights and duties have only been close to alignment across society in the post-war era, a time when the business class mostly accepted that corporate leadership came with obligations to employees and the local and national community as well as shareholders.
Today's plutocracy mostly view their self-interest and that of society as one and the same. Business makes a big contribution to jobs and prosperity but is supported in that role by significant and growing state support including a system of 'corporate welfare' in grants, subsidies and tax breaks worth some £93 billion pa (close to the total benefit bill excluding pensions). This comes free of conditions on tax dodging, employment practices, or social responsibility.
Contrast this with the 'rewards' offered by society to a growing section of the workforce – from care workers to hospitality staff – of insecurity and low pay, despite performing, as the pandemic has revealed, the essential but poorly compensated tasks on which society depends. Millions are active citizens, carers and volunteers, mostly women, typically giving a good deal more than they take and more than fulfilling the obligations of social membership.
While COVID-19 has provided a real opportunity to create a more even pattern of rights and responsibilities across society, this new move by government is taking us away from that goal, and should be dropped.
Stewart Lansley is the author of The Richer The Poorer, How Britain Enriched the Few and Failed the Poor, a 200-year history. He is a visiting fellow at the University of Bristol and a Council member of the Progressive Economy Forum.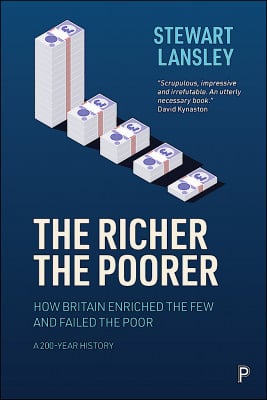 The Richer, The Poorer: How Britain Enriched the Few and Failed the Poor by Stewart Lansley is available on the Policy Press website. Order here for £15.99.
Bristol University Press/Policy Press newsletter subscribers receive a 35% discount – sign up here.
Follow Transforming Society so we can let you know when new articles publish.
The views and opinions expressed on this blog site are solely those of the original blog post authors and other contributors. These views and opinions do not necessarily represent those of the Policy Press and/or any/all contributors to this site.
Image credit: morebyless