Public bureaucracy has lost its rationale, and its technocratic toolkit will not serve our troubled democracies well. Drawing on lessons from alternative governance models, we urgently need to reimagine the role and practice of bureaucracy for the 21st century.
The term 'knowledge–power' was coined by French philosopher Michel Foucault in the 1970s to describe one of the defining characteristics of the way institutions exercise and maintain domination over others. It is this administrative and technical knowledge of bureaucracy (and its accompanying political and academic narratives) which has provided legitimacy for the exercise of power in liberal democratic societies through the 20th century.
In our 21st-century world of fake news, right populism and anti-vax social media posts, the foundations of 'knowledge-power' are looking decidedly shaky. The technocracy of science and economic efficiency is increasingly challenged by an anti-science agenda and by powerful appeals to nostalgia – old cultural values, lost empires, natural order and 'common sense'. At the same time, years of denigration of public administration and lauding of the benefits of competition over social cohesion have left public bureaucracy without clear purpose and stripped of resources.
For over 30 years, I was fortunate to work in different roles in the UK civil service with the goal of aligning governance with the global ethic of sustainable development. This ethic, set out in the Brundtland report in 1987, runs counter to the controlling uniformity of 'knowledge-power' and its search for a generalised economic efficiency.
Governing for sustainable development means wide societal engagement with decision making. It demands recognition that social, economic and environmental issues are not separate but interact in complex and unpredictable ways. It favours place-based decision making which can reflect local conditions, knowledge and opportunities. It requires institutions to address the root causes of unsustainability rather than treat their symptoms. It demands reflexivity of governance in the face of uncertainty, rather than uniformity and false certainties. It asks us to live well with the planet and secure at least as good a future for generations to come, recognising the finite nature of the earth's resources rather than continuing their exploitation in the name of growth. And it seeks to do all this in ways which support social equity and inclusion.
My many years spent working on sustainable development within our existing governance systems demonstrated just how far away from the goal we are. Bureaucracy remains divided into competing functions, unable to work across boundaries. It continues to rely on expertise and uses tools of economic appraisal and modelling to exercise a metric power over what can be considered legitimate. Its engagement with civil society is patchy, sometimes condescending, and often controlling. Many of its functions – especially land-use planning and economic development – remain wedded to old approaches that foster the unsustainable. It continues to seek central solutions and disempower local responsibility and variation. Even governance of sustainable development itself has been captured by the language of economic efficiency and the tools of market-instruments and managerialist targets. Sustainability has come to be dominated in the political sphere by ideas of ecological modernisation, where technology and innovation rather than economic and societal change will provide the answer.
Such frustrations with existing practice and narratives led to the development within my bureaucratic life of the Welsh government's Well-being of Future Generations (Wales) Act 2015, a world-first attempt at putting governing for sustainable development into law. This legislation set out broad goals and behaviours for administration and established new localised institutional arrangements and duties, and a Future Generations Commissioner. It is binding on the government and all major public bodies. The Act avoids the managerialist temptations of control and targetry or the modernist economic language of growth and competitiveness, and instead embraces the guiding ethic of the Brundtland report. Like any legislation, it is not perfect, and has seen pushback from more conventional economic approaches, but it has been well described as 'a license to think differently'. Its administrative values of collaboration, integration, prevention, long-term thinking and involvement have been seen in a recent Senedd report as a key to Wales's relative successes during the COVID-19 pandemic.
On leaving public administration and having the opportunity to pursue my interests in governance academically at the Sustainable Places Research Institute at Cardiff University, I increasingly realised how relevant the lessons from my experience of sustainability governance might be for the wider challenges democratic governance now faces. My academic work in places with local communities demonstrated how civic dialogue could forge mutual understanding and common purpose, empower people, link issues and opportunities and unleash creativity. Moving away from knowledge-power, control, utilitarian efficiency and separation of functions was not then just a response to sustainability. A changed approach could also help bridge the divides and counter the values which have driven the present international crises of democratic governance. Completing my work under lockdown in the US cemented my view that a new approach to public administration was urgent. This time also provided insights from the civic republican thinking which influenced the Founding Fathers. Here the institutions of the state and its mechanisms have the primary purpose of sustaining the republic itself from tyranny, an idea based on avoidance of domination by and of others.
I believe a 'new civic bureaucracy' which draws on all these lessons can help heal our broken 21st-century democracies. My practical experience tells me that it will require a fundamental unbounding of bureaucracy's existing rationale and an unlearning of its detailed practice. This is a new bureaucracy which has civic and environmental health, not economic efficiency, as its raison d'être. This bureaucracy is enabling not controlling, joined-up not divided. It places civic engagement and dialogue at its heart. It respects other views, guided by common ethical rather than technocratic values.
Almost all the necessary new ways of working and of thinking are already available to us in areas such as heterodox economics, in ideas of co-production and in concepts of green governance. The challenge is to recognise – while there is still time – that the old ways of bureaucracy no longer serve us well.
Matthew J. Quinn has over 30 years of experience of work on sustainability governance as a senior UK official. He is Distinguished Visiting Fellow at Cardiff University.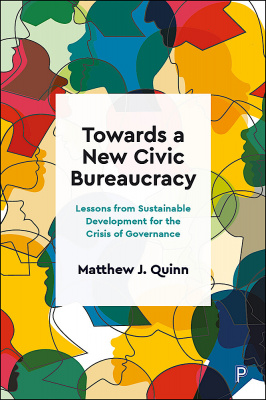 Towards a New Civic Bureaucracy: Lessons from Sustainable Development for the Crisis of Governance by Matthew J. Quinn is available to order on the Policy Press website here.
Bristol University Press newsletter subscribers receive a 35% discount – sign up here.
Follow Transforming Society so we can let you know when new articles publish.
The views and opinions expressed on this blog site are solely those of the original blog post authors and other contributors. These views and opinions do not necessarily represent those of the Policy Press and/or any/all contributors to this site.
Image credit: GoToVan