Quite a few charities are household names: Oxfam, Cancer Research UK, the NSPCC, the RSPCA, to name but a few. How many of their leaders are household names? Not many, but among them would almost certainly be Camila Batmanghelidgh, the founder and former chief executive of Kids Company.
Even before the charity collapsed in a blaze of publicity in 2015, she was well known for her passionate advocacy and support for disadvantaged children, her ability to raise funds and her eye-catching choice of clothes. And when the whole enterprise crashed, it caused fires that continue to smoulder and cast light on a perennial dilemma for charities: when and how should they curtail the influence of dominant, charismatic individuals?
Kids Company was a drama in five acts, beginning under a railway arch in south London in 1996. It had an innovative approach to helping unprotected children and young people, providing counselling, education, food and cash grants. The charity was widely praised, attracted funding from philanthropists and government, won awards, and by 2013 had an annual income of more than £23 million.
But the charity was demand-led, refusing to turn children away and living from hand to mouth without building sufficient reserves or effective financial controls. This led to the second act, when income began to fail in 2015. The government agreed to provide rescue funds if the trustees implemented a plan to downsize, appoint a new chief executive and move Batmanghelidgh to an ambassadorial role. But just as this was about to happen, a police inquiry into allegations of sexual abuse, which eventually proved unfounded, halted the rescue and obliged the trustees to close Kids Company.
Act three was a snap inquiry early in 2016 by the Public Administration and Constitutional Affairs Select Committee of MPs, who were highly critical of both the trustees and the chief executive. Batmanghelidgh had become "unaccountable and dominant", they said; the trustees "failed to exercise their proper function" and there was "a clear link between the failure to correct serious weaknesses in the organisation and the failure to refresh its leadership".
Act four took longer: the Insolvency Service spent between 2017 and 2020 producing some 18,600 pages of reports and exhibits for their application to the High Court for the disqualification of the Kids Company trustees as company directors (like many larger charities, Kids Company was also a company limited by guarantee). But the pendulum swung the other way with the judgment of Mrs Justice Falk in February 2021, who declined to disqualify the trustees, calling them "a group of highly impressive and dedicated individuals", and praised Batmanghelidgh's "enormous dedication…to vulnerable young people".
This cleared the way for act five in February this year – a long-delayed report by the Charity Commission which tipped the pendulum the other way again. After trawling through 167 boxes of documents, 96 filing cabinets and 500,000 electronic documents, the commission concluded that the charity had operated a "high-risk business model", sometimes failed to pay creditors and workers on time, lacked relevant experience on its trustee board and should have acted sooner to ensure financial stability. All in all, there had been "mismanagement in the administration of the charity by its trustees".
Whether Kids Company really merited such a long and costly post-mortem is a moot point.  But it is almost certainly the most vivid cautionary tale of recent times about what is loosely known in the charity world as 'founder syndrome'. Although founders are those most likely to be passionately attached to their charity, individuals appointed as chairs or chief executives can become, over many years, similarly proprietorial and dominant. There are other examples in recent times of charities that have encountered problems related to allegations of dominance, invariably denied, by individuals: The Medical Foundation for the Care of Victims of Torture (since re-named Freedom from Torture), BeatbBullying, ShelterBox, the Halo Trust and the Eden Project, to name but a few.
But there are also instances of founders acting in good time to avert potential problems. Kris Hallenga, who founded the breast cancer charity CoppaFeel!, stepped down as chief executive in 2016 after seven years, saying her main reason was to avoid founder syndrome. Baillie Aaron, who founded Spark Inside to deliver coaching programmes in prison, ceased to be chief executive in 2019 after eight years: "It is far too easy for founders to become one with our organisations," she said. "I made every effort to ensure Spark Inside did not revolve around me but rather around the charity's collective mission and vision."
As related in my recent book with Tania Mason, the collapse of Kids Company prompted Dalia Halpern-Matthews, daughter of the founders of Nucleus Arts in Kent, to change its rules so no trustee could serve more than 6 years, which meant she had to step down as chair.
For some, too much has been made of the issue. For example, Debra Allcock Tyler, veteran chief executive of the training and publishing charity the Directory of Social Change and a respected commentator, said in an article in 2017: "Your effectiveness as a charity has nothing to do with how long anyone has been in post. It's about your ability to align opinionated, disparate folk behind the common cause. Ask yourself, what gives anyone the right to say to a person who has poured their life and soul into something they care passionately about that they have a 'syndrome' and should leave? Find a way to work with them, or walk away."
But perhaps the final word should go to the Charity Commission, the regulator that has to sort through the rubble when charities collapse in controversial circumstances. "Founders of charities need to be mindful that a permanent leadership role is rarely in the best interests of a charity", it said when it published its Kids Company report. "There are other ways of harnessing the passion and talent of founders or charismatic individuals, without their having executive or strategic power and responsibility. Asymmetric power or influence can lead to unhealthy board or wider organisation dynamics, and ultimately to poor decision making. No charity should be defined by a single individual."
Stephen Cook is a journalist and author with extensive experience in national newspapers and magazines, including 18 years at The Guardian. He is co-author of 'What Have Charities Ever Done for Us'?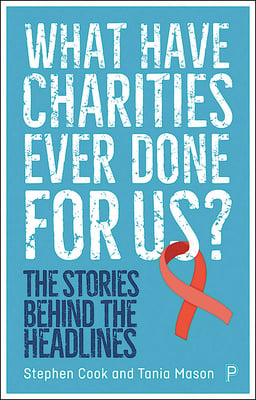 What Have Charities Ever Done for Us? by Stephen Cook and Tania Mason is available to order on the Policy Press website here.
Bristol University Press newsletter subscribers receive a 25% discount – sign up here.
Follow Transforming Society so we can let you know when new articles publish.
The views and opinions expressed on this blog site are solely those of the original blog post authors and other contributors. These views and opinions do not necessarily represent those of the Policy Press and/or any/all contributors to this site.
Image credit: Gajus via iStock