On International Women's Day we launched a series of articles to celebrate our female authors and editors: Women in academia and practice. We look at their work and the challenges they have faced, and hear their thoughts about obstacles to gender equality.
Gill Hague is Professor Emerita of Violence Against Women Studies at the University of Bristol and has been an activist, practitioner and researcher on violence against women nationally and internationally since the early 1970s.
What do you do and how did you get there?
I'm an Emerita Professor of Violence against Women Studies, one of a small number with such a title! But, really, I see myself as an activist, as someone dedicated to social change for women and humanity, and to challenging injustice and violence against women, girls and children. I have been an activist on violence against women, specifically, for 50 years since the early 1970s, a trainer, campaigner, researcher and professor. And I was a co-founder, with Ellen Malos, of the Centre for Gender and Violence Research at the University of Bristol 33 years ago. The Centre conducts a wide range of international, national and local research on gender-based violence, and attempts, where possible, to do so in an activist frame and to raise the voices of survivors. My most recent book is History and Memories of the Domestic Violence Movement: We've Come Further Than You Think.
 What challenges have you faced?
I come originally from a background of radical activist politics, community action and social work from 1967 on, and was involved in lifting the voices of children in care and in children's rights (as well as women's). From 1971, I was an activist in the women's movement and later in Women's Aid. Gaining qualifications along the way, I was lucky to join the University of Bristol when Ellen and I set up our Centre in 1989, then called the Domestic Violence Research Group, initially to work alongside the Women's Aid movement. We were marginalised for some years with the University, more widely, showing little interest in the subject of violence against women, although this has changed more recently. It has been a hard struggle to get the academy in general to take up such issues as part of the academic canon.
Given that we mainly attracted small-scale or non-governmental funding, at least to start with, it would be difficult to visualise setting up such a research group these days, with the present preoccupation with aggressive funding, casualisation and marketisation of universities. Since the beginning though, the Centre has grown and grown, and has developed a national and international reputation.
Fighting against gendered violence is always a profound challenge demanding constant effort and commitment, compassion, bravery, resilience and the accessing of support. I feel lucky to have spent my life as part of a worldwide movement against violence against women populated by inspiring women and some inspiring men.
Now the older activists (like myself) in this huge struggle are handing on the baton to younger activists and we wish them all good luck and courage. The power, heady optimism and courage of VAWG (violence against women and girls) activists, researchers and practitioners shine through our work. Struggling in a committed, feminist way against gender-based violence makes a meaningful contribution to building a safer world for women and children, and to social change and liberation more widely.
What needs to be done to address the challenges women face generally?
Well, it's a massive struggle, isn't it – multi-stranded, and covering every aspect of human life and endeavour. The struggle will continue on a thousand fronts, depending on local circumstances and conditions. There is no 'one size fits all'.
For fighting violence against women, as well as wider women's issues, we have, as in the title of my recent book on our history, 'come further than you think'. We have made huge advances since the 1970s, even while there are attacks and setbacks all around – as we have recently experienced in the catastrophic cutbacks of funding in the VAWG sector in the UK under the Conservative austerity programme, impacting most strongly on projects for Black and minoritised women.
What advice would you give to younger women and more broadly?
In terms of the academic world, stick together. Try not to play the game of self-centred hard-nosed competitiveness, and instead promote support and equality. But also work to make sure your academic career isn't marginalised and your dedication exploited. And don't give up hope, despite the current hostile and marketised academic management milieu.
I cannot put it better than the quite wonderful list by Sue Scott in her piece for this series on 8 March. So, I refer you to that. Thanks, Sue, and belated happy International Women's Day.
In terms of violence against women and girls, stand firm, engage in political action about it when possible, contribute to VAWG services as a worker or volunteer, gain sustenance from the women's sector and the activist movement. Remember that there are now gender-based violence activists in all countries of the world – all of them – even where it is hardest and most brutal. You are part of a wonderful cause.
What, in your opinion, is the biggest obstacle to gender equality today?
Lack of commitment from male-dominated governments and societies, lack of equal participation and recognition for women and an equal share of the world's resources, patriarchal attitudes, embedded male privilege, extreme right-wing movements, rampant neoliberal capitalism, rape and extreme sexual violence universally in war and combat, harmful practices against women like 'honour'-based violence and female genital mutilation. Should I go on?
I would like to finish though, by again celebrating the dazzling achievements of the women's movement over the years, growing in this country originally out of the ferment of social movements in the late 1960s (including the national liberation movements in colonised countries, the Black liberation struggle, the breaking down of previous traditions…)
Those early women's liberation days were great ones for those of us who were part of them. Things changed by the day and for many of us they were our most shining – our brightest – days. They included the staggering achievements of the movement against violence against women, setting up refuges, rape crisis centres, domestic abuse services, training and policies. And also carrying out powerful campaigning work on gendered violence for pretty much the first time. The extreme bravery and excitement of those times endure for activists and survivors. I hope we can hang on to, or re-engage with, those transformative politics, those leaps forward in feminist understandings and campaigning – and new ways of living.
We each spin a golden thread of our work challenging VAWG, which joins and weaves with others. And we need to keep doing it, through thick and thin, with feminist politics, grit, determination, endless political commitment, some idealism and humour. The cusp of change on violence against women and girls is here despite the grave dangers and setbacks around us. And we need to celebrate where we have come from and all we have achieved, in order to build for the future. The struggle will go on way after our lifetimes. It is a long and heroic one, and we can all make our mark on that challenging road.
Listen to Gill speak about her book, History and Memories of the Domestic Violence Movement, in this episode of the Transforming Society podcast.
Browse all the interviews in our Women in academia and practice blog series here.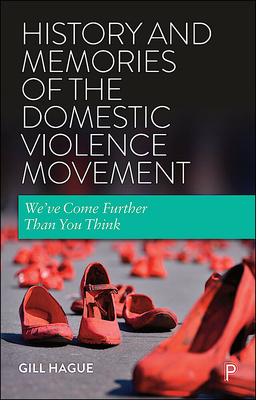 History and Memories of the Domestic Violence Movement by Gill Hague is available to order on the Policy Press website for £19.99.
Bristol University Press newsletter subscribers receive a 25% discount – sign up here.
Follow Transforming Society so we can let you know when new articles publish.
The views and opinions expressed on this blog site are solely those of the original blog post authors and other contributors. These views and opinions do not necessarily represent those of the Policy Press and/or any/all contributors to this site.