Peter Beresford OBE, Visiting Professor at the University of East Anglia and Co-Chair of Shaping Our Lives will be chairing a free webinar on 8 April – 'Why participatory social policy now?'.  More details, including how to register, below.
The more we think about the UK welfare state in 2022, the more it confronts us with questions. Has it got a future? Can that future be progressive? What would progressive look like? Who and what is it for?
There is no question, on the other hand, that the debate has move on massively since the complacent early days of political consensus about welfare, so called Butskellism. But globalisation, market deregulation, the 2008 economic crash and fears for the future of the planet have also called into question the arrogant claims for the marketisation of public policy made from the days of Reaganism and Thatcherism onwards. At the same time, a much less reported but collectively powerful counter discourse has been infiltrating all our lives. This is one which values diversity, highlights intersectionality, emphasises inclusion, coproduction, participation and social justice and demands we give careful thought to what we mean by all of these.
But still we must confront the day-to-day world of welfare as many experience it. After a conventional conversation with an experienced welfare rights worker recently about the harshness of current welfare benefits policy, especially in relation to working-age disabled people and others, this is what they went on to say:
"People will say to me that they have worked all their life or never claimed before and many start with strong antipathy towards others who receive benefits. 'I've always stood on my own two feet, I've always worked. Nobody's ever helped me.' They'll tell me about high levels of benefits received by a neighbour which I know just cannot be true, because of my own in-depth knowledge of the benefits system. They talk of the fraud and abuse of the system as if they are unusual in not defrauding it. In frustration, I asked one woman what level she thought this was. 'Oh 50 per cent of cases', she said. 'No, that's too much', said her husband, 'Maybe 25 per cent'.
So there seems to be little solidarity, little consensus and little enthusiasm for welfare, which would explain the success of politics which attack it. In reality, fraud overpayments were officially calculated at 1.1 per cent in 2018–19 and underpayments also at 1.1 per cent. By contrast, HMRC reported a loss of £31 billion in 2018–19 from tax evasion, representing 4.7 per cent of total tax liabilities. Yet much less media and public concern is generated by the latter and far fewer staff are devoted to overcoming it. This also reminds us of the parlous state of the English social care system and the hollowing out of the NHS for private profit. Both was brought into sharp relief during the pandemic by the many deaths of older and disabled people in care services and the wastefulness and inefficiency of private company involvement in Test and Trace and the supply of personal protective equipment.
All this brings us back to all the questions I raised at the start of this article, and also raises another crucial one: How are we going to reform welfare and change people's hostile attitudes towards it and the people who have to turn to it? Each of us may have our own proposals to offer and suggestions to make. But that perhaps is where we have gone wrong in the past – thinking we can speak and act for others and understand their diverse experience.
Bristol University Press and Policy Press are launching a new series of webinars to allow us to explore what a truly inclusive and participatory approach to social policy might look like and how it might be achieved. The first event 'Why participatory social policy now?', at midday on 8 April, will examine a participatory approach to social policy, questioning traditional approaches and look at what possibilities participation offers for the future.
On the panel will be: Bini Araia, Director, The Other Perspective CIC; Sarah Carr, Associate Professor of Mental Health Research at Middlesex University and Vice-chair of the National Survivor User Network; Danny Dorling, Halford Mackinder Professor of Geography of the School of Geography and the Environment of the University of Oxford; Ruth Lister, Baroness Lister of Burtersett, Professor of Social Policy at Loughborough University; Josephine Ocloo, Senior Researcher and Health Foundation Improvement Science Fellow, King's College London; and Fiona Williams, Emeritus Professor of Social Policy, University of Leeds
Please try and join us! More details and registration here.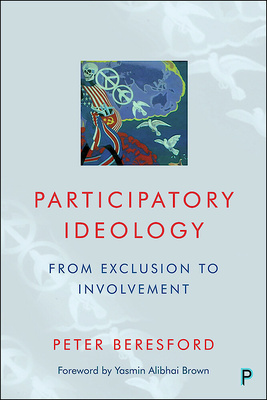 Participatory Ideology: From Exclusion to Involvement by Peter Beresford is available on the Policy Press website. Order here for £19.99. Browse all of Peter's books published with Policy Press here.
Newsletter subscribers receive a 25% discount – sign up here and you will receive a discount code.
Follow Transforming Society so we can let you know when new articles publish.
The views and opinions expressed on this blog site are solely those of the original blog post authors and other contributors. These views and opinions do not necessarily represent those of the Policy Press and/or any/all contributors to this site.
Image credit: Kubkoo