A mistake we human beings sometimes make is to behave the same when things have dramatically changed. You'll see it sometimes on a news report of a disaster or catastrophe. Instead of the running, rushing and screaming we associate with panic, things go quiet, people seem to be waiting on each other, there can be a kind of well-mannered reluctance to acknowledge what's actually happening.
Public social policy seems to be going through just such a frightening phase. There are the appalling plans to export refugees to Rwanda, the routine cruelty against disabled people by the Department for Work and Pensions committed to keeping benefits budgets down, the political neglect of children and the bad-mouthing of poor people by government politicians who should know better, as inflation and massive utility bills hit. Yet where are we seeing the outrage, the anger, the 'not in my name', as social policy is converted from support to neoliberal stigma, hostility, institutionalised abuse and discrimination?
Yet neoliberal ideology, however great its economic and social failings, as erstwhile cheerleaders like the World Bank and IMF now highlight, seems unstoppable in Westminster. Glimmers of hope like electoral results in France and Australia haven't yet reached these shores and hardly signify the abandonment of hardline market politics. The old alternative Fabian approaches now seem dead in the water and we must remember that now nobody under the age of 60 can have much adult lived experience of the old redistributive welfare state that Mrs Thatcher put an axe to.
'There is no alternative' was her rallying cry. But there is. Not the out-of-control marketisation whose failings have been laid totally bare by the government's disastrous handling of the COVID-19 pandemic, especially contrasted with the success of state vaccination policy. Nor the old paternalistic Fabianism, that seems to have been discredited once and for all by New Right rhetoric.
Instead, it's the new participatory approaches to public policy which have service user and new social movements behind them and which demand inclusive involvement and the valuing of diversity and of sustainability, if we and our planet are to have any future.
The first of the Policy Press webinars on participatory social policy in April highlighted the resonance of this new call. Watch the recording here. Our second event is on disability and participation on 7 June (register via the link below), and the third later this year will exploring madness, distress and participatory public policy will further develop the discussion. It's a debate none of us can afford to ignore and which we can all have a chance to be part of.
Peter Beresford is Co-Chair of Shaping Our Lives, Visiting Professor at the University of East Anglia and co-organiser of the participatory social policy webinars with Policy Press.
Join our next webinar in association with Peter Beresford on Tuesday 7 June at 12PM: Disabled people's innovation for inclusive and participatory social policy.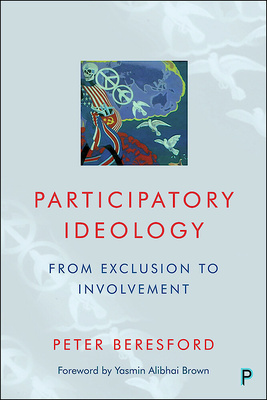 Participatory Ideology: From Exclusion to Involvement by Peter Beresford is available on the Policy Press website. Order here for £19.99. Browse all of Peter's books published with Policy Press here.
Newsletter subscribers receive a 25% discount – sign up here and you will receive a discount code.
Follow Transforming Society so we can let you know when new articles publish.
The views and opinions expressed on this blog site are solely those of the original blog post authors and other contributors. These views and opinions do not necessarily represent those of the Policy Press and/or any/all contributors to this site.
Image credit:  Mohdammed Ali