To many, COVID-19 is over. Vaccines have emerged as a lifeline. However, as countries lift restrictions and mask mandates and eagerly reopen their economies, COVID-19 remains a two-track pandemic: a pandemic of inequality. COVID-19 has exacerbated many underlying global inequalities, and among them is the issue of equitable access to health resources, as seen in the vaccine haves and have-nots.
The fight against COVID-19 is not a level playing field because the availability of vaccines differs across the globe. If you live in a wealthy nation, your odds of surviving the pandemic are stacked in your favour, compared to your less fortunate peers who live in the world's poorest countries and regions. Our World in Data shows that only 16 per cent of people in low-income countries have received at least one dose of COVID-19 vaccination compared to over 90 per cent in wealthy countries. Nearly three billion people worldwide have still not received a single dose.
No one is safe until everyone is safe. Vaccines, developed in record time, have proven to be effective against infection, hospitalisation and death. However, real-world studies have shown that the antibodies from vaccination wane after a few months. As borders reopen and international air travel return to pre-pandemic levels, vaccine inequity remains not only a moral problem but is also economically and epidemiologically self-defeating. The unequal access affects the entire global community, rich and poor – and vaccinated and unvaccinated – alike. In an interconnected global economy, COVID-19 outcomes for the global economy depend on poorer countries' populations getting vaccinated. Data from the US National Bureau of Economic Research suggest that wealthier nations will still bear 49 per cent of the global costs of the pandemic, even if their own populations are fully vaccinated.
There is another practical reason to distribute vaccines equitably and quickly. The unvaccinated are variant factories. As long as the virus continues to spread and mutate, it will breach borders and halt global recovery. No part of the world is safe if the pandemic rages on elsewhere to spawn more dangerous vaccine-resistant variants. Globally, more new daily cases are being reported today than when no vaccine was available.
After nearly two years of vaccine breakthroughs and progress in vaccine production, there is little excuse for not addressing vaccine inequity. Despite international efforts to address vaccine access through the COVID-19 Vaccines Global Access (COVAX), vaccines continue to be cornered by wealthy nations that can more readily afford them and are willing to pay premiums for vaccines and boosters while slow-walking financial pledges to COVAX. Lack of financial support, queue-jumping, vaccine nationalism, halting of vaccine exports and supply-chain issues and vaccine hesitancy continue to weaken the global vaccine-sharing programme's ability to purchase vaccines and distribute them equitably.
Vaccine inequity is basically a failure of global governance. By definition, a pandemic is a disease that affects the global population. Naturally, the solutions demand global effort. Beyond strengthening the COVAX framework, solutions must address the leadership vacuum at the global level, including calibrating the role of the G7. Another solution lies in knowledge sharing and transfer. To remove barriers, one important area is the issue of intellectual property (IP) protections for COVID-19 vaccines. To what extent can they be removed temporarily to pave the way for removal of import and export restrictions, and the loan, release or donation of vaccine supplies by countries possessing excess supply to low-income countries, whose populations desperately want the vaccines? It does not make sense for the health of the world population to lie in the hands of a few commercial entities.
If a multilateral approach is insufficient, there has to be room for bilateral efforts. One of the more controversial bilateral approaches is vaccine diplomacy. A number of countries including China, India, Russia and the US are leveraging COVID-19 vaccines as a new public diplomacy and nation-branding instrument. Armed with excess vaccines, they can afford to compete to project influence through bilateral donations or loans of their home-grown vaccines and the inking of vaccine purchase agreements with countries that have more limited access to the vaccines. Also troubling is the question of whether poor countries will be dumping grounds for 'old' vaccines. Despite questions and criticisms over hidden agendas, vaccine diplomacy – if done right – may help improve vaccine access for more countries left behind in the vaccine game.
Health, as a matter of fundamental import, is a basic human right. If there is one thing that we can learn from COVID-19, it is that we need to treat health resources such as vaccines as a global public good. As citizens of the global community, we have to undertake a moral (and social justice) imperative to build a sustainable framework of global partnerships in technology transfer, infrastructure development and regulatory management to ensure that no continent, region nor country is left behind in health and access to health resources. Vaccines should not be treated as a protected asset to generate profits for a few pharmaceutical companies or to pave the way to favourable election outcomes for politicians.
What is inequitable can only hurt all of us – even the wealthy who are seemingly well insulated. COVID-19 cannot be controlled locally if the virus remains unchecked globally. In an interdependent world, national self-interest is closely intertwined with international good. To overcome this global crisis, countries and their leaders must steer away from national selfishness. To borrow the analogy used by US president Franklin D. Roosevelt in the 1941 Lend Lease Act, you should lend your neighbours your garden hose if their house is on fire if you want to keep the fire from spreading to your house.
Seow Ting Lee is Professor of Strategic and Health Communication at the University of Colorado Boulder and a contributor to the Global Agenda for Social Justice 2.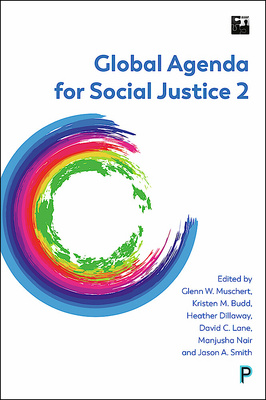 Global Agenda for Social Justice 2 edited by Glenn W. Muschert, Kristen M. Budd, Heather Dillaway, David C. Lane, Manjusha Nair and Jason A. Smith is available on the Policy Press website. Order here for £14.99.
Bristol University Press/Policy Press newsletter subscribers receive a 25% discount on all books – sign up here.
Follow Transforming Society so we can let you know when new articles publish.
The views and opinions expressed on this blog site are solely those of the original blog post authors and other contributors. These views and opinions do not necessarily represent those of the Policy Press and/or any/all contributors to this site.