On International Women's Day we launched a series of articles to celebrate our female authors and editors: Women in academia and practice. We look at their work and the challenges they have faced, and hear their thoughts about obstacles to gender equality.
Dr Jessica K. Miller is Director of Research at the charity Police Care UK, a Principal Investigator in the Department of Sociology at The University of Cambridge, and consultant on trauma resilience for The Royal Foundation and the UNSUNG Foundation. Her most recent book, The Policing Mind, is published by Policy Press.
What do you do and how did you get here?
I am a neuropsychologist, specialising in psychological trauma in policing. In my spare time I run (the very small) Cerne Wildlife Rescue centre from my home in Dorset and am a practising Buddhist.
'How I got here' is a story like so many others'; coincidence, happenstance, being open-minded, others' goodwill and, at times, plain and simple necessity. Essentially though, I'd say that life taught me that it can hurt and that we need to find ways to look after each other as we meander through it.
With a long-standing fascination with health psychology, I tried to shoehorn myself into a policy-driven PhD and failed (miserably) so I decided to get back to what I really wanted to do: help people out. I took a very undesirable and well-paid job at the local authority, working with police to negotiate with Gypsy Travellers. It was well paid for a reason as a first job: it brought with it anguish, risk and unrelenting discontent. However, through the critical incident work that came with the role, I developed increasingly strong ties with the local police and soon volunteered for a Home Office pilot scheme supporting police through major incidents. With the new Civil Contingencies Act promoting partnership working on psychological resilience, I found a new niche.
Within 18 months I had relocated to another local authority and was hit by a car on my way to work. To my great surprise, I was soon diagnosed with Complex Post-Traumatic Stress Disorder relating back to my childhood, and was suddenly flung into a new world of needing to focus on my own mind before trying to help others. I embarked on a part-time PhD in neuropsychology, specialising in trauma processing and genetics. Joining this new world of neuroscience at a time when 'neuroplasticity' was the new buzzword, I was fortunate to ride a wave of enthusiasm for training the brain to rewire and restructure itself for resilience. I learned so much over those few years, that by the time I finished I was champing at the bit to bring it back to the world of operational policing and life on the front line. Luckily, I was introduced to the police charity I am still with, re-engaged with my long-suffering Cambridge supervisor from 20 years earlier, and here we are.
What challenges have you faced?
The challenges I have faced are many, but none completely insurmountable. The most obvious was following the route of research being 'me-search' and working on trauma with a diagnosis of CPTSD, surrounding myself with triggers and collecting vicarious traumatic material every day for 11 years. It's not been easy and some days I just feel spent. When one mixes academic and scientific enquiry with professions (in which you have not directly been employed), one can easily find yourself a go-to for many people, but not part of a solid support network: you are neither psychologist nor officer, neither fundraiser nor scientist – you are a hybrid and sometimes you can feel simultaneously cramped and isolated. This year I have also tiptoed around the edges of another challenge which I have not widely disclosed: gender fluidity. There is stigma in trauma, stigma in being an academic, stigma in working for the police, and stigma in my gender identity. Some days I find myself ducking the onslaught of shameful jibes (many unintentional on behalf of others, some deliberate), and other days I feel jubilance and triumphant in the liberation that where there is a sense of stigma, there is usually a box that I am climbing out of, and on to greater things.
What needs to be done to address the challenges women face generally?
The greatest step we can take is to be allowed to say that there ARE challenges and that these can come from a deep sense of knowing from within us, without eloquent verbosity and politically savvy rhetoric that might come in later life. I knew from a very young age that I did not feel comfortable with the way people treated me and interacted with me when I was put in a dress, compared to how I felt in a pair of dungarees at the bottom of the garden. I couldn't understand why I couldn't play football with the boys on the playing field and why I had to play specific parts in the game of Mummies and Daddies in the playground. I didn't understand why boys got to enjoy the physicality of their bodies and I had to concentrate only on what I looked like. I'm happy with my biology, happy to be in the body I am, to be a woman and to celebrate and honour it and enjoy it: it's the layers of social angst piled high between me and my body that distance me from who I think I can be. To try and explain this to someone is not easy.
With the new stigma of being 'woke', we can find ourselves caught in a frenzy of labels and descriptions, punctuated by eye-rolls and sarcasm, fear of offending and sometimes outright confusion. Being a woman biologically brings with it so much more than physicality, and the best thing we can do is simply acknowledge that – and the sense of resistance to that on some days, some of us might have.
What advice would you give to younger women and more broadly?
Advice I would give to younger women is to keep your heart open, even when labels try to define you and doors might close in front of you. Keep your heart open to difference and change: difference and change between women and men, between women, within women from one day to the next, from one lifetime to the next, one era to the next. Emotions are chemical signals from the environment which advise us on how to respond to what is going on around us. While many see 'emoting' as a verb, an expressive domain of the female of the species, it is not that. Emotions are forms of intelligence that instigate wise action when acknowledged and responded to smartly. For example, compassion enables us to detect others' needs and next moves, making us smarter, more in control and more likely to function constructively. If young women can learn to show their strength in their emotional intelligence, we have a chance of encouraging men of all generations to share in this and instigate real social change.
What, in your opinion, is the biggest obstacle to gender equality today?
The biggest obstacle to gender equality today is that each of us has our own view on it and fear that there are not enough of us wanting the same thing. If we can all accept that there is more to us than what is biologically determined and that there is SO much more to us than what can ever be socially defined, we have a chance of living fully in the body we are already in.
Dr Jessica K. Miller is consultant for the Royal Foundation, Director of Research at Police Care UK and Principal Investigator in the Department of Sociology at the University of Cambridge.
Browse all the interviews in our Women in academia and practice blog series here.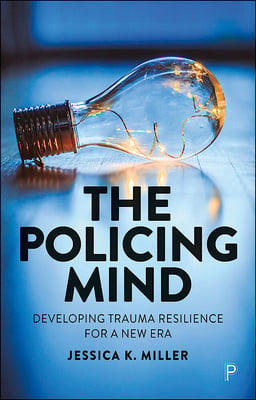 The Policing Mind by Jessica K. Miller is available on the Policy Press website. Order here for £21.99.
Bristol University Press/Policy Press newsletter subscribers receive a 25% discount – sign up here.
Follow Transforming Society so we can let you know when new articles publish.
The views and opinions expressed on this blog site are solely those of the original blog post authors and other contributors. These views and opinions do not necessarily represent those of the Policy Press and/or any/all contributors to this site.