Sex industry workers in the UK are experiencing a form of social 'cleansing'. They are a diverse, intersectional and sometimes hidden group of adults who work in various on-street, off-street and online locations, and across several industries. They are dancers and performers, adult-content creators, porn actors and webcammers. Many also provide in-person sensual massage, intimacy and full sexual services.
They are also an ostracised workforce and often silenced by stigma, conflated with trafficking victims and modern-day slaves, and made invisible by the criminalisation and displacement of street-based industries. They experience raids and closures of their off-street workplaces and sexual entertainment venues. They are policed and censored online at adult services websites (ASWs) and sex industry safety forums.
It's hard to know how many sex industry workers there are [see Sanders, et. al,  2018] because of the consequences of identification and issues related to who is doing the counting and why, in addition to methodological issues. The state, researchers, police, charities and others have various reasons for wanting to know who is trading sex, yet sex workers themselves have little control over what it means to be a sex worker and face negative consequences if they are 'outed'.
Sex industry workers who occupy the upper rungs of the UK 'whorearchy' are most valued in terms of appearance, race/culture, class and other factors, and can offer discretion to customers by controlling not only who has access to them, but also their working arrangements and the rules of engagement. These sex industry workers can demand the highest prices because they elude the public gaze, limit their visibility and audiences, and avoid contact with state agents and police. Street-based workers occupy lower rungs of the whorearchy, in part because of the challenge of controlling who sees them, as their outreach to potential clients is done in public places frequented by sex workers, such as strolls or managed areas. Being known to the state, landlords or the public for example, is counterproductive to one's earning potential and status in sex industries and increases susceptibility to violence and extortion as there are many who weaponise this information.
People who live dual lives, holding jobs in sex as well as mainstream industries, are among the most hidden populations of sex workers by intent and design. Living a dual life relies upon the ability to hide in plain sight, to occupy upper rungs of any whorearchy, to manage information and audiences, presentation and performance – basically to control how one is known. People who engage in this duality do so to supplement low and underpaid work in mainstream economies to pay for emergencies, repay debt, fund projects such as tuition or as part of a longer-term financial strategy for social mobility. They comprise off-street and online populations of adults across sex industries and mainstream jobs, both of which exist within precarious labour markets rife with short-term employment, phoney self-employment, zero-hours contracts, and dodgy work arrangements with little entitlement to employment benefits and income support.
We have spent generations executing, torturing, humiliating, stigmatising, criminalising, displacing and 'reforming' sex workers and little to no investment on addressing the conditions that influence decisions about sex industry involvement for adults. From bibles to batons, sex workers have faced extraordinary social censure, even at the hands of those who aim to end violence and understand the links between (feminised and racialised) poverty and selling sex. This is not a historical experience but a contemporary one. Sex worker and scholar Victoria Holt recently reflected upon the Soho brothel raids and challenges an account that insufficiently represents the experiences of sex workers during this criminalisation and the terror they experienced.
Policy actors are well aware of structural inequities, unjust labour market conditions, the impacts of austerity, low benefit/Universal Credit rates, the housing crisis, insufficient statutory sick pay, the high costs of living, the burden of childcare and education and COVID-19 poverty, and yet we still choose to vilify and demonise those in adult industries. Although selling sex is not illegal in the UK, legislation and policy exists to control this activity without input from the sex workers themselves. As a result, the brothel-keeping law criminalises a place where more than one person is offering sexual services. Instead of having the option of working with others for safety, which is something that sex workers would recommend if they were consulted on policy, off-street sex workers must work in isolation to avoid criminalisation (even being accused of exploiting each other). As such, sex workers are put at risk from offenders who target individuals (women in particular) who are alone at home or at work, and populations who are not likely to be believed or seen as credible witnesses to their own experiences, particularly when under the influence of drugs or alcohol. Sex industry workers are among those who have little social or police protection due to stigma, criminalisation and discrimination, and fear abuse from some enforcement officials.
People who live dual lives are targeted for violence too. Like other sex workers, migrants and workers of colour, they are not likely to report the harms that they experience because of the costs of being known to police and the state. Specifically for this population, being known or outed to mainstream employers and communities means social death – a loss of status and civil liberties, the risk of unemployability, child apprehension, eviction, exclusion from access to banking and financial instruments, and the emotional and psychological harms of being shunned.
There are moves to introduce the Nordic model that criminalises the purchase of sexual services, and similar agendas to implement a nil-cap on sexual entertainment venues (SEVs) in Bristol for example, all to end exploitation and gender-based sexual violence. Yet again, legislation is being proposed without specific targeted consultation with the adults most affected by these policy decisions.
There is a dangerous underlying assumption that sex workers are not a community of interest, nor an asset or potential partners in ending exploitation, and that the opinions of MPs matter more that the lived realities of sex workers themselves. Is this a hangover of the colonial enterprise, where people in power not only 'discovered' other human beings, but determined that their way of being in the world was 'uncivilised', and went about interfering in their lives, dismantling social structures, traditions, languages, religious and cultural customs, and controlling sexuality, gender relations and economic activities? Many outspoken sex worker-exclusionary radical feminists (SWERFs) use their privileged platform to share their sentiments, such as Bristol-born Julie Burchill: 'When the sex war is won, prostitutes should be shot as collaborators for their terrible betrayal of all women.'
Changing law and public policy in the name of sex workers but not in the interests of sex workers is unethical and dangerous. Decriminalisation of 'women' and those who sell sex, as well as ending exploitation and sexual violence, is supported by those at both ends of the political spectrum and importantly by sex workers, yet we fail to liberate sex industry workers from stigma and censure both within feminism and society. We condone and reinforce their marginalisation by excluding them from opportunities for self-representation and civic participation. We fail to support them in the ways that they ask, such as ending (feminised and racialised) poverty – which would eliminate survival sex – and pursuing the people who hurt them, not the ones who pay them.
We must accept that sex workers, like those who live dual lives, are economically active, resilient and relentless in their fight for recognition, rights and respect. And that they are rational.
We must insist that broad populations of sex industry workers are included in the development of initiatives that aim to eliminate exploitation and increase safety for them. Not only for the sex workers that we can see, but for those we won't.
We must stand against criminalisation of legal forms of work and for increased labour rights for workers, even in industries known for trafficking and exploitation such as agriculture, construction, tourism, service and hospitality industries and sex industries.
We must recognise that sex workers are the low hanging fruit for those who want to extend their control over the populace. Governments, the corporate and political elite can already design cities, decide who is allowed in which public spaces, control where businesses and institutions are located, determine where any of us are allowed to be. Our movements are monitored through CCTV, Automatic Number Plate Recognition (ANPR), telecommunications, financial transactions and social media.
We know that by coming for sex workers they're coming for all of us. We know that by increasing police powers to criminalise 'disruptive' protests, speaking out will be criminalised.
To paraphrase Martin Niemöller's famous poem, first they came for the sex workers and adult industries. The hen and stag dos, betting and gaming establishments, bars and clubs and burlesque may be next.
Who will speak then?
Raven Bowen is the CEO of National Ugly Mugs (NUM), a UK-wide sex-worker safety charity, and co-founder of 'Sex, Work, Law and Society' (CRN#6) with the Law and Society Association (LSA), USA.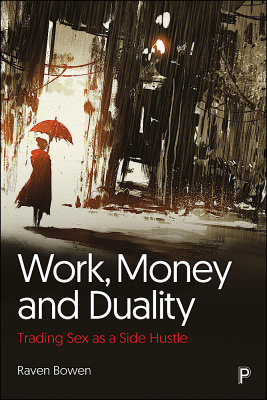 Work, Money and Duality by Raven Bowen is available on the Policy Press website. Order here for £21.59.
Bristol University Press newsletter subscribers receive a 35% discount – sign up here.
Follow Transforming Society so we can let you know when new articles publish.
The views and opinions expressed on this blog site are solely those of the original blog post authors and other contributors. These views and opinions do not necessarily represent those of the Policy Press and/or any/all contributors to this site.
Image credit: Grandfailure via iStock