"When you consider how expansive something like prostitution really is, it should be alarming that we rarely hear the actual voices of people who have first-hand experience in this industry. I think about the cost of our complicity when we accept targeted violence done to others. And I think of our collective accountability to bridge these conversations and find a basis for community and healing." Pluma Sumaq, LIES Journal
Pluma Sumaq here encapsulates the extensive thought process that was behind the creation of The Source as a magazine and an overall project. The erasure of the stories, oral histories and realities of sex workers of colour was something I was tired of encountering in sex worker and anti-racist spaces that failed to see the inexplicable links across both identities as a duality. With the support of National Ugly Mugs and Femme Daemonium, radical facilitation for sex workers of colour began and The Source was born.
It is alarming how rarely society actually hears the voices of sex workers when in reality so much about them circulates in popular media, parliamentary debates and academic discussion. The same can be said for people of colour. The policing and surveillance of BPOCs (Black and People of Colour) is one that happens without their presence, let alone consideration of the true material, emotional and economic needs and safety that they need. In an article on where to start when addressing abuse and protection for black and brown women, Seyi Falodun-Liburd writes:
"According to a recent study undertaken by Imkaan, the UK's only second-tier women's organisation dedicated to addressing violence against black and minority women, government policy and research often excludes perspectives and expertise from black and brown women, and when they do seek those voices, it is only on racialised issues like female genital mutilation and "honour killings". It's also why specialist services for black and brown women are significantly less funded compared to their white counterparts, who are already underfunded to begin with."
National Ugly Mugs (an organisation advocating the safety and protection of sex workers) and Femme Daemonium (a sex worker-led performance activist collective) partnered to support BPOC sex workers in relating their lived experiences of racism and discrimination during the COVID-19 pandemic. The partnership produced a community-based research report and a zine hosted by The Source. The Source is an ongoing project that highlights the voices of marginalised groups and takes into consideration the layered intersections that BPOC sex workers fall into, while giving them visibility, autonomy and community healing from the ground up. The zine is filled with visual art, poetry, stories and articles from sex workers of colour which can be purchased by donation.
'Nothing about us, without us' is a common sex worker saying that you'll likely hear at rallies and demos. This saying became integral to the ethos of the overall project and is one that has stuck firmly in my mind when considering community care and pathways to healing for sex workers of colour.
The Source began with in-depth conversations, interviews and talks and made space for BPOC sex workers to speak about the reality of their experiences navigating a sex industry that perpetuates the dominant forms of oppression such as patriarchy, racism and sexism that governs society as a whole. It was through these conversations that sex workers of colour were able to define, in their own terms, what they wanted and needed from organisations that advocate sex workers' rights such as National Ugly Mugs.
Interviews with BPOC sex workers highlighted the desire for organisations to have a rounded approach when envisioning the best ways to protect their voices and ensure their safety. Such an approach would include harm-reduction training, equal access to resources and supplies necessary for survival, legal aid, judgement-free listening and understanding, mental health support, paid opportunities and peer-to-peer support groups.
National Ugly Mugs, by funding The Source, allowed BPOC sex workers to showcase their creativity in a way that values them not as victims, but as powerful agents in their own lives. This is an approach I hope other charities and organisations will adopt. Through the development of further resources such as dedicated caseworkers to specifically address the needs of BPOC sex workers, therapists who embody an anti-oppressive framework and the development of tools which centre the voices and experiences of these workers in their production. Listening to the voices of BPOC sex workers is fundamental to understanding the experiences of the most marginalised within society. We chose to use art as a medium because, although statistics are seemingly apolitical when used in conversations about marginalised groups within society without their voices, they can very easily become acts of erasure and violence. I made it a priority to stray away from numerical data and statistics and focus solely on longer in-depth conversations which valued their stories, histories and lived experiences. This, in turn, shaped the progression of the project and gave space for their stories to be defining, rather than defined by impersonal statistics:
"The dependence on statistics in the prostitution debate is often a result of our invisibility and our illegitimacy as commentators. Sex workers perhaps seem alien and mysterious, and the questions we raise too political, but numbers are reassuring, seemingly apolitical, and knowable." Pluma Sumaq, Revolting Prostitutes: The Fight for Sex Workers' Rights
What do statistics do for sex workers, especially sex workers of colour, if not remove their humanity and autonomy? Statistics are used in parliamentary debates and conversations when the people behind the statistics are not in the room.
How can we shape policy, legislation, safety mechanisms and communal care for sex workers without hearing their voices, lessons and experiences? In simple terms, we cannot. The Source zine provides a way for BPOC sex workers to be heard and seen in ways that are safe for them. Their narratives can be part of public discourse, not as 'bodies', but as embodied beings with lived experiences and knowledge to contribute. The term 'black bodies' is usually used to objectify or dismember black people and black lives and is born from embedded xenophobic tendencies that are reproduced and recycled in mass-media cultural practices. The popularisation and fetishisation of the imagery of sex workers, with the exclusion of their voices, also makes this apparent.
Creating The Source zine is a radical act of voice and power restoration to BPOC sex workers. Sex workers of colour have, throughout history, been a source of strength for social movements and the backbone of political change. Marsha P. Johnson, a trans sex worker, started the Stonewall riots, and black sex workers were part of the Mau Mau uprising that led to Kenya's liberation from British colonial rule.
The zine helps sex work organisations, public services, police, healthcare professionals, MPs and society as a whole to understand the unique pathway of healing and justice that BPOC sex workers clamour for. It maps out a progressive journey towards tangible change by deriving understanding and knowledge from these sex workers themselves.
Elizabeth is a member of National Ugly Mugs, a national organisation which provides greater access to justice and protection for sex workers.
Find out more about the National Ugly Mugs Sex Workers of Colour (SWOC) project here.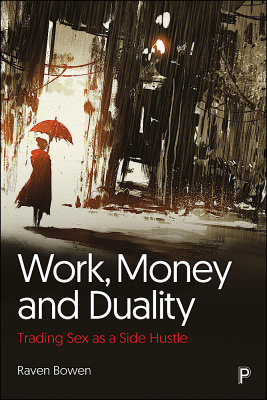 For more on this subject, see Work, Money and Duality: Trading Sex as a Side Hustle by Raven Bowen, CEO of National Ugly Mugs. Available for pre-order on the Policy Press website for £21.59.
Bristol University Press newsletter subscribers receive a 35% discount – sign up here.
Follow Transforming Society so we can let you know when new articles publish.
The views and opinions expressed on this blog site are solely those of the original blog post authors and other contributors. These views and opinions do not necessarily represent those of the Policy Press and/or any/all contributors to this site.
Image credit: The Source, Issue 1