With the ever-increasing exploitation of workers through precarious, low-paid and temporary jobs, many people now hold jobs in both the sex industries and non-sex work employment.
In this episode of the Transforming Society podcast, Jess Miles speaks with Raven Bowen, author of Work, Money and Duality and CEO of National Ugly Mugs, about sex work, duality and why we need to listen to sex workers to understand sex work and create effective policy.
National Ugly Mugs is a UK-wide charity working with sex workers to do research, design and deliver safety tools and to provide support services to people in adult industries. Find out more here.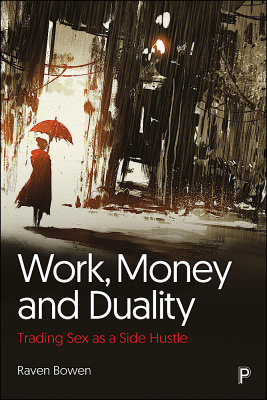 Work, Money and Duality by Raven Bowen is available to order on the Policy Press website for £21.59.
Bristol University Press newsletter subscribers receive a 35% discount – sign up here.
Follow Transforming Society so we can let you know when new articles publish.
The views and opinions expressed on this blog site are solely those of the original blog post authors and other contributors. These views and opinions do not necessarily represent those of the Policy Press and/or any/all contributors to this site.
Image credit: Gabriel Santiago on StockSnap