Finding ourselves in the second year of the global pandemic, it is time for us to take stock. Much has changed, and hardly anything is as it was 'before'. Rules and guidelines continue to regulate our lives. Yet, for many people, nothing has changed; and their biggest concern and fear is that nothing ever will change.
As one nation after another went into lockdown, the limitations on personal freedom and choices became evident. We were all required to stay at home, to keep our distance from others, to avoid going shopping and to stay connected to others via online platforms and social media. These rules felt like an enormous infringement. What the majority of the populations had not realised, however, was that their 'new' experiences were not at all new for disabled and chronically ill people. Within the disabled and chronically ill communities, the realisation dawned that their ordinary, everyday experience of life was considered as a crisis. As the weeks went on and as the reality of long-Covid dawned, a certain level of empathy emerged that had not been as palpable ever before. People with chronic fatigue syndrome (myalgic encephalomyelitis), fibromyalgia and multiple sclerosis, for example, had been lobbying for years – without much success – to have their fatigue and energy depletion recognised. Suddenly, through the emergence of long-Covid along with an increase in mood disorders and dysfunctions, the discourse seemed to have changed.
Similarly, academics with disabilities, chronic illnesses and neurodivergences, as well as those with caring responsibilities, have long petitioned for opportunities to take part in conferences remotely, to contribute to panels from home or to share in knowledge exchange using accessible alternatives. Unfortunately, the academic elite was not open to those changes. In 2018, I spearheaded a conference at UCL Institute of Education, which was unique, radical and one of a kind. The conference was accessible for in-person exchanges, as well as via a live-stream with live captions. Remotely attending delegates could get involved via Twitter and Padlet, while delegates attending the in-person event were offered a quiet room, pillows, blankets, socks, eye patches, as well as food that accounted for a combination of common food allergies and dietary restrictions. Three years later, the innovation of that Ableism in Academia conference may not seem as groundbreaking anymore. As a community we are now so used to Zoom or Microsoft Teams and to virtual conferences that it feels impossible to remember the time before our reliance on such tools. But ask anyone who has a chronic illness, disability or neurodivergence and you'll find there is deep-seated worry; worry about weak collective memories and worry that as the majority of the population is longing for normality, everything will go back to what it was before.
I understand that desire for the known; I am the same. I long for the opportunity to meet my family, to travel, to do the things I have always done. And I am also hopeful. The pandemic has shown that offering conferences as a virtual option does not mean the quality of the conference suffers. We have seen that people's personal productivity, sense of wellbeing and experience of efficiency have not necessarily deteriorated because they have been working from home. Instead, it has emerged that there are many ways of working and that despite our one-size-fits-all mentality, not everything works for everyone, actually. Within higher education there is often the fear that adjustments may be expensive or difficult to organise, which leads to the introduction of generally applicable quick fixes that disregard the needs of individuals. For me, the key to productivity, efficiency, wellbeing and a successful work–life balance is to enable; and enabling means to take an individualised, personalised approach in making relevant arrangements.
Nicole Brown is Director of Social Research & Practice and Education Ltd and Lecturer in Education in the Department of Culture, Communication and Media at the UCL Institute of Education.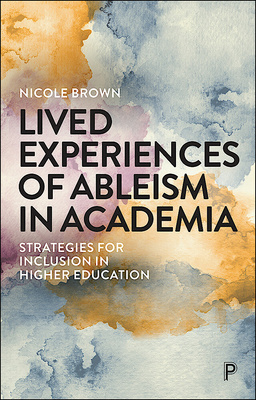 For more information on how to support individuals with chronic illnesses, neurodivergences and/or disabilities see Lived Experiences of Ableism in Academia by Nicole Brown. Available to order on the Policy Press website for £19.99.
Bristol University Press newsletter subscribers receive a 35% discount – sign up here.
Follow Transforming Society so we can let you know when new articles publish.
The views and opinions expressed on this blog site are solely those of the original blog post authors and other contributors. These views and opinions do not necessarily represent those of the Policy Press and/or any/all contributors to this site.
Image credit: Compare Fibre on Unsplash