Today is the UN International Day of Older Persons. The 'exceptional' ageist practices and neglect of older people's right to life characterised the UK's first year of the COVID-19 pandemic, but ageism has continued to operate through the rhetoric of herd immunity over the summer of 2021. The focus throughout has been on the visibility of death, rather than preventing the deaths of (older) people.


Neglection of human rights during the first wave of COVID-19
The discharging of older people from hospital into residential settings without being tested for COVID-19 has been relatively well documented, including in the recent Channel 4 drama 'Help', as have further examples of ageism in care homes during the first wave.
What is less well known is that during the first six months of the pandemic in England and Wales, there was also a large increase (25,200) in excess deaths recorded in private homes and this could be linked to reports made to Amnesty International and the Care Quality Commission of ambulance services being ordered not to transport older residents from both residential care and private homes to hospital. This, however, was not the only report of older people being denied access to treatment. As documented in Calvert and Artbuthnott's book Failures of State: The Inside Story of Britain's Battle with Coronavirus (2021), at the beginning of the pandemic, senior clinical government advisors developed a 'COVID-19 triage score: Sum of 3 domains' to ensure hospitals were not overrun.
The triage tool gave points for age, 'frailty' and underlying conditions, yet, in its first version, nine points were given if over 80, which automatically excluded the patient for treatment. Although this tool was subsequently revised to lower the score for age and then withdrawn from use, variations continued to be used. Data suggests that with treatment, patients aged over 80 would have had a four in ten chance of survival.
Another 'exceptional' age-discriminatory COVID-19 practice, reported to Amnesty International UK and the Care Quality Commission, were blanket 'Do not resuscitate' orders. Here, end-of-life policies were distorted to deny older people the right to treatment, with reports of older people being pressured to sign 'do not resuscitate' (DNR) forms, and of GPs and care homes being asked to encourage patients to waive their right to treatment. Amnesty International UK found that in March 2020, a document was shared by Sussex Clinical Commissioning Group (CCG) with GPs, asking them to find care home residents without DNRs on their systems and issue them. Following a media outcry, this guidance was quickly retracted, but Sussex was not the only CCG to do this, as it was reported that this direction was coming from above.
Herd immunity, isolation and 'new' ageism
Since the first and second waves, people might argue that the 'exceptional' practices which discriminated against people based on their membership of age or residential status have receded. However, with the successful roll-out of the COVID-19 vaccination programme, there has been a resurgence of herd immunity rhetoric, previously thought to be abandoned by the UK government at the beginning of the first wave. Herd immunity is based on a logic that those most vulnerable to the virus (including older people and those with chronic health conditions) must be sacrificed for the immunity and wellbeing of the healthy younger population. Over the summer of 2021, this discourse has reared its ugly head again. With the UK government's abandonment of all public health measures, including face masks in crowded public spaces, social distancing and the limits on numbers attending sporting events, nightclubs and festivals, people who remain clinically vulnerable even when fully vaccinated (more likely but not exclusively to be older people) have been left with the 'choice' of either risking their lives going about their day with increasing infection rates, or limiting their social interactions to those who have been double jabbed and lateral flow tested. The psychological and physical impacts of this ongoing isolation for older people are significant, with increased reports of anxiety, depression, withdrawal, loss of confidence and lesser ability of managing existing conditions.
The return to a herd-immunity policy not only discriminates against older people and/or those with chronic health conditions, but it encourages a new kind of ageism. Originally coined by Alan Walker in 2012, intergenerational ageism pitches one generation against another. During the summer of 2021 in the UK, it has been arguably operationalised to justify sacrificing those more clinically vulnerable for the freedom of younger healthy people to go on holiday or attend a sporting event, and ultimately the economy. This ageist rhetoric links to entrenched stereotypes of older people being economically unproductive bodies which are a burden and drain on society. Using these arguments, the deaths of older people and those with chronic health conditions have been justified as 'natural' or 'normal', unlike younger 'healthier' people's deaths, which are seen as tragic.
Do older lives matter?
Ageism, in comparison to racism, classism, sexism, ableism and homophobia, is an 'ism' that receives relatively less attention. For instance, George Floyd's death in spring 2020 led to the rise of the Black Lives Matter social movement based around raising awareness of racism in the criminal justice system and in wider society. But more people need to speak up for the thousands of older people (and people with chronic illnesses) who have died needlessly, and still are dying, because of discriminatory government policies and a general neglect to protect their lives. Over the summer of 2021, roughly 150 people were dying every day in the UK from COVID-19, but instead of this being problematised in the media, it has been normalised/accepted due to their age and chronic health status. Would that be the same if 150 people from minority ethnic groups were dying every day in the UK criminal justice system? Posing the question 'do older lives matter?' on The International Day of Older Persons aims to encourage people to think about their own ageist assumptions and how insidious ageism is pervading UK society more generally. Ultimately, the 'myth' that older people's wellbeing is at odds with younger people's is easily undermined by taking a long-term view; if older people's lives and welfare is eroded, then so will future generations' be, if they are lucky enough to reach later life.
Bethany Simmonds is Senior Lecturer in Sociology at the University of Portsmouth and has research expertise in health, wellbeing and ageing; intersecting with gendered, classed, ethnic and 'dis'abled identities.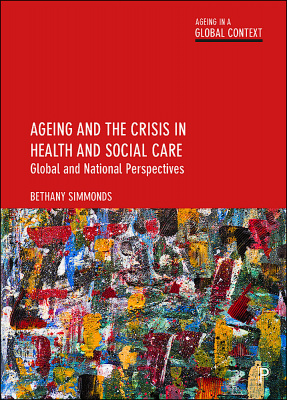 Ageing and the Crisis in Health and Social Care: Global and National Perspectives by Bethany Simmonds is available on the Policy Press website. Order here for £60.00 or order the EPUB for £21.59.
Bristol University Press/Policy Press newsletter subscribers receive a 35% discount – sign up here.
Follow Transforming Society so we can let you know when new articles publish.
The views and opinions expressed on this blog site are solely those of the original blog post authors and other contributors. These views and opinions do not necessarily represent those of the Policy Press and/or any/all contributors to this site.