There is a well-established link between positive family and social relationships and good mental health. The pandemic has made visible how important relationships are to all of us and reinforced the value of face-to-face connectivity.
During the COVID-19 pandemic there has been a profound societal (re)discovery of the importance of social connections and of the pivotal role relationships play in promoting our mental health and wellbeing. Online relationships are perceived not to be as 'good' or as valued as face-to-face ones. It has been widely reported how keen many of us are to return to the office, meet friends for (actual) coffee and share space as well as time with other people. There is, perhaps, a human need to do so. When starved of it for a lengthy period we notice the damaging effect that not seeing people face to face – looking into their eyes and engaging with them in a way that's not possible via a screen – has on our sense of self and wellbeing.
In my book Mental Health in Later Life and in my other writing, I explore the embedded nature of mental health and the issues that contribute to its erosion, and promotion, across the life course. A number of issues are striking regarding the role played by relationships. For example, the existence of an 'intimate, confiding relationship' is highly protective of mental health at all ages and stages; it is important for the maintenance of morale, self-esteem and prevention of loneliness. In later life, having a confidant can lessen the impact of age-related losses including bereavement and health problems. Long-term friendships play an especially important role in the networks of older people who are widowed, childless or single.
A larger social network, made up both friends and relatives, is also protective of mental health. It has been suggested that this may be because friends permit greater feelings of autonomy and facilitate integration into a broader set of networks than relatives do. Social networks are also a primary source of both instrumental and emotional support for older people with dependency needs; they promote a sense of control, dignity and self-worth. Regular face-to-face contact with friends and family is evidenced as reducing current and future risk of an older person developing depression. Social participation is also associated with a reduced risk of isolation and better self-reported health.
During the pandemic – particularly in period(s) of lockdown – engagement with social and family relationships was reduced or lost. For older people, many of whom rely on local face-to-face contacts (such as neighbours, the church or a community group), this loss has been significant. That fewer older people, particularly those with sensory losses and/or frailty, use social or online media to link up with others, compounds the issue. COVID-19 confinement has not only increased the – more obvious – risk of isolation and loneliness but loss of connectivity also erodes identity, sense of self and self-worth. Our roles as friend, 'helpful neighbour', 'reliable sister' and local 'fixer' are reinforced by physical connections with community members and networks; they also bolster our sense of continuity and reaffirm our place in the world.
Meaningful relationships are also pivotal to the delivery of effective care. What's important to older people who use health and care services is the quality of the relationship they have with workers; they value emotional attachment, continuity and time spent talking and sharing experiences. Care that is based on an established relationship – crafted to meet the needs of the older person – is associated with high levels of psychological wellbeing and reduced stress. For people living with dementia, nuanced relationship-based care protects the older person's identity and selfhood and promotes security and wellbeing. It is noteworthy that in care homes where the development of meaningful relationships between residents and staff is prioritised, residents' quality of life is better and staff retention is higher. Being discouraged from doing this is one of the main reasons why care staff leave employment aided and abetted by – the now widely reported – poor pay and conditions.
I have explored the damaging impact of 'covid confinement' on care home residents elsewhere but it is useful to highlight the key role played by the loss of relationships. Residents' mental health was, and continues to be, undermined by the intersecting impact of being (effectively) trapped in their bedrooms, very limited (if any) contact with relatives and friends and reduced engagement with care staff (due to extra COVID-related demands, illness or self-isolation). Visits from relatives and friends can provide residents with a sense of meaning, value and belonging. The Alzheimer's Society reports that many residents with dementia became withdrawn and depressed during lockdown; some permanently lost the thread of connection with their family. Before the virus, many care home residents were lonely. COVID-19 has undoubtedly made things worse. A number of the issues that protect residents' mental health – links with family and friends, engagement with the local community, staff being 'present and engaged' – have either been lost or significantly reduced during the pandemic.
The link between meaningful relationships, especially on a face-to-face basis, and positive mental health has been made visible over the last 18 months. We have all been denied the 'usual access' to family, work and socialising. We crave connectivity in ways that most of us did not recognise before the pandemic. That the loss of social and family relationships in later life – due to bereavement and/or health problems that restrict engagement opportunities – is common does not make it any less of a loss. One of the positive legacies of COVID-19 may be that more of us appreciate how these losses challenge older people's mental health and encourage us to nurture key relationships to protect our own mental health now and in the future. The importance of meaningful relationships for older people who use care services has also been more visible. This needs to be 'translated' into infrastructural change. The current instrumental model that underpins the commissioning and delivery of (most) care services pays scant attention to 'relationships' as a core dimension of good quality care. The issues that have been brought into the light in lockdown demand a rethink, a reset, and recognition of the importance of relationships to our mental health and to 'care' in all its forms.
Alisoun Milne is Professor of Social Gerontology and Social Work at the University of Kent. She has a long standing practice and academic interest in mental health in later life.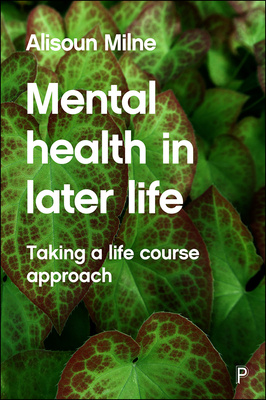 Mental Health in Later Life: Taking a Life Course Approach by Alisoun Milne is available on the Policy Press website. Order here for £23.19.
Bristol University Press/Policy Press newsletter subscribers receive a 35% discount – sign up here.
Follow Transforming Society so we can let you know when new articles publish.
The views and opinions expressed on this blog site are solely those of the original blog post authors and other contributors. These views and opinions do not necessarily represent those of the Policy Press and/or any/all contributors to this site.
Image credit: PxHere