You're looking for a birthday card for someone aged 40 plus and you see that half of the cards on display mock the recipient for their assumed physical, cognitive and sexual decline. Moving into a care home, a relative's needs are assessed 'holistically' yet sex and intimacy needs are not even mentioned.
The positive changes in how we understand and experience later life have been well documented for the last two decades. Yet, these two scenarios indicate how ageism remains widespread and to some extent institutionalised and that the subject remains peripheral in both scholarship and public policy debates. A shift in Western societal perspectives has, however, moved sex – as mainly situated in the context of marriage and reproduction – to being a more central aspect of health and wellbeing in its own right. Hence the need for a new exploration of contemporary, critical responses to these challenges and changes, calling on a range of theories, methods, disciplines and research studies to open up and popularise the field.
The misery narrative
These concerns encourage us to consider what is distinct about sex and intimacy in later life. This state of affairs has much to do with 'ageist erotophobia', expressed in thought, action and environments. Put simply, this involves failure to recognise older people as valid sexual beings and even outright denial of their sexuality. Given the diversification of what we are learning about sex and sexuality and wellbeing in later life, and the changing attitudes and behaviour of people in later life themselves, there is an appetite for change. A state of compulsory non-sexuality has profound consequences for many people over 50 who are often assumed to be beyond sexual pleasure. The older one becomes, the more restrictive such thinking can get.
In some areas of life, attempts to maintain a sexual self in later life are often devoid of any thoughts of pleasure or else dismissed, ridiculed and trivialised. In some care settings, they are even defined as a problem or threat to be managed. Indeed, a focus on healthcare, pensions and grandparenting etc., though important, tends to overshadow thoughts of sexual pleasure and how these might be important to overall wellbeing. Even when recognised as sexual agents, older people can be seen as a threat to younger people (as in the predatory 'cougar' and 'dirty old man,' or 'randy old goat') or else their sexuality is begrudged as the 'sexy oldie' who is defined as sexy in the limited, ageist terms of looking good or desirable 'for one's age'. The narrative is clear: older sexual agents are either suffering a declining sexuality, moving beyond sexual pleasure, or morally deficient for pushing such concerns beyond a 'respectable' ageing.
There are various problems with dominant notions of ageing that portray it as an experience of inevitable and increasing loss, mired in a misery narrative of decline. Given changes in demography, the increasing diversity of the ageing population and the evidence on what older people want in relation to maintaining their independence and continuing to have fulfilling sexual and intimate relationships as their later lives develop, society will need to respond accordingly. With a more critical lens, we can begin to appreciate how conventional understandings of age in the life course work as a social construct, which contributes to mis/understanding of the wider effects of change and the possibilities for a viable ageing that can include sexual pleasure and intimacy. Thinking more critically about later-life sexuality is important intellectually and politically in challenging stereotypes and assumptions to achieve (sexual) self-empowerment. Such thinking can help normalise sexual status and access to pleasure (subject to their choice) by older people.
Differentiating older sexual/intimate beings
Whatever we think of age and ageing, and in contemporary 'Western' societies particularly, we must recognise people's experiences as highly differentiated. Whether we are 'de-sexualised' or are able to 're-sexualise' ourselves against the odds will depend largely on the combined or intersecting differences that affect our status in social (and sexual) hierarchies. Not all experience of later-life sexuality and intimacy is able-bodied, cisgender, heterosexual, white and middle class, as stereotypes often assume. Dis/ability, gender, sexual difference, ethnicity and class can intersect to influence sexual, intimate and other opportunities after the age of 50. An intersectional approach then opens up consideration of the differences between and within identity categories later in life, as well as some of their overlaps. While we might expect differences in sexual status between, say, older, affluent, white, heterosexual men and black, lesbian-identified, working-class women, we could also say that there are differences within less considered identities, such as asexual and bisexual people. Consider, for example, trans-identified people who differ according to race and class. Indeed, when we consider trans itself as a spectrum (from birth-biological determinations through to self-identification with a gender and gender-reassignment surgery), we can see how the category 'trans' is differentiated. Of course, such issues should not be overindividualised to the exclusion of common power dynamics, pathologies and prejudices, as well as wider social, economic, cultural, historical and political contexts.
This has been a particular focus of the first book in the Sex and Intimacy in Later Life series, though it will underpin the series as a whole. It is intended to help people to move beyond everyday assumptions that have marginalised the study of sex and intimacy in later life. The series advocates putting 'sex' into studies of ageing sexuality rather than simply reproduce the familiar focus on how different forms of identity pan out in later life in terms of equal opportunities. In line with an approach that prioritises criticality, differentiation and 'intersectionality', there is a need to highlight how older black women's sexuality has been shaped by racism, colonialism, class and sexual difference.
Further, the oldest old and those near the end of life have been particularly excluded from sexual opportunity as a risk-laden category, yet we learn that sex and intimacy can acquire a vitality or vibrancy for such individuals. Also marginal to current studies of ageing sexuality are those who claim a positive and chosen asexual identity (that needn't reject intimacy and sexual pleasure), which is distinguishable from enforced desexualisation. We can also learn about how the sexuality of older lesbian, gay, trans and bisexual individuals face marginalisation within and constraint by cultural scenes that prioritise youth, mononormativity (the idea that one is either gay or straight) and cisgenderism (reflecting the idea that one is either naturally male or female).
Towards valid sexual status?
While the study of sexuality and intimacy in later life inevitably involves recognising the various constraints on self-expression, it would be unjust not to recognise that older people are capable of agency. This is particularly apposite given that the 'boomer generation' that are now occupying the 'third age' grew up in the 1960s and 70s and have no desire to relinquish a more open sexuality than their predecessors. We would be doing a great disservice to older people and the historical record not to recognise the challenge to old orthodoxies that have been made by a generation that grew up demanding bodily freedoms and that has witnessed the 'pornification' of society. Recognising intersecting differences as major influencers of desexualisation and resexualisation – who can/not claim valid sexual status and in what conditions – is one (important) step in that more general project. These are vital issues not just for older people but also for academics, healthcare professionals, policy makers and wider society. Claims to freedom and autonomy in respect of older citizens will ring hollow unless they genuinely extend to sexual, intimate and erotic matters.
We all get old (or hope to). The purpose of this series and this first volume can be distilled simply: against the vagaries of conventional and cultural understandings that impose upon older people, we invite a rejection of pathologies and stereotypes and an invitation to grow old disgracefully!
Paul Simpson has lectured at several Northwest Universities, including the Department of Sociology at the University of Manchester and is currently an independent academic.
Paul Reynolds is Co-Convenor of the International Network for Sexual Ethics and Politics (INSEP) and an associate lecturer with The Open University.
Trish Hafford-Letchfield is Professor of Social Work at the University of Strathclyde.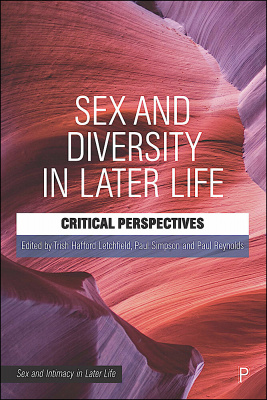 Sex and Diversity in Later Life edited by Trish Hafford-Letchfield, Paul Simpson and Paul Reynolds is available to order on the Policy Press website for £60. 
Find out more about the Sex and Intimacy in Later Life series here.
Bristol University Press newsletter subscribers receive a 35% discount – sign up here.
Follow Transforming Society so we can let you know when new articles publish.
The views and opinions expressed on this blog site are solely those of the original blog post authors and other contributors. These views and opinions do not necessarily represent those of the Policy Press and/or any/all contributors to this site.
Image credit: Thomas8047 on PxHere