The COVID-19 pandemic has threatened not only people's lives, but their capability to live 'well'. It has also laid bare – and exacerbated – drastic inequalities. In this context, the experiences of family carers present important and urgent lessons.
The pandemic gives us a particular opportunity to understand the care of older people, rooted in a political ethics-of-care approach. Based on the research we carried out during the initial lockdown in Wales (Spring 2020) on the effects on family carers of COVID-19 measures, we call for an approach to the care of older people that begins from a social justice perspective, recognises the 'messiness of care', and in particular, locates care in older age as a site of competing logics. Care and being cared for in older age are inextricably linked to ideas of justice and resource distribution, often via broader issues concerning the relationship between the family and the state. Foregrounding these ideas are key 'social justice' concerns. Whose responsibility is it to care for older people in society? How do we assess and address the needs and entitlements of care receivers? With responsibility often comes risk, and the need to protect against vulnerability to harm from risk.
COVID-19 and the neglect of family carers
Care permeates all aspects of our lives, and its very mundanity often makes it undervalued – particularly in the case of older-age care. Never has this been presented more clearly than during the early stages of the pandemic. In the UK, figures from the ONS show that during the first wave, three-quarters of all deaths were among those aged 75 and over, and this disproportionate impact of the virus on older people can be seen as a 'careless catastrophe' and amid a general picture of the virus hitting the disadvantaged harder and reinforcing existing gaps between those better and worse off.
Caring has for some time been associated with negative wellbeing outcomes, including poverty, ill health and social isolation. Through their association with the cared-for, family carers of older people have been particularly vulnerable to the effects of the disease. And yet their recognition as a group entitled to protection from harm is piecemeal, incomplete and even contested. The UK government's COVID-19 policies treated the home as the safest place to be, accompanied by a discourse of 'protecting the NHS' and 'flattening the curve'. Thus, both the virus and policy responses to it served to exert new kinds of pressure on family carers. Inadvertently, this was reinforced by the weekly clapping of NHS workers – which left out of recognition the position of those providing care in their homes on an informal basis.
Our research work captured a sense of injustice among family carers: a lack of recognition, and of needs ignored or discounted. As one carer put it: "What about my risk to the disease, to the harms?" We found when viewed from the perspective of family carers, that the 'clap for carers' movement – intended to celebrate and support the work of carers – in many respects reinforced their exclusion, along with a neoliberal notion of care as a commodity. And while in the initial stages of the pandemic, government messages pointed to values of unity and solidarity, this sense did not reach as far as the everyday experiences of our participants. "What about all the people that work long hours, what about the pharmacists and the family carers and people like myself? It's a whole collective thing – it's not necessarily just the NHS." The reference to the unrealised aspects of collective responsibility captured here speaks to the absence of what care ethicists term a genuine 'caring solidarity'.
The disproportionate impact of the virus on older people as a population group highlights not only systemic and deep-rooted ageism, but too frequent examples of careless systems, institutions and procedures. The result of eroded, precarious and fragile care systems were felt most acutely by those relying on carers who are often themselves dependent on systems of support, including day centres and luncheon clubs. As the pandemic spread, these were closed or reduced almost overnight. This reflects structural dynamics: aspects of the experience of being a family member which are inexorably shaped and conditioned by wider socioeconomic and political factors over which individuals have little direct control. Under COVID-19, those factors have intensified, and served to exacerbate unfairness in the distribution of familial relationship goods, specifically, in our case, for family carers.
Understanding the injustice of care – an opportunity
Care has been acknowledged as central to how we respond to the virus. Moreover, if we accept the view, as care ethicists do, that as humans we are essentially connected rather than essentially individual and unencumbered, then we need to radically reformulate care both as intrinsic to the conditions of our existence, and requiring due recognition and support. The universality of the caring experience necessitates a collective acknowledgement of the circumstances in which caring relationships go well. Set within neoliberal welfare regimes characterised by marketised individualism, care is viewed as a matter of individual (family) responsibility. The pandemic has shown how frail and shaky such a conception is as the basis for support for family carers.
So, might lessons from the crisis offer an opportunity for a more realistic sense of what's required? There are some hopeful suggestions. The recent judicial review presided over by Lord Justice Bean and Mr Justice Garnham found that the UK government acted unlawfully in discharging COVID-19 positive patients into care home. This case demonstrates what is at stake when in times of crisis, we act without 'due care' for those who need it the most. And in Wales, the Welsh government is steering a divergent course on care issues, distinct from Westminster. It has set itself a vast and ambitious agenda through the promise of a National Care Service, free at the point of need and wholly public. Again, our research has reinforced the need for the kind of joined-up approach which this might promise.
Finally, acknowledging care inequalities, and understanding the risks and challenges (as well as the charms) of the experience of care of older people, are essential if we are to 'build back' with care after COVID-19.
Dr Maria Cheshire-Allen is a Researcher at the Centre for Innovative Ageing at Swansea University.
Gideon Calder is Associate Professor of Social Philosophy and Policy at Swansea University, where he directs the Social Policy degree programme and leads on research for the School of Social Sciences.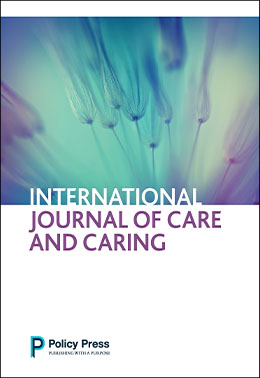 Read the authors' article 'No one was clapping for us': care, social justice and family carer wellbeing during the COVID-19 pandemic in Wales.
Follow Transforming Society so we can let you know when new articles publish.
The views and opinions expressed on this blog site are solely those of the original blog post authors and other contributors. These views and opinions do not necessarily represent those of the Policy Press and/or any/all contributors to this site.
Image credit: ucpage