Is higher education really worth it? The recent debate over the value of a degree course has come as no surprise, as the pandemic forced higher education courses online. There remains immense lifelong value in your university investment, Maria Gallo argues, and it starts with building on your alumni network early.
Promoting the lifelong value of a degree is more important than ever. With rising tuition costs saddling them with debt, students are questioning the value of the qualification quest. The closure of campuses due to the COVID-19 pandemic has intensified this debate. The recent Advance HE and HEPI survey released in late June 2021 led to headlines like 'Half of UK university student think degree is poor value for money' and 'Students: "Uni definitely not good value this year"'.
There is no doubt that students and recent graduates have missed out on the fullness of a university experience. This crisis, for universities and for students, has brought with it, however, an immense opportunity. This opportunity centres around one of the key benefits of a higher education experience, often underestimated and even misunderstood: a lifelong alumni network. The university offers students – and by extension its graduates – an opportunity to build an enriching network, one that can last throughout life.
The value of a network – sometimes described as social capital – is widely recognised as important in many areas of life from securing a job, advancing your career, even nurturing our communities. The university opens an incredible network to students and graduates to draw on across their personal and professional lives.
Naturally, an academic course offers a key anchor to the lifelong value of higher education – the knowledge, critical thinking and key skills gained through academic study. But the investment in higher education is far more. Students hear the mantra to 'get involved' over and over again, encouraging them to join extra-curricular activities, clubs, sports and societies. Experiences outside the classroom offer life exploration so crucial to the broader university experience. Of course, this has become increasingly difficult in the virtual and socially distanced world of the moment. Many students, even in 'normal times', miss these extended benefits of student life, having caring responsibilities, long commutes or the necessity to find paid work during their studies.
The post-pandemic world has normalised virtual connection, opening further possibilities for network extension to students. Speaking to students directly I would say: this is an opportunity to build a robust network of people you know and people who know you. The best place to start? Alumni. You have something in common, having studied at the same university, and alumni have the bonus of hindsight to offer about life after graduation.
Now more than ever, students have incredible tools at their disposal to identify and reach out to alumni. Some universities have online alumni communities to facilitate direct connections with alumni. A simple LinkedIn or Google search will yield lists of alumni who have followed the same course as the student sleuth or have a career trajectory of particular interest. But building an alumni network doesn't fall into a student's lap. It requires effort. Students need to be proactive to seek out these connections and be curious about career and life possibilities after graduation.
One of the practical ways for students to reach out to alumni is to ask for an online informational interview. This type of outreach is more common today in our always-online world. What's an informational interview? It's a listening exercise. A student invites an alumnus with an interesting career or life path for a 15- or 20-minute meeting. This isn't a casual cup of coffee. An informational interview requires careful preparation to maximise the experience. This is an exercise in curiosity, an opportunity to listen. This isn't the time to ask for a job; it's a chance to connect. While students build their network (and connect with this invited alum on LinkedIn) they are putting themselves on the radar of their guest. This is the beginning of honing essential networking skills and cultivating lifelong relationships.
There are often other ways to build your network as a student, including mentorship or work experience programmes involving alumni. Building a network is also an activity in broadening a student's perspectives and understanding of different backgrounds, cultures, work practices or world views. A university offers more than degree courses; it is a beacon to enable students and alumni to connect with the institution and with each other.
During the pandemic, I had the pleasure to mentor three students online at my own alma mater – the University of Sheffield. Each of these students had a different background and course of study but our common bond was the university. The pandemic helped to create these mentorship opportunities, to enable other alumni, like me, to think about how we could help others with whom we have a shared experience. Although we were thousands of miles apart, it was this personal connection that mattered, not our location. I shared my career story, offered some CV tips, and weighed in on postgraduate study options that they were considering.
I believe this pandemic crisis presents higher education with a great opportunity. This opportunity is to gather the wider university community – including alumni – in a much closer way. Involve alumni in the classroom, in mentorship, in curriculum design and in service to the institution, from wherever they are around the world. The pandemic has taught us that despite online class fatigue, this connectivity helps to democratise opportunities for all students.
This period has been a prompt for students to recognise that degree value goes beyond the (online) classroom experience. Investment in a degree course is an investment in a lifelong university ecosystem. This interconnected web of academics, researchers, administrators, students, alumni, spin-off companies, initiatives and much more together create more than a simple parchment. The alumni network thrives with the ebb and flow of giving and receiving, offering balance in the ecosystem. Emerging from these extraordinary times, the universities' greatest challenge? To heighten students' awareness of their alumni network potential and its lifelong value.
Maria L Gallo is an alumni strategist and scholar. She is a Visiting Research Fellow at the Trinity Business School, Trinity College Dublin.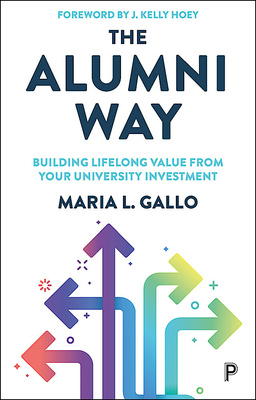 The Alumni Way: Building Lifelong Value from Your University Investment by Maria L. Gallo is available on the Policy Press website. Pre-order here for just £15.99.
Bristol University Press newsletter subscribers receive a 35% discount – sign up here.
Follow Transforming Society so we can let you know when new articles publish.
The views and opinions expressed on this blog site are solely those of the original blog post authors and other contributors. These views and opinions do not necessarily represent those of the Policy Press and/or any/all contributors to this site.
Image credit: Joshua Hoehne on Unsplash