With many students embarking on their higher education journey, some for the first time, it's natural to take stock of your own experience. It's time to reposition the value of higher education beyond the degree as a lifelong investment in your alumni networks.
Earlier this year, I wrote a post to argue for higher education, pushing back against the rising sentiment wondering if college is worth it. In that article, 'What more can higher education offer students?', I presented ways students can benefit from building their alumni network early. This is the sequel. When graduation comes and the career ladder rungs are slowly climbed, it's easy to cast our university experience aside, its purpose served.
In my new book, The Alumni Way: Building Lifelong Value from Your University Investment, I invite you to reconsider the lifelong value of your university investment. While employability is reported as a key challenge for higher education, especially as we approach post-pandemic, it's easy to sidestep some of the other roles of higher education, including ways it can transform lives and society. As alumni, all of us, we can avail of and contribute to this broader vision.
Like any other investment, you get out what you put in. Students are often reminded to get involved in extra-curricular activities, such as joining a club, participating in sport or volunteering, to maximise their broader student experience. The intensity of the effort to achieve a degree should also not be underestimated. Graduation becomes the rite of passage from this active life as a student to a seemingly passive one as a member of the alumni community.
To fully maximise life after graduation requires a proactive strategy. It requires our attention and action. Our connection to thousands of others, by virtue of a shared educational experience, can be powerful for all facets of our lives. As a student and in the early days post-graduation, these alumni network connections are essential for career exploration. Reading alumni profiles and getting an alumni mentor, facilitated through Career Services or the Alumni Office, can certainly support career discovery.
As we travel through our lives, we have other milestones and crossroads we encounter that go beyond our career. We might start a non-profit or business. We might become passionate about a cause or take a leadership role in our community. This is the time to reactivate our connection in our university and alumni network. Higher education institutions by nature are dynamic ecosystems. I would argue, as I do in my book, that whatever purpose, cause, or leadership is pursued can be enhanced by an alumni network or university connection. Looking for a board member for your non-profit? Want to expand your client base or seeking new talent? The skill-set and key demographics you seek may be within your alumni network or a staff member at the university. Want to advance a cause towards addressing the Sustainable Development Goals? Look no further than forging a strategic collaboration with researchers, advocates and leaders within the wider alumni network or academic staff at your alma mater. Before you discard or delete your alumni magazine, consider the insight, events, and even lifelong learning opportunities, not to mention alumni connections, you can gain through a quick perusal. What I am striving for in The Alumni Way is to re-calibrate our thinking from a linear (university = degree) to a quantum one (alumni status = endless opportunities). I would argue for every problem, there is the potential for an alumni or alma mater solution.
I am not immune to the unconscious bias that exists around the word 'alumni'. It is usually coupled very closely with donations. So much so, that most conversations I have with people about my book, usually starts from this point: "I don't engage with my university, they are usually only in touch when they are looking for a donation" is an assemblage of the usual replies. My book offers a robust and considered reply, starting with the need to decouple the student-customer rhetoric that has seeped into higher education. In this short article, I can say this in reply: don't discount the possibilities of your alumni connection because the university might ask you for money someday. If you set aside your alumni grinch, engaging fully in your alumni network is enlightening, insightful and ripe with potential. This is the part of the investment that is worth paying attention to and it will pay off with lifelong dividends.
Indeed, there are so many ways too to hone your own leadership, find meaning and contribute positively to the lives of others through your alumni network. Volunteering as a mentor or guest speaker can offer student or recent graduates with a relatable role model. We can help others to understand the 'life after graduation game' that may seem understood, but isn't, especially for first-in-family or international graduates. Our involvement in leadership roles like this or a university committee can ensure the diversity or current industry perspective in imprinted in the curriculum or served through key programming. We can work directly on causes on campus to enhance sustainability action, such as bike cooperatives or allyship. This generosity of ours, however small, is amplified when it is part of a greater alumni generosity whole.
Higher education is a lifelong investment. It is an investment if we are proactive in our approach. It is lifelong if we ensure it involves our creativity, curiosity, and generosity in seeking its potential.
Maria L. Gallo is an alumni strategist and scholar. She is a Visiting Research Fellow at the Trinity Business School – Trinity College Dublin and is the author of the book The Alumni Way: Building Lifelong Value from Your University Investment. Follow her on Instagram or Twitter.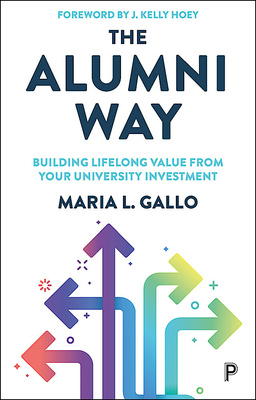 The Alumni Way: Building Lifelong Value from Your University Investment by Maria L. Gallon is available on the Policy Press website. Order here for £15.99.
Bristol University Press/Policy Press newsletter subscribers receive a 35% discount – sign up here.
Follow Transforming Society so we can let you know when new articles publish.
The views and opinions expressed on this blog site are solely those of the original blog post authors and other contributors. These views and opinions do not necessarily represent those of the Policy Press and/or any/all contributors to this site.
Image credit: iStock/filo