Social work is a strategy that exists in one form or other across most parts of the globe. Uniquely tasked with working with people in their environments, social workers mediate between individuals within their immediate, local, national and global contexts. In this mediation, social workers balance care and control, support and protection and risk management towards the betterment of those they work with as they navigate through life challenges including success and sometimes failure.
How to carry out this complex mediation is a constant and recurring challenge. Whatever the individual, group or community focus at any given time, social work happens within the context of wider social challenges such as poverty, discrimination, marginalisation, health inequalities and societal forces of neoliberalism, marketisation and severe inequalities. International strategies like the Global Agenda for Social Work inform how social work can contribute to addressing these forces through international collaboration and shared commitment.
However, great challenges remain in relation to how individual social workers can tackle disruptive life challenges in a way that both meets individual needs for support and protection while also mediating with the wider social context within which these occur. As expressed in the International Federation of Social Work's definition of social work, the clear goal of the profession is to promote human rights and social justice. Yet social work historically has been both a force for change and transformation as well as being complicit in reinforcing social, health and economic inequalities, individualising problems caused by wider structural discrimination and marginalisation.
There is no simple solution to this dichotomy and contradiction for the profession. Often, for those new to social work in particular, the issues surrounding social work practice are so immense that they can seem overwhelming. The dilemma can be how we can overcome this challenge? For example, how can social workers both highlight and address poverty at a structural, organisational, cultural or social level while also meeting the tangible needs of individuals or families for material and practical immediate help. If not overtly engaged in 'radical social work' or community development practices, how can the worker employed within more traditional sites focus on individual and family practice that engages in tackling global challenges of inequality and discrimination?
In our new book Support and Protection Across the Lifecourse: A Practical Approach to Social Work, we offer a framework as a 'scaffold' to inform renewed ways of thinking and doing social work to supplement existing knowledge and practice within this context. We argue that social work needs to take a lifecourse perspective within a broad ecological frame. The lifecourse 'scaffold' situates practice in time, be that moments, periods, histories, presents or societal trends. It emphasises the importance of a practice focused on life transitions, disruptions and events. An ecological framework emphasises the connectivity between micro and macro levels of practice. It lends itself to an approach underpinned by a recognition of diversity and intersectionality with a focus on changing trends over time, fluidity of life events and the importance of connecting interactions with citizens in their local micro contexts with wider social factors. In our book we propose five themes that can scaffold practice. For each theme, we need to critically analyse, reflect and think (Critical ART) about both the person and their environment layered from immediate context through to wider macro-levels.
The five themes are:
Recognition of social work as a duality of support and protection that should be forefront irrespective of the method or practice approach used;
Emphasis on the importance of temporality of life events and transitions;
Working to the goal of achieving health and wellbeing for individuals, families, groups and communities;
Automatically considering intergenerational relations at individual, family, community and social levels;
Taking an approach based on civic engagement and partnership, which assumes that whatever work is being done is carried out by co-citizens, each with a part to play in the process.
In the book, we also draw from a broad range of specific examples, across many different countries, to demonstrate our 'framework' and 'scaffold'. Focus on the duality of social support and social protection underlines a core common purpose of social work globally. For example, framing practice in terms of life events and transitions may relate to an older person transitioning to institutional care or to refugee families struggling to come to terms with the psychological trauma that led to their leaving their own countries. A focus on health and wellbeing exposes the many barriers to this due to inherent social, economic and health inequalities. An intergenerational lens reinforces a lifecourse perspective and its fluidity. And, an approach based on civic engagement and partnership asks for a radical rethink of power and power relations in social work knowledge, building on current efforts to give greater value to indigenous knowledge and expertise and a commitment to citizenship social work practice.
By working to give more 'scaffolding' to an understanding of what social work is – and is not – we are in better standing to contribute to achieving the ideals of promoting human rights and social justice. Social work is, by nature, a practice that is sought most often at particular life events (like loss, grief, abuse, violence, discrimination), disruptions (like moving to or from independent living, experiencing severe episodes of mental or physical ill-health, migration) and transitions (like leaving care as a young adult, having to flee a country and seek asylum elsewhere, changes in caring roles within families). Most people in these sample situations do not need a social worker because they have their own natural, informal and organic intergenerational support systems. It is often where this naturally occurring support is absent that formal supports like social work are needed. Through civic engagement and partnership, a key role of social work is to support and strengthen these resources where possible. By 'seeing' people in their environment through the lens of their own unique lifecourse and eco-maps, there is a better chance of 'doing' better. By emphasising health and wellbeing, the social worker's duty and responsibility to address the barriers to this, wherever they lie on the eco-map, is highlighted.
The reality is that social work alone is not, and will never be, in a position to take on the immense global challenges as expressed within the UN Developmental Goals. However, the strategy has its part to play and one of those parts is to rethink and renew how social work knowledge, theory and practice is developed and delivered. Our book is one contribution to this, aimed at new or existing social work practitioners wishing to learn, refresh and rethink their practice. We emphasise how social workers need to engage in more networking with other professions, organisations and movements as a means of tackling wider social challenges affecting those they are working with. There needs to be greater ownership and leadership within practice to drive knowledge and theories that inform practice. Practice drives theory, not the other way around. We hope that by using the framework we have developed in the book, a bridge can be built between the so-called 'traditional/mainstream' and 'radical' fields of social work so that social workers can attend to both the individual and material needs for support and protection of a person engaged with a service – by choice or necessity – and the wider social context that more often is exacerbating rather than ameliorating the issue of concern that has led to the need for 'social work' in the first instance.
Caroline McGregor is a Senior Research Fellow at the UNESCO Child and Family Research Centre and Professor at the School of Political Science and Sociology at National University of Ireland Galway. 
Pat Dolan is Director of the UNESCO Chair in Children, Youth and Civic Engagement and Director of the Institute for Lifecourse and Society at National University of Ireland Galway.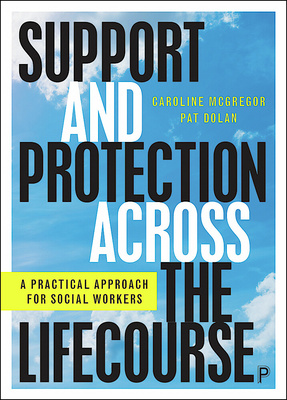 Support and Protection Across the Lifecourse: A Practical Approach for Social Workers by Caroline McGregor and Pat Dolan is available on the Policy Press website. Order here for £19.99.
Bristol University Press/Policy Press newsletter subscribers receive a 35% discount – sign up here.
Follow Transforming Society so we can let you know when new articles publish.
The views and opinions expressed on this blog site are solely those of the original blog post authors and other contributors. These views and opinions do not necessarily represent those of the Policy Press and/or any/all contributors to this site.
Image credit: Aaron Santelices on Unsplash