The long-awaited report from the consultation by the Women and Equalities Committee on the reform of the Gender Recognition Act 2004 (GRA) was fearfully anticipated by many of us in the trans community.
A few years ago, some European colleagues and I were evaluating the ways in which self-declaration gender recognition laws around the world were being enacted. We concluded that although at one point the Gender Recognition Act 2004 had been a landmark law, it now seemed woefully out of date, and was being surpassed by legislation in countries such as Argentina, Portugal, Ireland, Malta, Denmark and others in relation to the self-declaration of one's sex/gender.
One important outcome of self-declaration in these countries is that it de-medicalises the process of gender recognition, by making obsolete the need to obtain a diagnosis of gender dysphoria which, by the way, not every trans person suffers. De-medicalisation is important, despite psychiatric gatekeepers upholding it as key in understanding whether someone is 'trans enough', because it removes the power that they hold over trans people being given the green light to transition medically and over the Gender Recognition
Panel that requires this diagnosis in order to allow a trans person to legally change their sex on a birth certificate in the UK. As witnessed in a growing number of jurisdictions, to be able to self-declare one's sex/gender alongside a de-medicalised approach to gender recognition is the most equitable way of supporting trans citizens.
The report was fearfully anticipated because prior to and since the consultation started a small number of 'stakeholders' from women's rights groups and their allies, who contributed to the consultation process, argued that if the GRA was based on self-declaration this would lead to women's rights being eroded and allow any 'men who identify as women' into women-only spaces, such as toilets, changing rooms, rape crisis centres, sporting competitions and prison accommodation. They suggested that it would increase the chances of women being sexually assaulted or being disadvantaged in other ways in these spaces. This has not been the case in other jurisdictions. Also, trans men rarely figured in their arguments.
Nonetheless, these moral panic stories were being heard on academic, media and political platforms and developed into a sustained attack on trans people's rights – and particularly on trans women – with hardly a day going by without some story vilifying the 'dangerous trans person'. These articles and opinion pieces in both the mainstream media and on social media articulated unevidenced claims and blatant untruths about sexual assaults by trans women.
The irony is that self-declaration already exists in the UK to some extent, as Ruth Pearce has argued:
"Trans people already access various forms of legal, social or corporate recognition on the basis of self-identification, whether it is the sex marker on a driving licence, on bank details or on NHS records, which we can change on the basis of simply writing a letter and requesting a change." (quoted in the GRA reform report, p. 30).
Moreover, the reform of the GRA would have very little to do with single-sex spaces, and it is the Equality Act 2010 that legislates, on a case-by-case basis, the entry to goods and services for trans people; this is unlikely to change soon.
So, it was a great surprise to me when I read some of the recommendations in the report. The key ones for me, for which I have been arguing for many years, are that "The Government should remove the diagnosis of gender dysphoria from the Gender Recognition Act by 2023, reflecting the support for this in response to its own consultation […] which would move it closer to self-declaration" (p. 73); I suggest, however, that NHS providers should note that this does not mean the removal of medical interventions for trans people including mental health support, if so sought.
The next key recommendation was that "The Government should remove the requirement to have lived for a set period of time in the acquired gender from the gender recognition process immediately" (p. 73), which is one of the most bizarre statements in a piece of legislation that I have ever seen, and was incorporated on the basis of stereotypical psychiatric assumptions of what living a masculine or feminine gender means.
There were a number of other ones that made for interesting reading, however, the sentiment within the report that this will be a very long and difficult process to get right legally is a bit of a red herring. We have numerous legal templates across the world with very similar legal frameworks to our own and as such we do not have to reinvent the wheel. I hope the report is not just posturing to self-declaration law reform, and that we will see some progress soon towards a less pathologising life for trans people.
Zowie Davy is Associate Professor in LGBTQI Research at De Montfort University in the UK.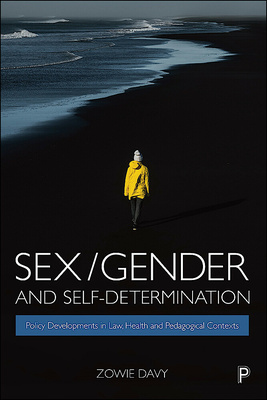 Sex/Gender and Self-Determination: Policy Developments in Law, Health and Pedagogical Contexts by Zowie Davy is available on the Policy Press website. Order here for £21.59.
Bristol University Press/Policy Press newsletter subscribers receive a 35% discount – sign up here.
Follow Transforming Society so we can let you know when new articles publish.
The views and opinions expressed on this blog site are solely those of the original blog post authors and other contributors. These views and opinions do not necessarily represent those of the Policy Press and/or any/all contributors to this site.
Image credit: Sergey Melnikov