On International Women's Day we launched a series of articles to celebrate our female authors and editors: Women in academia and practice. We look at their work and the challenges they have faced, and hear their thoughts about obstacles to gender equality.
Mim Bernard has 40 years' experience of policy and practice-relevant research which has included studies of self-health care, intergenerational relations and family life, working carers and retirement community living, as well as the arts and ageing. Her most recent book is The Evolution of British Gerontology: Personal Perspectives and Historical Developments.
What do you do and how did you get there?
I am Emerita Professor of Social Gerontology at Keele University, and the short answer to how I got here is 'completely by accident'! In 1982, while writing up my PhD and unemployed, I answered a Jobcentre ad for a researcher at a local charity. The charity turned out to be the Beth Johnson Foundation: an organisation known for its innovative developmental and educational work with older people. My nine-month post morphed into six years of short-term contracts before I returned to Keele in my mid-30s to join the newly established Centre for Social Gerontology, and to help set up – and teach on – the UK's first postgraduate Gerontology courses. My temporary post was made permanent, my second son was born, the Centre expanded and, before I knew it, 30 years had gone by, and I was giving a thank-you speech at my 'retirement' tea party in December 2018.
Nowadays, I continue to write, review articles and grant proposals, and support colleagues. I'm also an audio-describer at the New Vic Theatre, Newcastle-under-Lyme, and a member of the Ages and Stages Theatre Company. Along with the Live Age Festival, this is a lasting legacy of the series of interdisciplinary 'Ages and Stages' research projects I was privileged to lead for a decade, from 2009 onwards.
What challenges have you faced?
Although I have taught, researched and published widely on ageing, I have longstanding interests in gender and in the lives of older women. Women Come of Age (Edward Arnold, 1993) and Women Ageing (Routledge, 2000), co-written with female colleagues and postgraduate students, are still among the publications I am most proud of. That said, a particular challenge was how to keep what was – and perhaps still is – a relatively narrow and unfashionable field of academic and popular concern, at the forefront of my work. Being an active researcher, while taking on the full gamut of citizenship, managerial, strategic and leadership roles, has been a further challenge.
Like many women, I have also had to contend with misogynistic, sexist and discriminatory attitudes over the years. I vividly recall being asked in interview (for a residential post supporting students), 'why should we give you the job as you're only going to get married and have kids?' Or the colleague who told me and the other female doctoral student in our all-male department: 'you girls [sic] will never get your PhDs'. In fact, we both became Professors. Then the Head of Department who, before the introduction of the single pay spine, made me choose between an increment or promotion to Senior Lectureship, as he refused to put me in for both. And not forgetting the Vice Chancellor who called me into his office to tell me that despite colleagues unanimously supporting my nomination as Head of Department, he was going to appoint the (male) Professor as 'he needs to do something'!
What needs to be done to address the challenges women face generally in academia?
It's important to challenge attitudes like those above because, while they may not be as overt today, they are still there if you scratch below the surface. The competitive, casualised and commercialised nature of current academia doesn't help. Among the many postcards on my noticeboard at work was a line drawing of an ear, filled with bricks. It was entitled: 'Even ears have walls'. So, as others have said, really listen to and, above all, act on what women across our academic institutions are saying about the challenges they face.
What advice would you give to younger women (academics) and more broadly?
We asked a similar question of the 50 influential gerontologists interviewed for my last academic research project. Published by Policy Press in April 2020, just after the UK went into its first lockdown, The Evolution of British Gerontology tells the story of gerontology's progress as seen through the eyes of those who have led it. I would strongly endorse their advice which stresses the importance of collaborations and connections, of support networks and of mentoring. Join your professional or learned society too. My 40-year membership of the British Society of Gerontology has not only been a valued source of support, but also of long-lasting friendships. Finally, that old adage, 'do as you would be done by', has always stood me in good stead.
What, in your opinion, is the biggest obstacle to gender equality today?
I really don't have an answer to that question because, despite the undoubted progress we have made towards gender equality, there are still many obstacles to be overcome for women. In my field, it's sad but true that growing older renders women increasingly invisible and often exacerbates, reinforces and entrenches other inequalities and discriminatory attitudes. This is why challenging, questioning and working together to overcome those obstacles has to be a lifelong task for us all.
Browse all the interviews in our Women in academia and practice blog series here.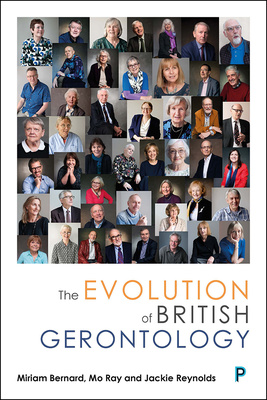 The Evolution of British Gerontology: Personal Perspectives and Historical Developments by Miriam Bernard, Mo Ray and Jackie Reynolds is available on the Policy Press website. Order here for £29.99.
Bristol University Press/Policy Press newsletter subscribers receive a 25% discount – sign up here.
Follow Transforming Society so we can let you know when new articles publish.
The views and opinions expressed on this blog site are solely those of the original blog post authors and other contributors. These views and opinions do not necessarily represent those of the Policy Press and/or any/all contributors to this site.