I have routinely thought about this question more than any other, especially in the last few years as I have struggled to keep pace with a ledger of racial injustice.
Take the recent proposal by the UK government to introduce a 'minimum entry requirement' for university students to access student loans. This came with an unapologetic recognition from the Department of Education that such a move would likely disproportionately impede university access to racially minoritised students. It joined a cluster of policy approaches that social scientists show us will systemically discriminate against black and ethnic minorities in Britain. From the Nationality and Borders Bill, with its proposal to strengthen the power to deprive racially minoritised Britons of their citizenship, to the Police, Crime, Sentencing and Courts Bill, which even the Home Office admits may cause 'indirect difference [of] treatment on the grounds of race', which is still on course to become law.
Note that these proposals follow on from the finding that up to 57,000 Black and minority ethnic Britons may have been deported or stripped of their rights. Then there's the increase in the number of Black children being cautioned or sentenced in England and Wales, which has doubled since 2010. Black children now account for 28% of all children in custody, even though Black people make up barely 4% of the national population. From the studies that highlight racial discrimination in recruitment processes, where people from ethnic minorities were less likely to be successful with their applications, even discounting differences such as age and education, or evidence of precarious employment, or how Black and minority ethnic millennials are 47% more likely to be on zero hours contracts compared to their White peers, to the appalling ethnic disparities of the COVID-19 pandemic, racial injustice is part of our 'crisis ordinariness'.
To put it in these terms is to draw from Lauren Berlant's influential account of how a view of progress ultimately rests in 'optimism's double bind', where 'an image of a better good life available' creates an impasse that does not easily allow us to 'detach from what is already not working'. It is through Berlant, who sadly passed last year, that we find one answer to the opening question. Thishelps us to see is that while shocking racial injustice may appear traumatic when accounted for at one moment in time, as a society we have learned to live with this crisis. In this sense, extraordinary events such as the Windrush scandal or the impact of the COVID-19 crisis turn out to be 'an amplification of something in the works'.
As I argue in my book, The Cruel Optimism of Racial Justice, however, the very idea of racial justice stood outside the promise of the good life that occupies Berlant's account, and so cannot be understood through Berlant alone. The book therefore turns to the late Charles Mills' invitation to examine racial justice outside the realm of ideal theory. We might say that Mills turns John Rawls on his head to ask 'not how you would create an ideal basic structure from ground zero but how you would dismantle an already existing unjust basic structure'. I follow this move but fold racial justice into a tradition or rather than a single theory, to re-inscribe the idea of racial justice with sociological content. Doing so shows us how racial injustice is often co-constituted across different social domains and ancillary social spheres, from education to the criminal justice system, from housing to public discourse.
This also challenges Mills, specifically in his seeing racial justice as 'primarily not pre-emptive measures to prevent racial injustice but corrective measures to rectify injustices that have already occurred'. My argument is that racial justice is multi-temporal in traversing that which has happened in the past, that which is manifest in the present, as well as that which will likely occur in the future. In so doing, I join and expand a presently US-centred critique of the idea of 'progress' in racial justice as something societies are 'gradually moving toward…through incremental reforms or social action'.
My core argument is that there is no likely end to the struggle for racial justice, only the promise this heralds and the desire to persevere, even despite knowledge of likely failure.
For researchers, activists and policy makers committed to the pursuit of racial justice, there is something in this of the need to reckon with what we have long borne witness to, and often made a difficult peace with, which comes not in a single event or episode that typically characterises a trauma, but which is something more akin to an undulating pain and discomfort.
Some readers will recognise in themselves how we have routinely arrived at this impasse, and have perhaps even clung, in different ways, to the cruel optimism that racism in our societies can lessen, because some attitudes are less self-evidently hostile, signalling that systemic racial injustices might wither through concerted action over time. This is not the same as naivety, or being 'hostage to the belief that everything is going to improve or turn out well'. It is instead to hold that what is morally unjust should not prosper in our societies.
The burden of this labour is presently asymmetrical, landing disproportionately on racialised minorities who can see as self-evident these truths as they manifest across social systems. A fundamental rebalancing of this is only possible when the beneficiaries of the social production of moral indifference recognise that this is their load to bear as well. As a society we must reckon with the social and, of course, moral cost of racial injustice, but also support the necessary imagination that takes us through and beyond understandable despair.
If this is the same motive that binds us into a cruel optimism presently, this need not be our future too.
Nasar Meer is Professor of Sociology in the School of Social and Political Sciences at the University of Edinburgh, UK. Find out more at www.nasarmeer.com.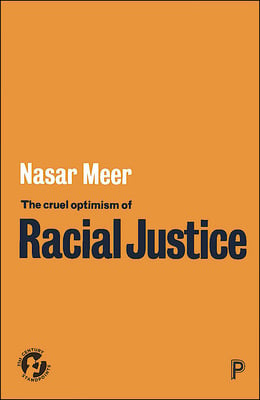 The Cruel Optimism of Racial Justice by Nasar Meer is available on the Policy Press website. Order here for £14.99.
Find out more about impact, influence and engagement at Policy Press here.
Policy Press newsletter subscribers receive a 25% discount – sign up here.
The views and opinions expressed on this blog site are solely those of the original blog post authors and other contributors. These views and opinions do not necessarily represent those of the Policy Press and/or any/all contributors to this site.
Image Credit: Clay Banks on Unsplash